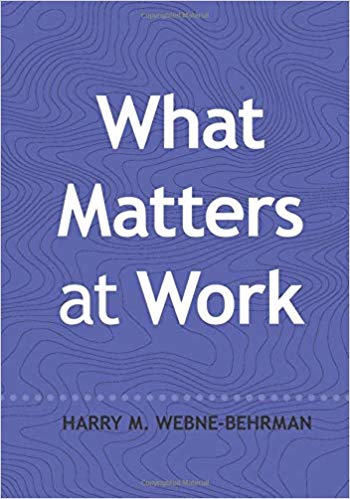 Former UW-Madison facilitator and trainer Harry Webne-Behrman just published a new book called, What Matters at Work.
The Workplace is a critical, high stakes environment. We are expected to be available at all hours, across modes and platforms, all in service to some vague priorities of customer service. We spend much of our lives in the world of work, spending most of our waking hours contemplating how best to earn a living. While we may practically need to "punch the clock" each day, we rarely give one another permission, encouragement, and support to develop more intentional, well-considered ways of approaching such time with a deeper sense of purpose. Fortunately, there is a quiet, powerful revolution occurring within the 21st century organization, and we can notice these forces, harvest their practices, and build upon their insights to focus on What Matters.
That's where this Guide comes in: To reflect on What Matters at Work is to consider what has been learned and apply it to the pragmatic realities of work life. Harry Webne-Behrman is a veteran educator, mediator, facilitator, and consultant who has worked with hundreds of businesses, public agencies, community groups, and educational institutions to navigate complex issues and address entrenched challenges. Through his experience, he has developed and adapted a variety of tools and strategies that can help us all focus on What Matters in collaborative, effective processes that are readily applied to diverse workplace situations. What Matters at Work contains:
• Dozens of Lessons, Exercises, and Challenges that teach the skills and processes you need to provide leadership regarding the issues that are most important to your work;
• Scenarios that offer practice situations for those facilitating these efforts;
• Worksheets that provide templates to copy in service to your ongoing learning and growth;
• Comprehensive listings of these materials and additional resources to help you access what you need quickly and easily. Align your own Values and work practices with What Matters.
Help your work teams and co-workers talk through challenging issues, unlock innovative capacities, and apply their energies to What Matters. Lead your company or organization to fulfill the full scope of its promise and possibility by engaging all of its staff, partners, and customers in What Matters. That's What Matters at Work.
Link to book: https://www.amazon.com/gp/product/1653808535?ref=ppx_pt2_dt_b_prod_image&fbclid=IwAR3JbAPkH-A8lPZtVQvzXhupp5FcdELqzdjbBLZi2r9uRah4AWrozaZ-Kbc