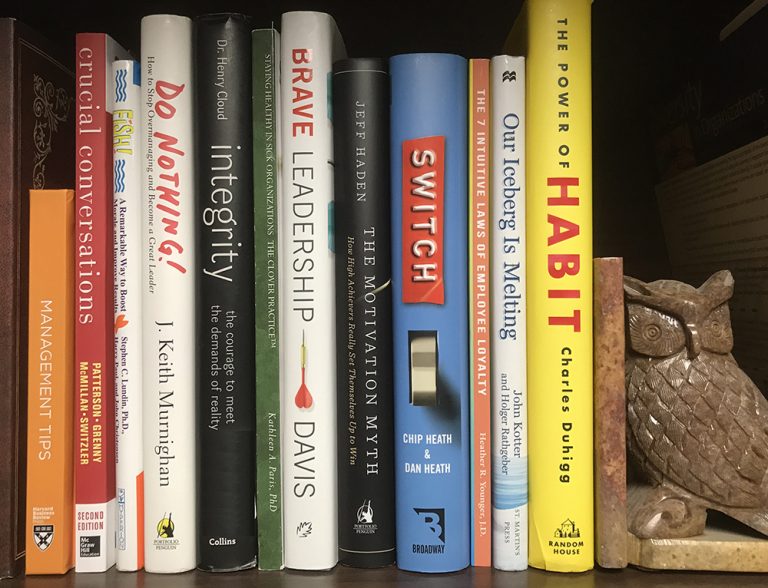 Atomic Habits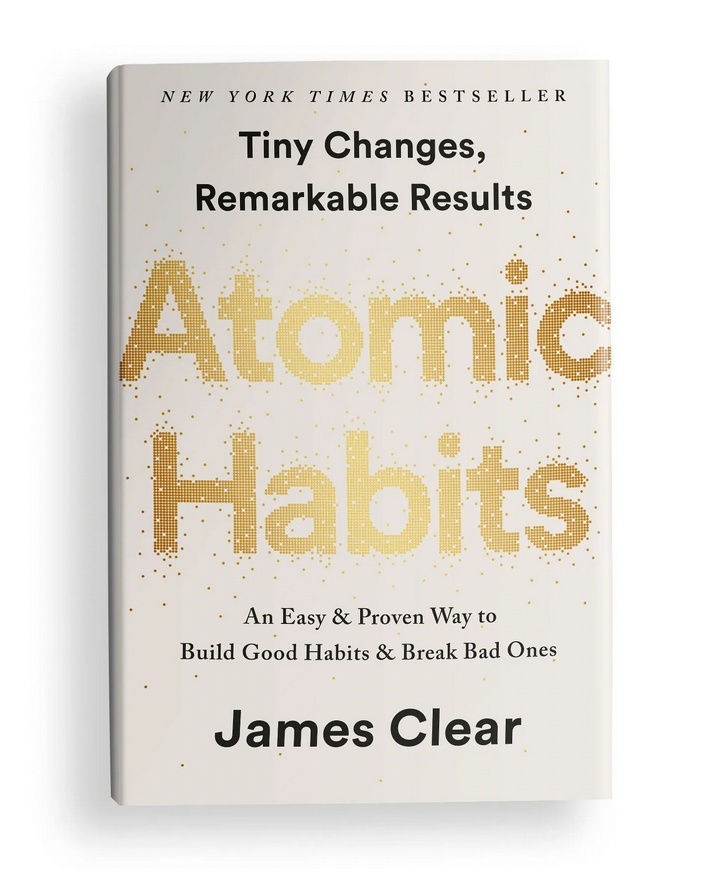 By James Clear

Packed with self-improvement strategies, Atomic Habits will teach you how to make the small changes that will transform your habits and deliver remarkable results.
10 Things This Book Will Teach You
Learn how to…
Build a system for getting 1% better every day.
Break your bad habits and stick to good ones.
Avoid the common mistakes most people make when changing habits.
Overcome a lack of motivation and willpower.
Develop a stronger identity and believe in yourself.
Make time for new habits (even when life gets crazy).
Design your environment to make success easier.
Make tiny, easy changes that deliver big results.
Get back on track when you get off course.
And most importantly, how to put these ideas into practice in real life.
…and much more.
Find additional resources from a presentation on Atomic Habits at
https://uwmadison.box.com/s/31snpz3sq7b5uxw4i6fgwenqwku5obq5
Visit jamesclear.com for even more content and his weekly newsletter.
The Art of Caring Leadership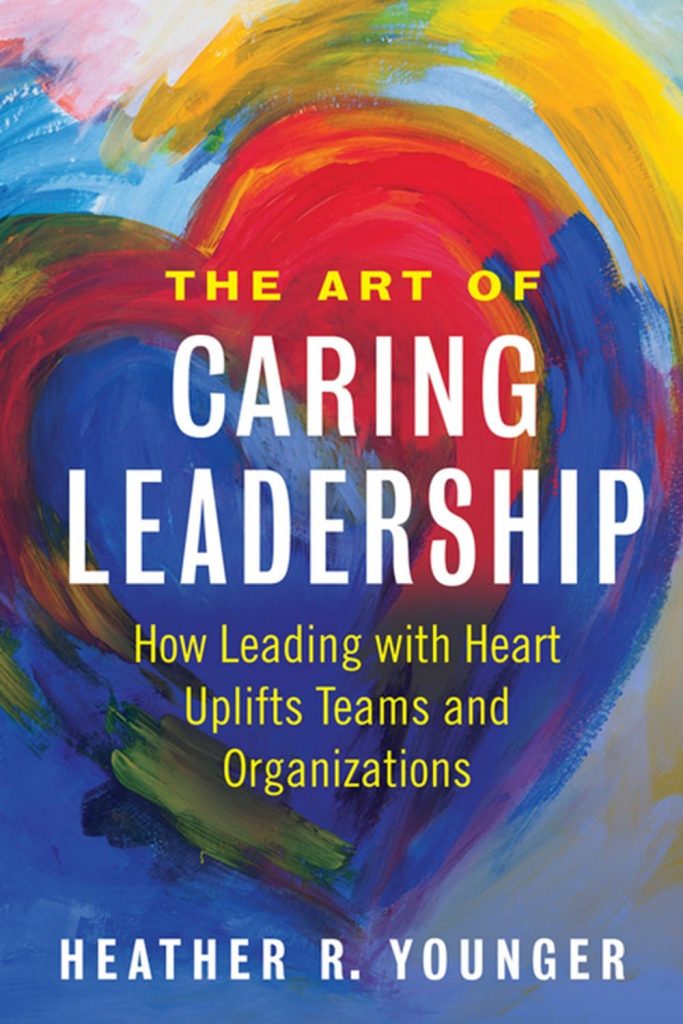 By Heather Younger

If your people know you care about them, they will move mountains. In The Art of Caring Leadership: How Leading With Heart Uplifts Teams and Organizations, employee engagement and loyalty expert Heather R. Younger outlines nine key ways that leaders can ensure all their employees feel included and cared for.
Based on Younger's interviews with over 80 leaders for her podcast, Leadership with Heart—including Howard Behar, former president of the Starbucks Coffee Company; Judith Scimone, senior vice president and chief talent officer at MetLife; Garry Ridge, CEO and chairman of the board of the WD-40 Company; and Shawnté Cox Holland, head of culture and engagement at Vanguard—this book shares how all of us have the ability to manifest the radical power of caring support at work, no matter what the context or circumstances.
Younger takes an often nebulous, subjective concept and makes it concrete and actionable—emphasizing that leaders have the power to change the lives of those they lead. They shouldn't just "want" to care, they should see caring as imperative for the success of their employees and their organization. Though Younger stresses that this is not a cookie-cutter approach: just as Monet and Picasso expressed themselves very differently, each leader should express caring in their own unique, personal way.
Whether you're looking for increased productivity, customer satisfaction, or employee engagement, Younger stresses that you need to care for your employees first.
This book was featured as CSN's 2021 Summer Book Club. Resources from our discussions can be accessed for self-study here: https://uwmadison.box.com/s/2ufj1n4x3545mlaiodnseembcz2wukaa
What Matters at Work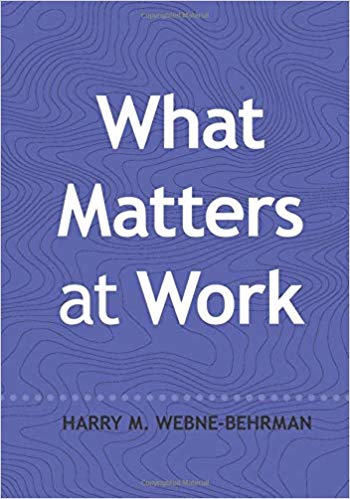 By Harry Webne-Behrman
Harry Webne-Behrman is a veteran educator, mediator, facilitator, and consultant who has worked with hundreds of businesses, public agencies, community groups, and educational institutions to navigate complex issues and address entrenched challenges. Through his experience, he has developed and adapted a variety of tools and strategies that can help us all focus on What Matters in collaborative, effective processes that are readily applied to diverse workplace situations. What Matters at Work contains:
• Dozens of Lessons, Exercises, and Challenges that teach the skills and processes you need to provide leadership regarding the issues that are most important to your work;
• Scenarios that offer practice situations for those facilitating these efforts;
• Worksheets that provide templates to copy in service to your ongoing learning and growth;
• Comprehensive listings of these materials and additional resources to help you access what you need quickly and easily. Align your own Values and work practices with What Matters.
Help your work teams and co-workers talk through challenging issues, unlock innovative capacities, and apply their energies to What Matters. Lead your company or organization to fulfill the full scope of its promise and possibility by engaging all of its staff, partners, and customers in What Matters. That's What Matters at Work.
This book was featured as CSN's 2021 Spring Book Club book. Resources from our discussions can be accessed for self-study here:
https://uwmadison.box.com/s/0m5bc80eq0au1xr6poa2im26ewbr62ge
The Clover Practice™ ♣
By Kathleen A. Paris
http://kathleenparis.com/the-clover-practice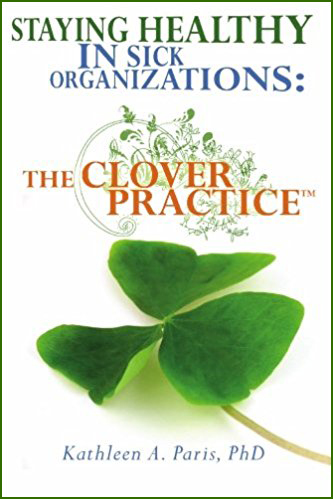 With clear directives and tools for how to be truthful, speak for one's self, and recognize the interconnections that influence our success as well as our problems, this book provides an elegant metaphor for change and a toolkit for survival.
This book was the featured read at the CSN 2017 Summer Book Club. For discussion materials regarding the book, click below:
Dare to Lead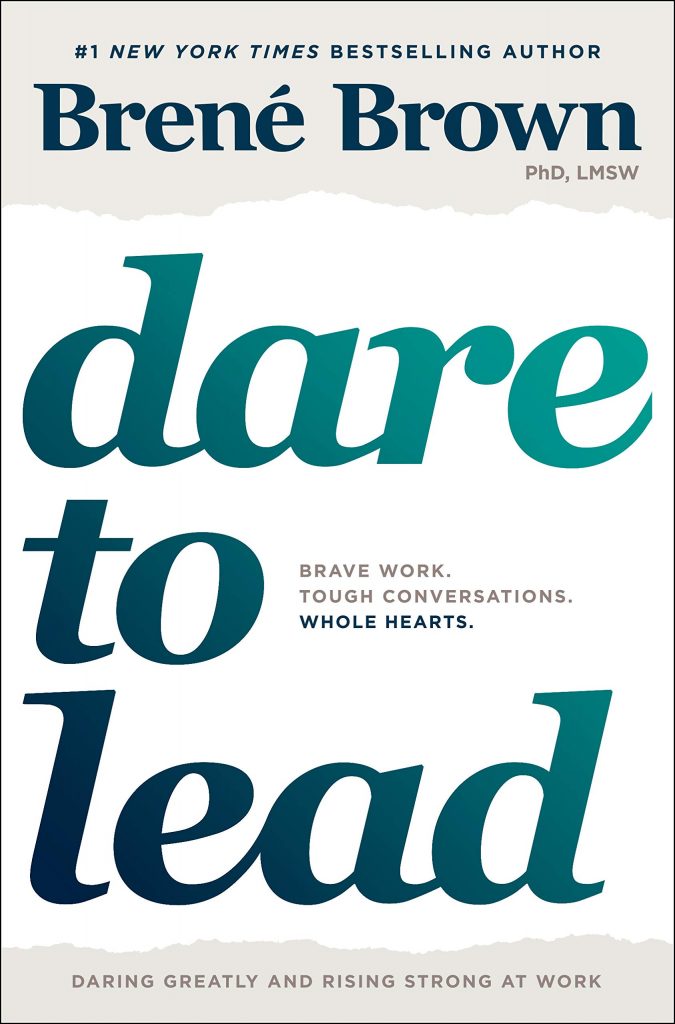 By Brené Brown

Leadership is not about titles, status, and wielding power. A leader is anyone who takes responsibility for recognizing the potential in people and ideas, and has the courage to develop that potential.
When we dare to lead, we don't pretend to have the right answers; we stay curious and ask the right questions. We don't see power as finite and hoard it; we know that power becomes infinite when we share it with others. We don't avoid difficult conversations and situations; we lean into vulnerability when it's necessary to do good work.
But daring leadership in a culture defined by scarcity, fear, and uncertainty requires skill-building around traits that are deeply and uniquely human. The irony is that we're choosing not to invest in developing the hearts and minds of leaders at the exact same time as we're scrambling to figure out what we have to offer that machines and AI can't do better and faster. What can we do better? Empathy, connection, and courage, to start.
In this new book, Brown uses research, stories, and examples to answer these questions in the no-BS style that millions of readers have come to expect and love.
Getting to Yes: Negotiating Agreement Without Giving In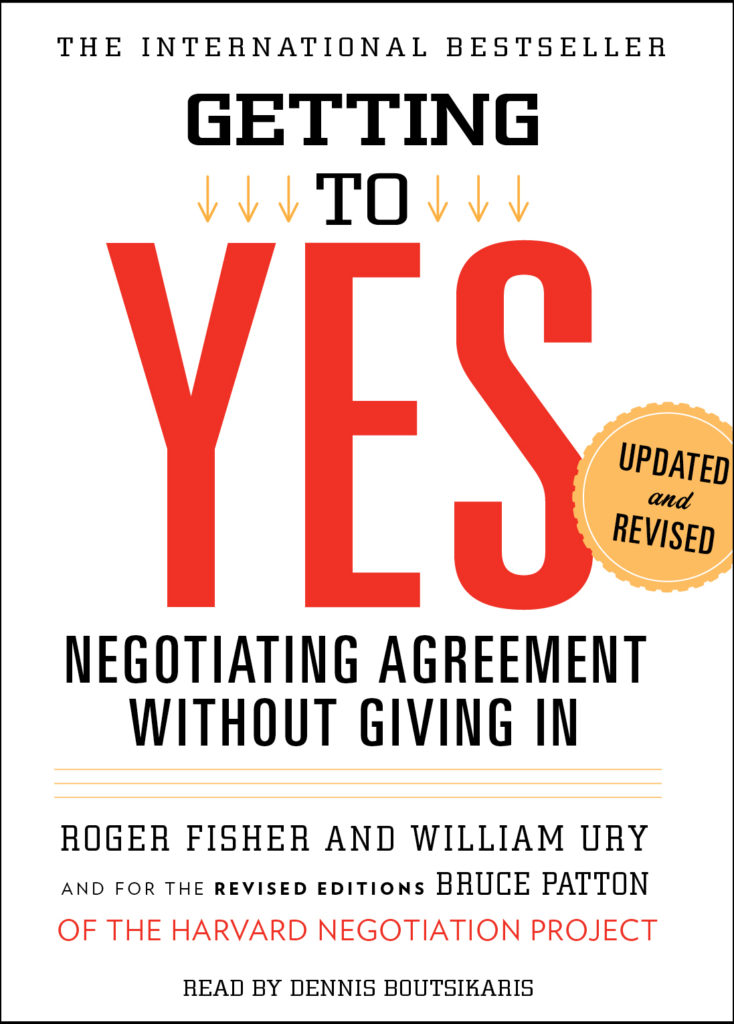 By Roger Fisher and William Ury

Since its original publication nearly thirty years ago, Getting to Yes has helped millions of people learn a better way to negotiate. One of the primary business texts of the modern era, it is based on the work of the Harvard Negotiation Project, a group that deals with all levels of negotiation and conflict resolution.
Getting to Yes offers a proven, step-by-step strategy for coming to mutually acceptable agreements in every sort of conflict. Thoroughly updated and revised, it offers readers a straight-forward, universally applicable method for negotiating personal and professional disputes without getting angry-or getting taken.
Brave Leadership: Unleash Your Most Confident, Powerful, and Authentic Self to Get the Results You Need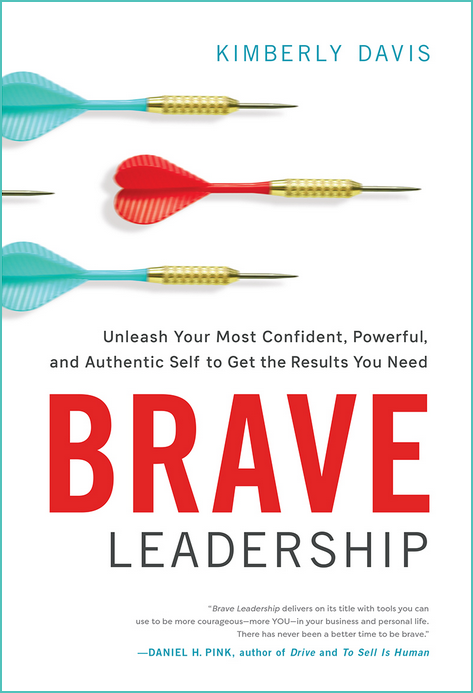 By Kimberly Davis

While we may think that we need to follow some kind of prescription to get results, the most amazing leaders are those who dare to be their true selves, powerfully. People want to give them their best. But in a business world that's so competitive and uncertain, how do you connect with others more authentically to tap into their illusive want?
Brave Leadership is the essential guide for leaders in today's ever-shifting world. Wherever you are in your leadership journey–new, seasoned, young, or old–if you aspire to be the best leader you can be, then this book is for you. It will help you
• Uncover your barriers to brave
• Escape overwhelm and frustration and learn to manage stress and anxiety
• Prepare for high-stakes meetings and conversations
• Have the influence you want to have
• Set the direction of your career
• Connect powerfully
• Feel more confident, courageous, satisfied, and purposeful
• Tap into the want of the people you lead to get the results you need
On a quest to make these powerful conversations more accessible, professional-actress-turned-leadership-educator Kimberly Davis shares the transformative tools she uses in her workshops to help thousands of leaders worldwide. Drawing from years of working with leaders of all experience levels and industries and the latest research in psychology, sociology, business, and the arts, this provocative and inspiring book bridges traditional business how-to with a personal development approach to demystify what it takes to be the brave leader you were born to be.
The Coaching Habit: Say Less, Ask More & Change the Way You Lead Forever
By Michael Bungay Stanier

https://boxofcrayons.com/2016/02/7-coaching-questions-to-master/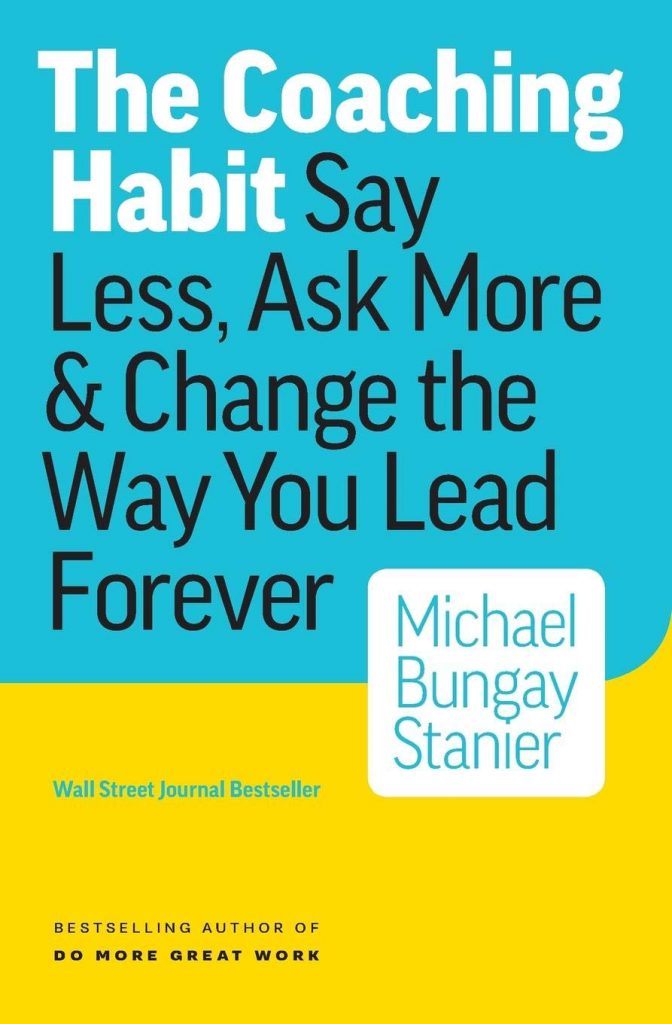 In The Coaching Habit, coaching becomes a regular, informal part of your day so managers and their teams can work less hard and have more impact.
Drawing on years of experience training more than 10,000 busy managers from around the globe in practical, everyday coaching skills, Bungay Stanier reveals how to unlock your peoples' potential. He unpacks sevenessential coaching questions to demonstrate how–by saying less and asking more–you can develop coaching methods that produce great results.
Get straight to the point in any conversation with The Kickstart Question
Stay on track during any interaction with The Awe Question
Save hours of time for yourself with The Lazy Question, and hours of time for others with The Strategic Question
Get to the heart of any interpersonal or external challenge with The Focus Question and The Foundation Question
Finally ensure others find your coaching as beneficial as you do with The Learning Question
A fresh innovative take on the traditional how-to manual, the book combines insider information with research based in neuroscience and behavioural economics, together with interactive training tools to turnpractical advice into practiced habits. Witty and conversational, The Coaching Habit takes your work–and your workplace–from good to great.
Fish!: A Remarkable Way to Boost Morale and Improve Results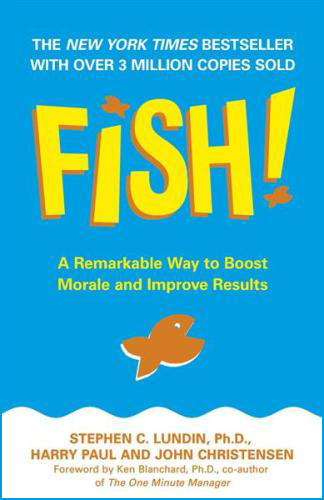 By Lundin, Paul, & Christensen

Imagine a workplace where everyone chooses to bring energy, passion, and a positive attitude to the job every day. Imagine an environment in which people are truly connected to their work, to their colleagues, and to their customers. Learn lessons from Pike Place Fish Market in this engrossing parable. Fish! is sure to please. Read this book review for a summary of the book.
Daring Greatly
By Brené Brown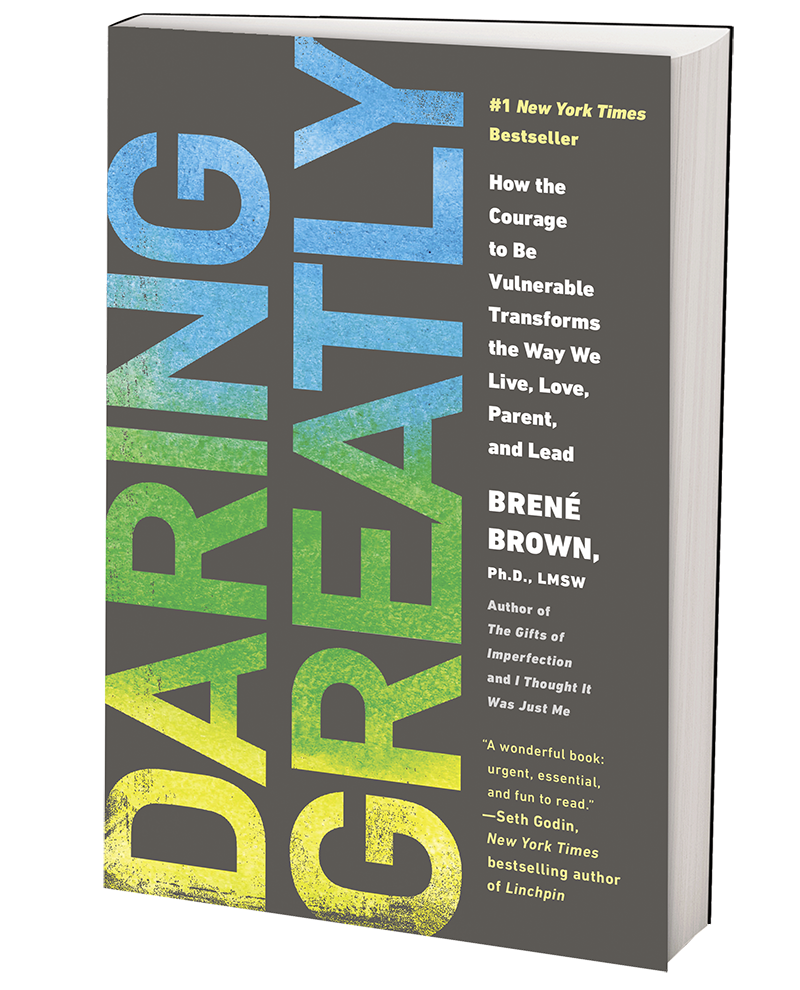 When it came time to name her new book, Daring Greatly: How the Courage to Be Vulnerable Transforms the Way We Live, Love, Parent, and Lead, Brené harkened back to a speech that Teddy Roosevelt gave in 1910. In it, Roosevelt said:
"It is not the critic who counts; not the man who points out how the strong man stumbles, or where the doer of deeds could have done them better. The credit belongs to the man who is actually in the arena, whose face is marred by dust and sweat and blood; who strives valiantly; who errs, who comes short again and again, because there is no effort without error and shortcoming; but who does actually strive to do the deeds; who knows great enthusiasms, the great devotions; who spends himself in a worthy cause; who at the best knows in the end the triumph of high achievement, and who at the worst, if he fails, at least fails while daring greatly."
The powerful quote resonated with Brown, a research professor at the University of Houston Graduate College of Social Work, who gave the blockbuster TEDTalks "Brené Brown: The Power of Vulnerability" and "Brené Brown: Listening to Shame." In the introduction to her book Brown riffs on Roosevelt's words, which she says perfectly encapsulate her research into why we find being vulnerable such a hard thing to do.
Daring Greatly is a book for everyone, whether you are in a leadership role, a parent, or need to interact with others in any way.
The Motivation Myth: How High Achievers Really Set Themselves Up to Win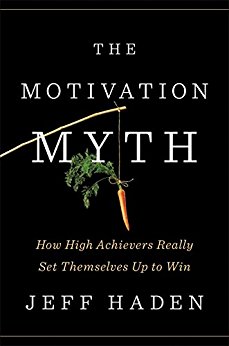 By Jeff Haden

From Inc.com's most popular columnist, a counterintuitive–but highly practical–guide to finding and maintaining the motivation to achieve great things.
 
It's comforting to imagine that superstars in their fields were just born better equipped than the rest of us. When a co-worker loses 20 pounds, or a friend runs a marathon while completing a huge project at work, we assume they have more grit, more willpower, more innate talent, and above all, more motivation to see their goals through.
But that's not actually true, as popular Inc.com columnist Jeff Haden proves. "Motivation" as we know it is a myth. Motivation isn't the special sauce that we require at the beginning of any major change. In fact, motivation is a result of the process, not a cause. Understanding this will change the way you approach any obstacle or big goal.
In The Motivation Myth, Haden shows us how to reframe our thinking about the relationship of motivation to success. He meets us at our level–at the beginning of any big goal we have for our lives, a little anxious and unsure about our way forward, a little burned by self-help books and strategies that have failed us in the past—and offers practical advice that anyone can use to stop stalling and start working on those dreams.
Success isn't for the uniquely qualified; it's possible for any person who understands the true nature of motivation. Jeff Haden can help you transcend average and make lasting positive changes in your life.
Act Like a Leader, Think Like a Leader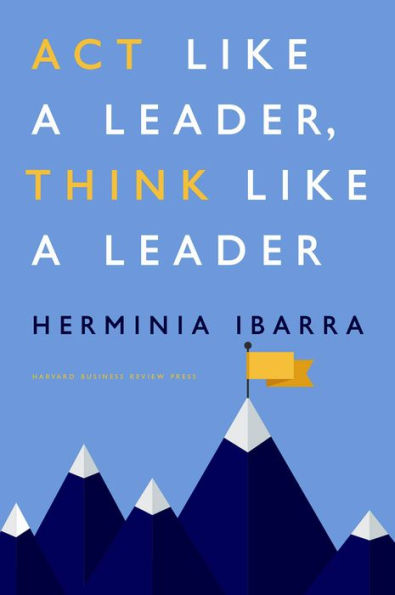 By Herminia Ibarra
You aspire to lead with greater impact. The problem is you're busy executing on today's demands. You know you have to carve out time from your day job to build your leadership skills, but it's easy to let immediate problems and old mind-sets get in the way. Herminia Ibarra—an expert on professional leadership and development and a renowned professor at INSEAD, a leading international business school—shows how managers and executives at all levels can step up to leadership by making small but crucial changes in their jobs, their networks, and themselves. In Act Like a Leader, Think Like a Leader, she offers advice to help you:
• Redefine your job in order to make more strategic contributions
• Diversify your network so that you connect to, and learn from, a bigger range of stakeholders
• Become more playful with your self-concept, allowing your familiar—and possibly outdated—leadership style to evolve
Ibarra turns the usual "think first and then act" philosophy on its head by arguing that doing these three things will help you learn through action and will increase what she calls your outsight —the valuable external perspective you gain from direct experiences and experimentation. As opposed to insight, outsight will then help change the way you think as a leader: about what kind of work is important; how you should invest your time; why and which relationships matter in informing and supporting your leadership; and, ultimately, who you want to become.
Packed with self-assessments and practical advice to help define your most pressing leadership challenges, this book will help you devise a plan of action to become a better leader and move your career to the next level. It's time to learn by doing.
Management Tips: Harvard Business Review
As a manager, you're shouldering more and more responsibilities–from maximizing your team's performance to increasing your company's market share to building profitable customer relationships. On top of all that, you need to orchestrate your own time and keep your career on track.
The challenges are stacking up–but you've got less and less time to figure out how to tackle them.
How are you supposed to resolve this dilemma? Happily, help is on the way: the new Management Tips from the Harvard Business Review.
This concise, handy guide is packed with quick tips on a broad range of topics, organized into three major skills every manager must master:
Managing yourself
Managing your team
Managing your business
Drawing from HBR's popular Management Tip of the Day, the book puts the best management practices and insights, from top thinkers in the field, right at your fingertips. Pick it up any time you have a few minutes to spare, and you'll have a fresh, powerful idea you can immediately put into action.
You may not be able to do much about being time-starved. But with Management Tips from the Harvard Business Review as your guide, you'll stand the best chance of succeeding in your role as a manager.
Brag Worry Wonder Bet: A Manager's Guide to Giving Feedback

By Steve King

Giving someone feedback can be a daunting task for a manager-especially when an employee is underperforming. To soften the blow, we sometimes refer to difficult feedback as "developmental" or "constructive" but these phrases rarely prompt the type of productive conversations managers need to have with team members. Steve King, a longtime executive who has held leadership roles with a variety of organizations including UW-Madison, cuts to the chase with a simple and tested framework on providing feedback.
Think of how great it would be to break through the typical awkwardness of giving feedback and start having serious conversations about performance, development, and careers. Regardless of your role, if you want to give feedback to others on a regular basis, you need a proven approach to improve the quality of your conversations. It starts with four simple words-Brag, Worry, Wonder, Bet.
This book was featured as CSN's 2022 Bite-Size Book Club book. Resources from our discussions can be accessed for self-study here:
Elevate: Push Beyond Your Limits and Unlock Success in Yourself and Others

By Robert Glazer

To inspire change in yourself and your team, you must break free from what's holding you down.
In Elevate, Robert Glazer reveals four life-changing principles ― or capacities ― that will allow you to overcome self-limiting beliefs, establish positive habits, and find your "why." As we look to elevate ourselves, we mean so much more than beating the competition. After all, our greatest competition is ourselves! We need to find ways to consistently outperform ourselves and our own expectations.
Robert Glazer has built a career on accelerating productivity and careers. ELEVATE is based on his five foundational elements necessary for increasing our capacity: Finding Your Why, Overcoming Self-Limiting Beliefs, Setting Goals and Creating Accountability, Maintaining Health and Wellness, and Establishing Routine and Positive Habits.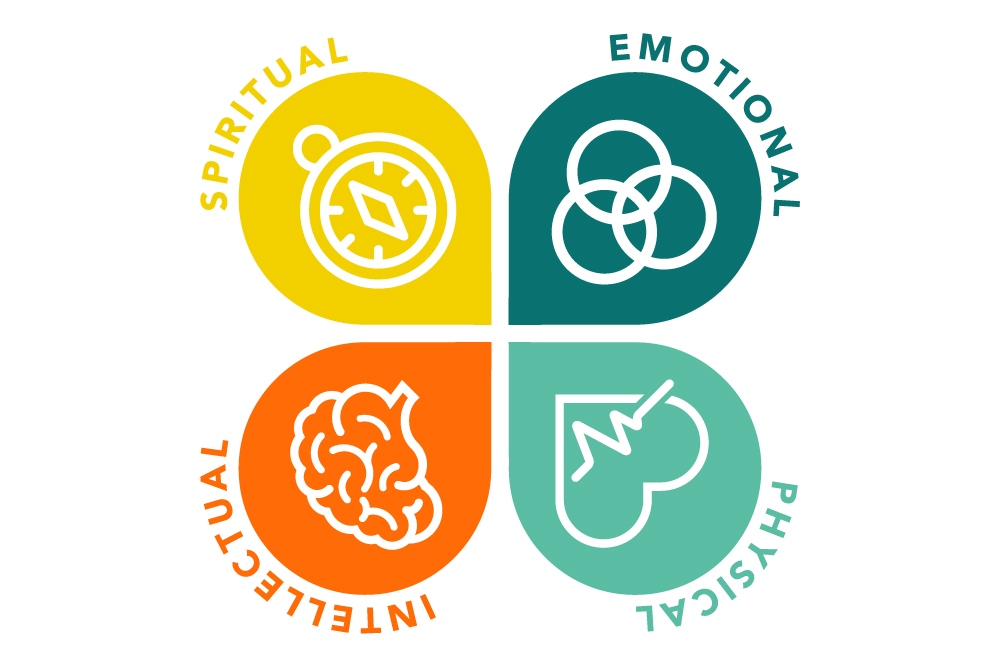 Elevate Resources on the four capacities: https://www.robertglazer.com/elevate/#FourCapacities
Glazer has a podcast covering concepts from his book and life as well: https://www.robertglazer.com/elevate-podcasts/
This book was featured as CSN's 2021 Winter Book Club book. Resources from our discussions can be accessed for self-study here: https://go.wisc.edu/8jzpd8
Drive – the Study of Intrinsic Motivation

By Daniel Pink

In his provocative and persuasive book Drive, Dan Pink asserts that the secret to high performance and satisfaction—at work, at school, and at home—is the deeply human need to direct our own lives, to learn and create new things, and to do better by ourselves and our world.
Much of what we know about motivation is wrong. Tasks are either: (1) Algorithmic—you pretty much do the same thing over and over in a certain way, or (2) Heuristic—you have to come up with something new every time because there are no set instructions to follow. The carrot and stick approach to motivation is flawed.
Many people are more creative when they are more strongly intrinsically motivated — driven by interest, enjoyment, satisfaction, and a sense of personal challenge in the work they are doing.
From Dan's book, you can see that there's a big gap between what science knows and what people and businesses actually practice. And the carrot and stick motivation understanding is so outdated.
The new approach to motivation has three essential elements: (1) Autonomy—the desire to direct our own lives; (2) Mastery—the urge to get better and better at something that matters; and (3) Purpose—the yearning to do what we do in the service of something larger than ourselves. In place of carrot and stick management styles, give meaning and purpose to our pursuits and journey of accomplishments. Beyond the basic monetary/material reward system in place, allow yourself (and the people you lead) to have more autonomy, mastery, and purpose, and watch what happens to your performance and overall happiness at work and life.
In coaching, many clients come with surface goals (extrinsic nature) at first. In the exploratory and clarifying stages, we help them to discover deeper meanings and significance of what they truly want and why. It's common that the clients' end goal inevitably shifts to something else, oftentimes something closer to their hearts during the coaching process. And in order to make lasting positive change in the clients, we have to let their actions be anchored and reinforced by intrinsic drivers, more than extrinsic ones. Replace 'carrot and stick' with a deeper meaning for your work.
This book was featured as the CSN 2019 Summer Book Club and was the topic of a CSN presentation at UW-Madison. Resources can be found here: https://campussupervisorsnetwork.wisc.edu/lmd/
Crucial Conversations
By Kerry Patterson, Joseph Grenny, Ron McMillan, and Al Switzler
https://www.goodreads.com/book/show/15014.Crucial_Conversations

Learn how to keep your cool and get the results you want when emotions flare.
When stakes are high, opinions vary, and emotions run strong, you have three choices: Avoid a crucial conversation and suffer the consequences; handle the conversation badly and suffer the consequences; or read Crucial Conversations and discover how to communicate best when it matters most. Crucial Conversations gives you the tools you need to step up to life's most difficult and important conversations, say what's on your mind, and achieve the positive resolutions you want. You'll learn how to:
Prepare for high-impact situations with a six-minute mastery technique

Make it safe to talk about almost anything

Be persuasive, not abrasive

Keep listening when others blow up or clam up

Turn crucial conversations into the action and results you want
This book was the featured read at the CSN 2018 Summer Book Club. For discussion materials regarding the book, click below:
The 7 Intuitive Laws of Employee Loyalty: Fascinating Truths About What It Takes to Create Truly Loyal and Engaged Employees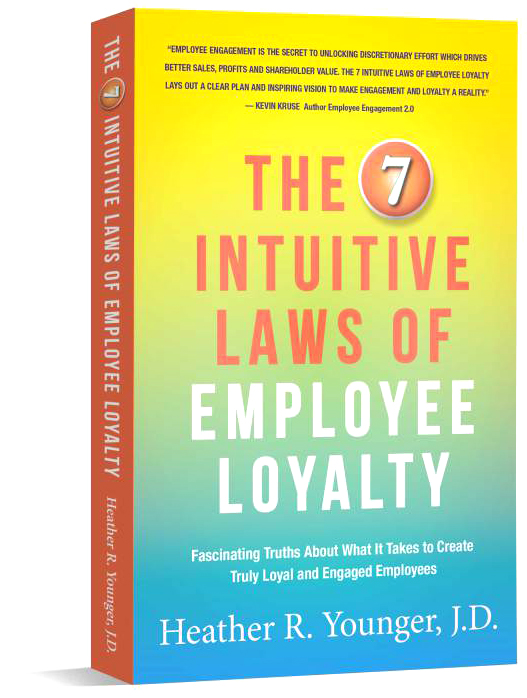 By Heather R. Younger

Gallup reports that only 13% of employees are engaged at work. Why so low? Many leaders struggle to effectively engage and inspire their teams. Often, we are so distracted with the day-to-day tasks that we can overlook key fundamentals in building a strong workplace culture empowering employee allegiance and job satisfaction.
The 7 Intuitive Laws of Employee Loyalty is a guidebook of implementable tactics and skills for organizational leaders looking to curate a positive workplace culture that engages and inspires their teams to do their best work. Author Heather R. Younger, J.D., examines and illuminates 7 laws that will put any leader in the driver's seat to create a more engaged and loyal staff. Want to positively move the needle on your employee engagement numbers? Embrace the laws found in this book to create employee loyalty and catapult your organization!
Read this book if you want:
1. To transform your leadership mindset
2. To endear your team members to you or your organizational leaders
3. To differentiate your employee experience
4. To master employee retention
Mindset: The New Psychology of Success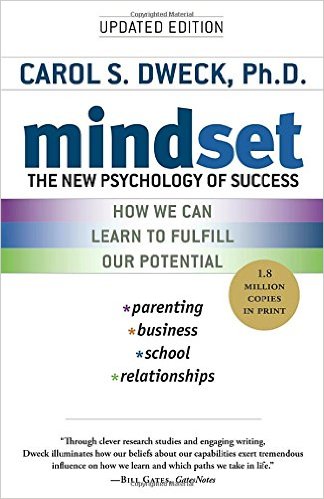 By Carol S. Dweck

After decades of research, world-renowned Stanford University psychologist Carol S. Dweck, Ph.D., discovered a simple but groundbreaking idea: the power of mindset. In this brilliant book, she shows how success in school, work, sports, the arts, and almost every area of human endeavor can be dramatically influenced by how we think about our talents and abilities. People with a fixed mindset—those who believe that abilities are fixed—are less likely to flourish than those with a growth mindset—those who believe that abilities can be developed. Mindset reveals how great parents, teachers, managers, and athletes can put this idea to use to foster outstanding accomplishment.
With the right mindset, you can motivate those you lead, teach, and love—to transform their lives and your own.
Integrity: The courage to meet the demands of reality
By Dr. Henry Cloud

https://www.goodreads.com/book/show/437261.Integrity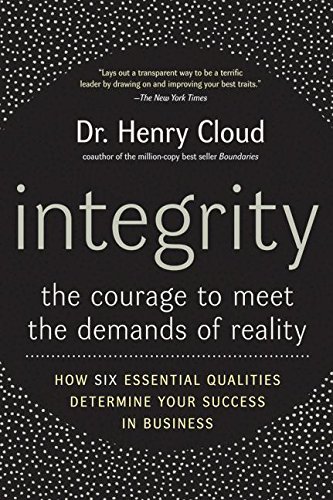 Integrity—more than simple honesty, it's the key to success. A person with integrity has the ability to pull everything together, to make it all happen no matter how challenging the circumstances. Drawing on experiences from his work, Dr. Henry Cloud, a clinical psychologist, leadership coach, corporate consultant and nationally syndicated radio host, shows how our character can keep us from achieving all we want to (or could) be. This involves the ability to:
1. connect authentically;
2. be oriented toward truth;
3. get results;
4. embrace problems and failures and resolve them;
5. be oriented toward growth;
6. be transcendent.
Switch
: How to Change Things When Change Is Hard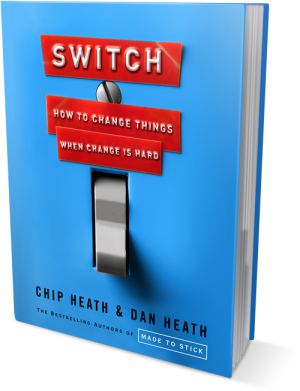 By Dan Heath and Chip Heath

Why is it so hard to make lasting changes in our companies, in our communities, and in our own lives?
The primary obstacle is a conflict that's built into our brains, say Chip and Dan Heath, authors of the critically acclaimed bestseller Made to Stick. Psychologists have discovered that our minds are ruled by two different systems—the rational mind and the emotional mind—that compete for control. The rational mind wants a great beach body; the emotional mind wants that Oreo cookie. The rational mind wants to change something at work; the emotional mind loves the comfort of the existing routine. This tension can doom a change effort—but if it is overcome, change can come quickly.
In Switch, the Heaths show how everyday people—employees and managers, parents and nurses—have united both minds and, as a result, achieved dramatic results. In a compelling, story-driven narrative, the Heaths bring together decades of counterintuitive research in psychology, sociology, and other fields to shed new light on how we can affect transformative change. Switch shows that successful changes follow a pattern, a pattern you can use to make the changes that matter to you, whether your interest is in changing the world or changing your waistline.
Our Iceberg is Melting: Changing and Succeeding Under Any Conditions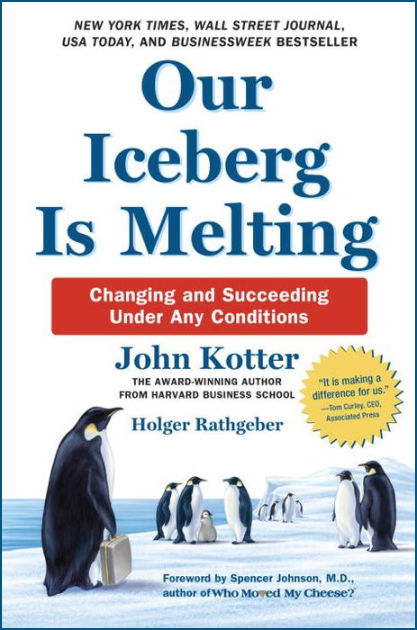 By Dr. John Kotter and Holger Rathgeber
On the surface, Our Iceberg Is Melting is a simple story of a colony of penguins facing a dilemma. But contained within the story and the characters is a powerful message about the fear of change and how to motivate people to face the future and take action. Use this book's cute story to better understand organizational change, and how to navigate the waters through this challenging issue.
The Leadership Gap: What Gets Between You and Your Greatness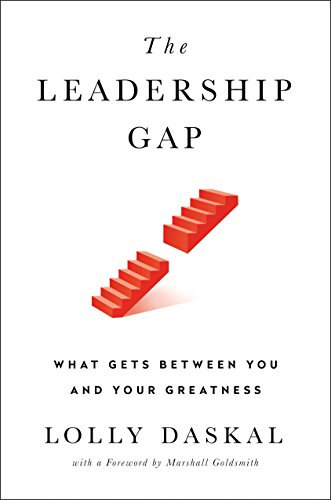 By Lolly Daskal

Do people see you as the kind of leader you want to be? Are your strongest leadership qualities getting in the way of your greatness?
After decades of advising and inspiring some of the most eminent chief executives in the world, Lolly Daskal has uncovered a startling pattern: within each leader are powerful abilities that are also hidden impediments to greatness. She's witnessed many highly driven, overachieving leaders rise to prominence fueled by well-honed skill sets, only to falter when the shadow sides of the same skills emerge.
In The Leadership Gap, Daskal reveals her proven system, which leaders at any level can apply to dramatically improve their results. It begins with identifying your distinctive leadership archetype and recognizing its shadow:
■ The Rebel, driven by confidence, becomes the Imposter, plagued by self-doubt.
■ The Explorer, fueled by intuition, becomes the Exploiter, master of manipulation.
■ The Truth Teller, who embraces candor, becomes the Deceiver, who creates suspicion.
■ The Hero, embodying courage, becomes the Bystander, an outright coward.
■ The Inventor, brimming with integrity, becomes the Destroyer, who is morally corrupt.
■ The Navigator, trusts and is trusted, becomes the Fixer, endlessly arrogant.
■ The Knight, for whom loyalty is everything, becomes the Mercenary, who is perpetually self-serving.
Using psychology, philosophy, and her own experience, Daskal offers a breakthrough perspective on leadership. She'll take you inside some of the most cloistered boardrooms, let you in on deeply personal conversations with industry leaders, and introduce you to luminaries who've changed the world. Her insights will help you rethink everything you know to become the leader you truly want to be.
The Power of Habit: Why We Do What We Do in Life and Business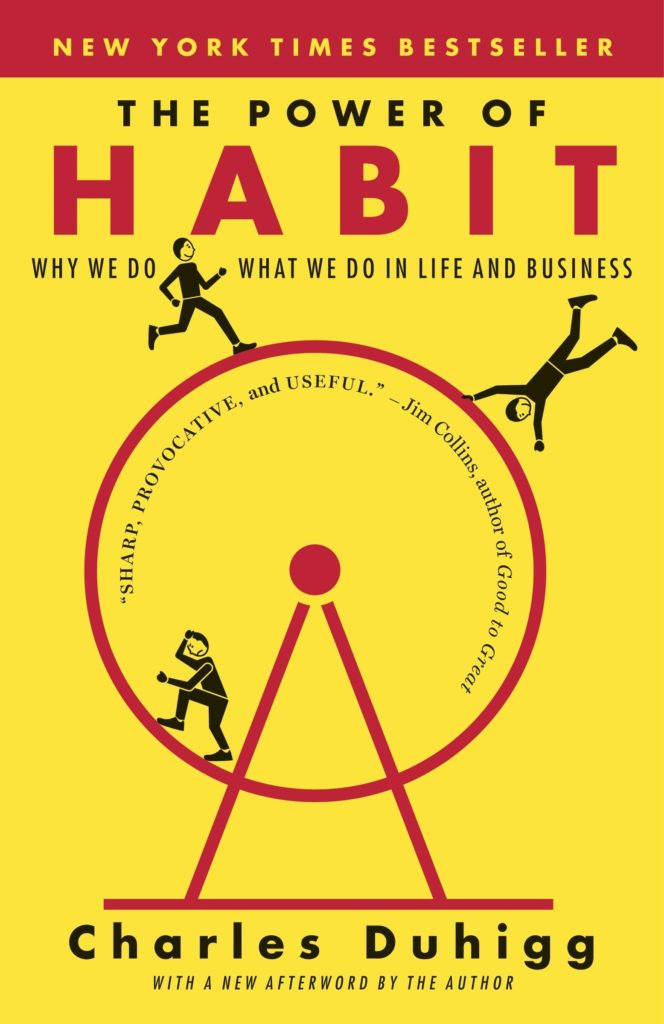 By Charles DuhiggIn The Power of Habit, award-winning business reporter Charles Duhigg takes us to the thrilling edge of scientific discoveries that explain why habits exist and how they can be changed. Distilling vast amounts of information into engrossing narratives that take us from the boardrooms of Procter & Gamble to the sidelines of the NFL to the front lines of the civil rights movement, Duhigg presents a whole new understanding of human nature and its potential. At its core, The Power of Habit contains an exhilarating argument: The key to exercising regularly, losing weight, being more productive, and achieving success is understanding how habits work. As Duhigg shows, by harnessing this new science, we can transform our businesses, our communities, and our lives.
High Output Management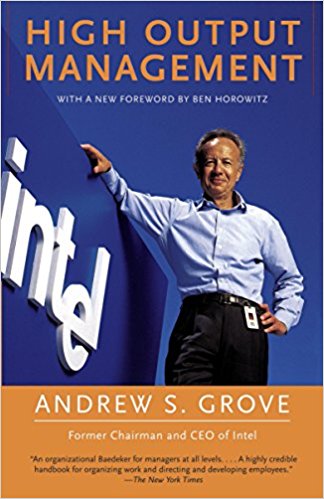 By Andrew S. Grove
In this legendary business book and Silicon Valley staple, the former chairman and CEO (and employee number three) of Intel shares his perspective on how to build and run a company.
The essential skill of creating and maintaining new businesses—the art of the entrepreneur—can be summed up in a single word: managing. Born of Grove's experiences at one of America's leading technology companies, High Output Management is equally appropriate for sales managers, accountants, consultants, and teachers, as well as CEOs and startup founders. Grove covers techniques for creating highly productive teams, demonstrating methods of motivation that lead to peak performance—throughout, High Output Management is a practical handbook for navigating real-life business scenarios and a powerful management manifesto with the ability to revolutionize the way we work.