CSN Coaching Circle Training Exercise
As a supervisor, you are often trying to find answers, solve problems, mentor and/or give advice to support your direct reports. In this session, we introduce you to a tool that does not require you to have any answers or solutions. In fact, thinking you might have the answer or solution is discouraged. The tool is Coaching Circles. These circles aren't about getting advice or merely having a place to vent. They aren't about someone else solving your problems. They are spaces of deep listening and deep learning. New perspectives opening up to new possibilities. The best way to learn is to experience for yourself. In this session, we will discuss the logistics, roles, and steps involved in participating in a Coaching Circle. Then it will be your turn to try out a circle! Absolutely no coaching experience or special knowledge is required. You will be walked through everything you need to know. We will end by talking about ways you might get your employees involved in coaching circles, or how you yourself might want to be a part of a circle.
Facilitated by Theresa Kim of UW-Madison Learning and Talent Development.
December 1, 2022
1:00 pm-2:30 pm
Online (link to follow)
Sorry, registration has ended for this event.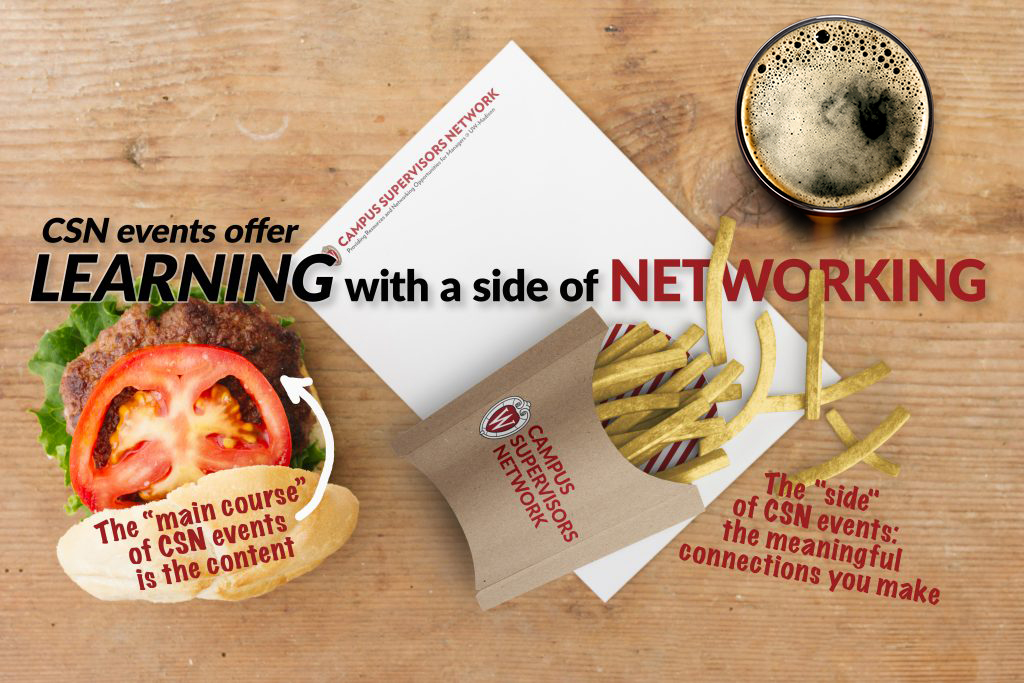 CSN events offer
LEARNING with a side of NETWORKING!
The "main course" of CSN events is the content;
the "side" of CSN events: the meaningful connections you make.
"I do want to share how much I have enjoyed reading the book and also participating in the discussion. The entire experience made me feel supported and part of something much bigger." ~Laura

"I really enjoy book clubs and the opportunity to do one with other campus supervisors outside my division was enticing since we do a lot within our division but it's nice to hear from others." – anonymous survey response
Many attendees have shared that they have learned as much from their peers about how the campus functions as what they took away from the main content of our sessions. This is something to consider when thinking of joining in on a session or not; take into account that the interactions with other supervisors and leaders at UW are as valuable and satisfying as the topics we are covering.
"As an employee of the Division of Extension, I really enjoyed the opportunity of meeting people working on campus. While our individual work may be different, we are all striving to be the best supervisor we can be." – survey response
That is just one of the added values a UW-Madison community of practice like CSN brings to the table: your hunger for learning is complemented by your thirst for growth and support of others in similar situations.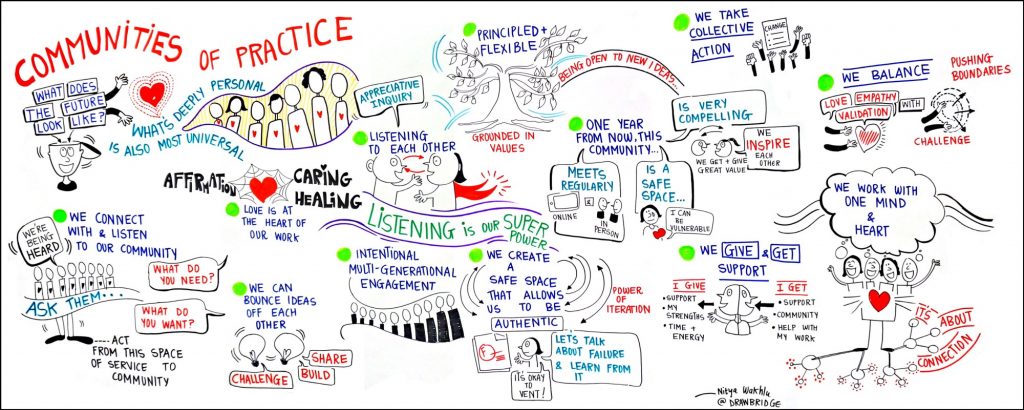 What have you taken away from your interactions at CSN events? We'd love to hear about them!
I want to share my positive experience with you!
"*" indicates required fields
In reflection:
CSN Elevate Book Club

Held March 9, 16, & 23, 2021
If the last year has taught us anything, it's that we can't stay stagnant. We always have to be improving and elevating ourselves. The world around us is changing at a breakneck pace, and we have to be continually improving to be the best versions of ourselves and keep up with it. This is especially true for leaders and supervisors, who need to be in their best shape to lead in this rapidly changing world. You can't stay the same and expect to be able to lead teams in the future.
Robert Glazer, CEO of Acceleration Partners, wrote a book about this topic. He has led a fully remote team for years and has seen in the last year how people have had to adapt and improve themselves to work in and lead remote teams. He knows the importance of continual improvement and says it comes down to your daily habits and actions. You have to know where you want to go in order to put in the work to get there.
In his book, Elevate: Push Beyond Your Limits and Unlock Success in Yourself and Others, Robert lays out four ways to elevate yourself for continual improvement: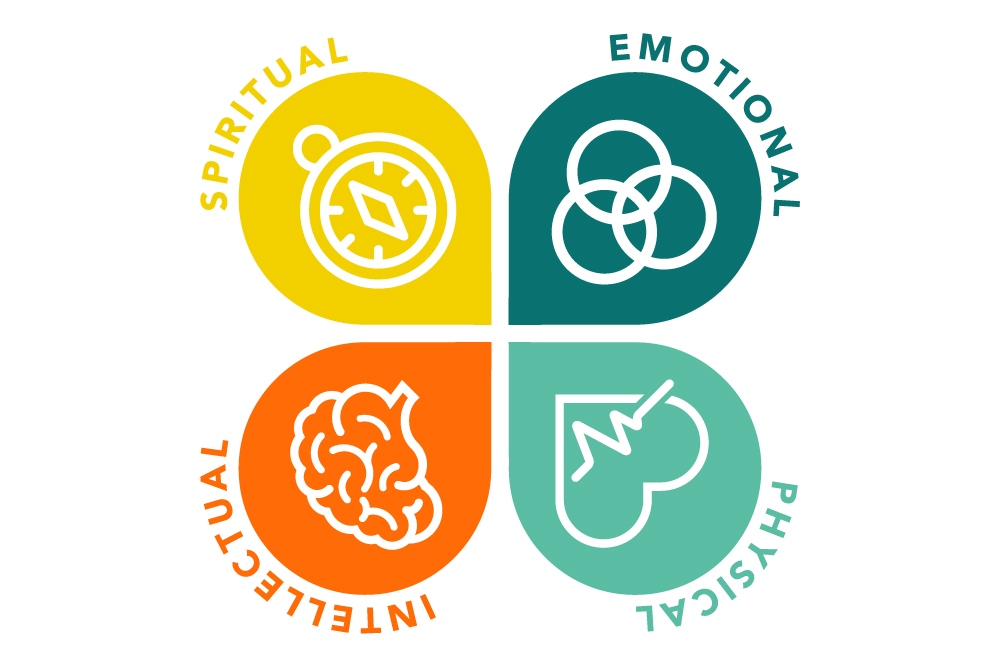 Spiritual. This isn't necessarily religious, but it's about knowing who you are and what you stand for. This includes the personal standards you live by each day. In order to improve yourself, you have to know where you are going and what you want most.
Intellectual. Spiritual elevation helps you realize where you want to go, intellectual elevation helps you get there. This includes establishing routines and healthy habits and setting long-term and short-term goals.
Physical. You have to take care of yourself physically to have the strength and energy to reach your goals. Elevate yourself with improved eating and exercise habits to take care of your body.
Emotional. Your emotional levels affect your relationships and how you react to challenging situations. Everyone faces stress and trials, but when you elevate yourself emotionally, you are better prepared to handle the ups and downs.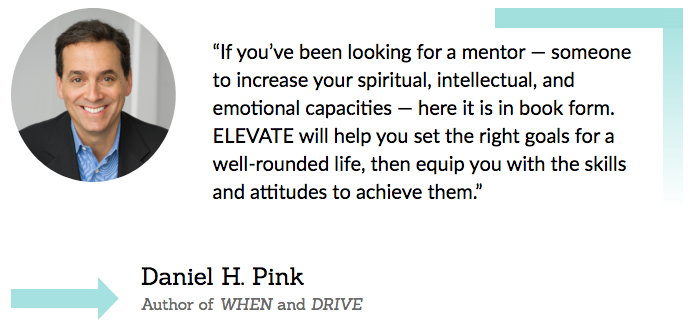 We discussed these capacities in detail in our three sessions, and were joined by the author during the last session for some in-person Q&A!
For access to the workbook and other resources shared at this book club, visit this link: https://go.wisc.edu/8jzpd8
Get Involved!
Want to be more involved in CSN? Our strength comes from the diverse experiences the members of our planning committee bring to the table, along with feedback from other campus supervisors regarding content for our website and events. The more people that provide input, the stronger our services and abilities to deliver on our mission. Please don't hesitate to contact our committee chair at any time, and thank you for your involvement!