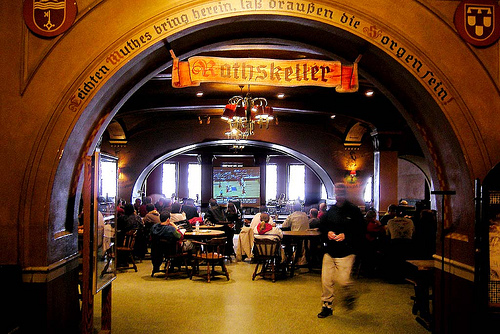 Der Rathskeller
Der Rathskeller opened in 1928 in the Memorial Union, and only male students were allowed inside. In response, the Union Women Affairs Committee established a meeting place in the Paul Bunyan room in 1934, and called it "Der Catskeller". Finally, in 1941, women were allowed to use Der Rathskeller, but only after 2:30 PM. (These days, they are welcome any time!)
At this juncture, an event called Danceskeller began to run every Friday and Saturday night, where male and female students paid 25 cents to swing dance the night away.
The word "Rathskeller" is German, and roughly translates to "the basement of a town hall", which was widely known in Germany as a place where citizens would meet for fellowship and refreshments after a long day.
Do you appreciate that the sidewalks and delivery docks are clear when you arrive on a snowy morning? Check out these statistics on the amazing crew responsible for clearing the snow on campus.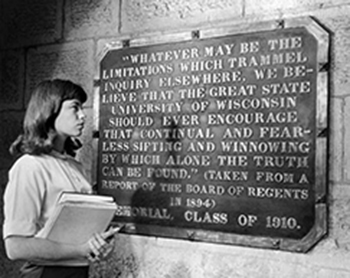 Sift and Winnow
Following controversy in 1894, regents adopt an academic freedom statement: "Whatever may be the limitations which trammel inquiry elsewhere, we believe that the great State University of Wisconsin shall ever encourage that continual and fearless sifting and winnowing by which alone the truth may be found."
Ask Bucky, the Campus and Visitor Relations chat/search/email service for answering questions about the campus and community, is celebrating 20 years of service. Click on the headline to take a quiz to match your wits against Bucky's.
Did you know artists can display their paintings, photography and more at the OHR? Visit their Art Gallery website for more information. (Image of painting by John Ribble.)
Our campus offers a full-service Veterinary Clinic and hospital! At University of Wisconsin Veterinary Care, they're committed to being your partner in the health of your pet, performance animal, livestock or patient. As the state's leader in veterinary care, they give their patients the expertise, latest treatments and compassion they need to get back on track. The team of specialists in all areas of veterinary medicine are here for you, whether your pet requires routine or specialty care. And, it's a learning hospital to train the students of today to be the specialists of tomorrow! So bring your cat, dog, badger or horse to them today.
The Babcock Hall Dairy Plant processes approximately 10,000 pounds of raw milk per day during the school year. Some of the milk is produced right here on campus; the rest comes from private farms in the Dane County area. Unlike most industrial dairy plants, the Babcock Hall plant produces a variety of products and is required to recover 100 percent of its operating costs from the sale of dairy products on campus. The plant's in-house processing equipment manufactures yogurt, butter, cheese, fluid milk and most fermented dairy products — and the delicious ice cream that put Babcock Hall on the map! You can bring staff through on a tour of the plant to learn more about their process, and have a delicious treat at the end!
Get your physics on! Visit this unique museum in the heart of the UW campus: the L.R. Ingersoll Physics Museum is located inside Chamberlin Hall at 1150 University Avenue. Established in 1918, their museum is a Free public venue and is open to all visitors (M-F) from 8:00 A.M. until 4:00 P.M. The exhibits give you a "hands-on" experience of physical concepts ranging from mechanics to modern physics in a demonstration-driven, kid-friendly environment. But don't let that discourage the adults from going — everyone will learn something at this amazing piece of our campus.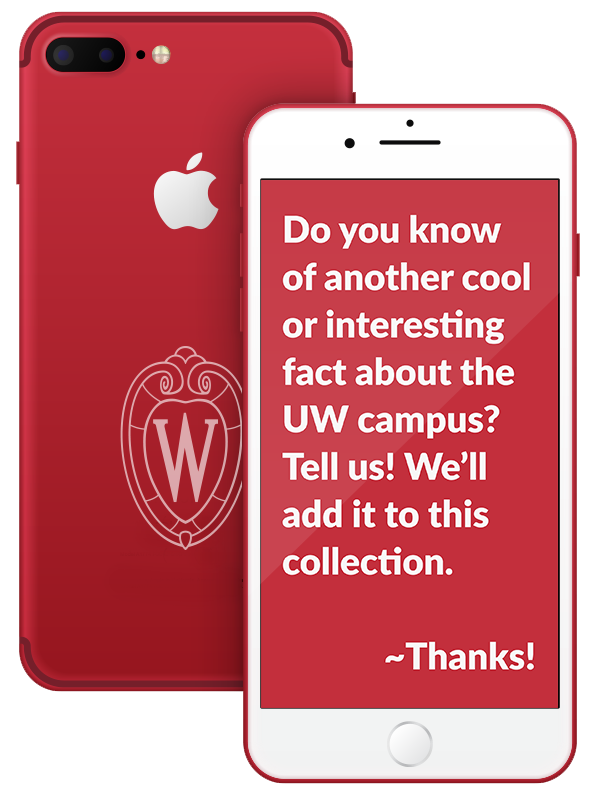 Two sets of labyrinthine steam tunnels — extending from Memorial Library to the Waisman Center, and from Lake Mendota to University Avenue — run under the streets of campus to heat and cool its buildings. This 20-mile subterranean maze has been a fixture at UW-Madison since the late 1800s, when the first tunnels were constructed.
Over the years, they've attracted many adventurous student explorers. Some have reported sightings of an elusive tunnel traveler, while plenty of others have written him off as an urban legend.
Since 1975, Tunnel Bob — or Robert Gruenenwald — has made it his duty to patrol the tunnels. As a kind of steam-tunnel tourist, he's even traveled to other campuses across the country to explore their tunnel infrastructure, but he always returns to Madison. Clearly, our tunnels reign superior.
After some coaxing, Tunnel Bob agreed to let a handful of students follow him through the tunnels … and document their travels.
Click on the title for more details on Tunnel Bob.
Did you know the UW-Madison launched the nation's first university dance program way back in 1926? Or that we invented Vitamin B? Or started the first educational radio station? Click the link to see more of the 24 firsts we are credited with.
What's that loud noise near the terrace? The steam whistle, located atop the Helen C. White observatory tower, announces the countdown to sundown during sailing season. The whistle blows approximately one hour before sunset each evening. The main purpose of the whistle, however, is to warn boaters of an oncoming dangerous storm. Three short blasts indicate an approaching storm. If they hear the warning, boaters should clear the water. For more information, click on the title above.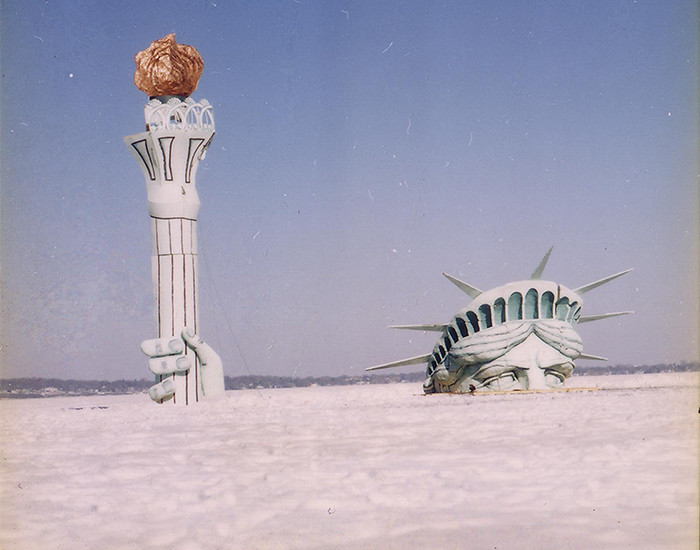 Statue of Liberty on Lake Mendota
The University of Wisconsin-Madison's Pail and Shovel Party promised that, if elected to student government, they would move the Statue of Liberty to Lake Mendota, and they made good on their promise.
In February 1979 an astonishing sight appeared on Wisconsin's Lake Mendota. The top of the Statue of Liberty seemed to emerge from the icy water. Astonished local residents flocked to the lake to witness the bizarre spectacle. It was not a mirage. It was, instead, one of the most famous college pranks of all time.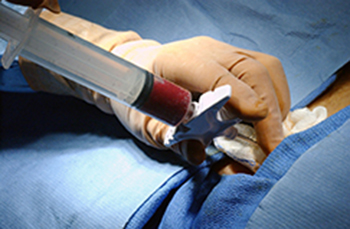 Innovation at UW-Madison
Using techniques developed at the UW, the first bone marrow transplant in the United States was performed at UW Hospital in 1968.
The carillon tower on UW-Madison's campus is a unique gem, not to be taken for granted. Designed by Arthur Peabody, the UW-Madison carillon was originally dedicated in 1936 with 25 bells. Additions and replacements resulted in the current configuration of 56 bells ranging in size from 15 to 6,823 pounds. The UW-Madison carillon is one of three in Wisconsin, the others being at Marquette University in Milwaukee and First Evangelical Lutheran Church in Green Bay. The carillon is featured in weekly recitals by University Carillonneur Lyle Anderson during the academic year and by Mr. Anderson and guest artists each summer. You can watch the Carillonneur masterfully manipulate the instrument and listen to a sampling of music. The carillon is played most Wednesdays and Fridays at 1 pm, for about 15 minutes, throughout the semester, as well as other special events throughout the year. Reservations are required for group tours. Click the title for an article about the tower.
The Geology Museum has a storied history, surviving a fire at Science Hall and eventually amassing over 120,000 specimens for viewing in their current location on West Dayton Street to support their dedication to education and research in Geoscience. The museum is free to visit, and welcomes visitors of all ages. Come discover the amazing history and geology of our planet; bring staff members for a break from their daily digs and see what this amazing department does for our community. Click the title for a link to a recent On Wisconsin article about the museum's largest exhibit, the Mastodon.
We have our own resident bracketology experts on campus, in the College of Engineering! Badger Bracketology is a University of Wisconsin-Madison College of Engineering sports analytics team directed by Laura Albert McLay that has developed a methodology for forecasting the four team NCAA football playoff starting back in 2014 using advanced analytics and discrete event simulation. Simulations and forecasts are updated weekly. To see a quick interview with Laura Albert McLay go to: https://www.youtube.com/watch?v=463Lyo8xfLY.
Science Hall was the second building in the country to be built entirely with steel-frame construction and may be the oldest all-steel-beam building standing today. It is also said to be haunted by the souls of cadavers previously stored in its bowels.