Planners' Picks
A collection of resources from CSN planning committee members worth mentioning
We've sprung forward this week and with a little luck will see warmer weather. Let's work on building stronger teams, lessening our worry, and creating psychological safety for those in our care with advice from experts on these topics.
||| Image of the Week: |||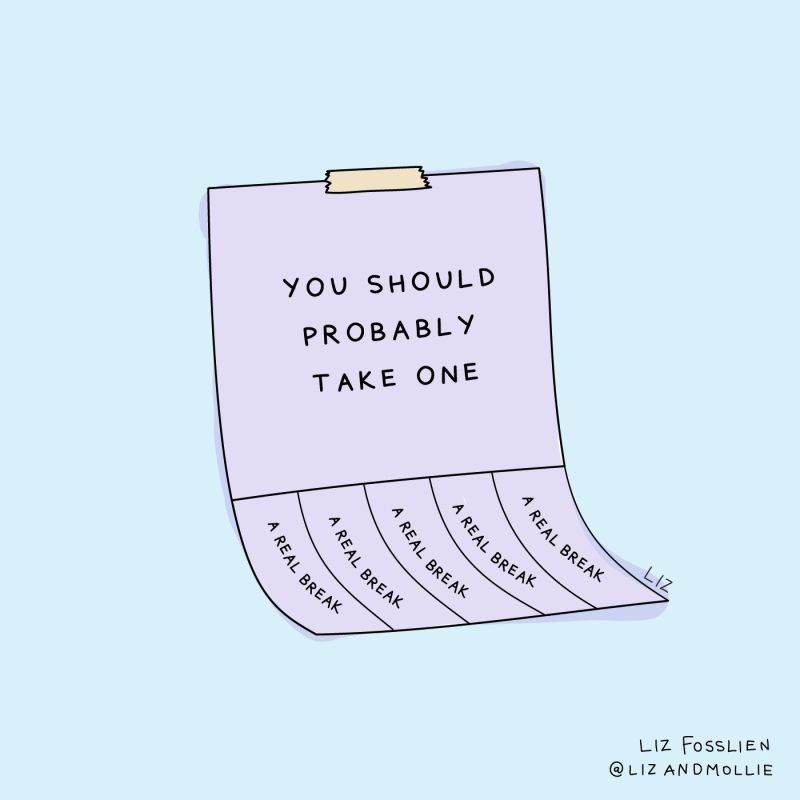 Another reminder for you (yes, YOU!) from Liz Fosslien. See the upcoming event (below) featuring her!
||| Resources on Work Culture & Team Development |||
Thinking of Hiring or Promoting Someone to a Leadership Position? How to Tell Who Will Be A Good Leader
A question we hear often—from colleagues, board members, HR directors, recruiters, and people at workshops and conferences—is how you can tell whether someone will be a good or a poor leader. What are the signs, qualities, traits that predict excellent leadership? There's no clear-cut answer, but after years of coaching leaders around the world, these are Lolly Daskal's baseline predictors, for two reasons: first, because they show up consistently in the best leaders, and second, because they can't be faked.
https://www.lollydaskal.com/leadership/how-to-tell-who-will-be-a-good-leader/
Forbes Leadership Lessons: How Leaders Can Demonstrate Empathy and Build Stronger Teams
Whether you're looking to grow your brand or wondering how to turn your side-hustle into a business, Forbes Leadership Lessons covers it all. This short video covers four ways to build trust and demonstrate empathy as a leader, with your host Amy Blaschka.
https://www.forbes.com/sites/forbesvideo/article/forbes-leadership-lessons/?sh=79f58c896d2a
||| Resources on Self-Leadership Development |||
The 10 Most Meaningful Lessons You Can Learn From Watching TED Talks
They can help you fight your inner critic, reframe your failures, and boost your self-confidence.
There's something incredibly powerful about learning something new in just a few minutes, and many TED Talks provide important insights about well-being from a range of speakers, each with unique experiences and stories to share. We've gathered some of their speakers' most meaningful and actionable insights here, so you can discover smart tips on relieving stress, fighting your inner critic, reframing your failures, and more.
https://thriveglobal.com/stories/ted-talks-meaningful-inspiring-lessons-wisdom/
"Comparison is the thief of joy." Theodore Roosevelt
How to Stop Worrying About What Other People Think of You
If you want to be your best and perform at a high level, fear of people's opinions may be holding you back.
Our fear of other people's opinions, or FOPO, has become an irrational and unproductive obsession in the modern world, and its negative effects reach far beyond performance. If you start paying less and less attention to what makes you you—your talents, beliefs, and values—and start conforming to what others may or may not think, you'll harm your potential.
If you really want to conquer FOPO, you'll need to cultivate more self-awareness. Most of us go through life with a general sense of who we are, and, in a lot of circumstances, that's enough. We get by. But if you want to be your best while being less fearful of people's opinions, you need to develop a stronger and deeper sense of who you are.
You can start by developing a personal philosophy—a word or phrase that expresses your basic beliefs and values. This philosophy isn't a platitude or slogan; rather, it's a compass, guiding your actions, thoughts, and decisions.
https://hbr.org/2019/05/how-to-stop-worrying-about-what-other-people-think-of-you
5 Ways to Find Your Flow
Have you ever been so focused on something that you felt like you were in the zone? Think back to the last time you were so engaged in a task that you got into a groove, lost track of time, and the rest of the world just faded away. Chances are good that you were in what psychologists call "flow state." Flow state is a state of pure focus and concentration that enables you to do what you're doing at the top of your game.  Einstein got himself into a flow state by playing the violin. And when he did, he was able to tap into the part of his brain that enabled him to discover the secrets of the universe! Listen to this short video and read the text from Dr. Melissa Hughes on five ways to find your flow.
https://www.bizcatalyst360.com/5-ways-to-find-your-flow/
"Either you run the day or the day runs you." — Jim Rohn
||| Resources on Building Trust |||
This Is What Will Stop Your Employees From Quitting
Warren Buffett Says This Is What Will Stop Your Employees from Quitting:
1. Make work purposeful.
2. Create an environment of shared values.: The best places to work are places where people love coming to work because the culture is positive and uplifting
3. Empower your "middle manager" to lead. How many times have I heard a manager tell me they cannot accommodate an employee's request because "It's policy," and "my hands are tied. In many organizations the immediate manager is merely there to push for work to get done and enforce rules and policy. This is a missed opportunity to empower them to lead better, but often they can't because they don't have freedom and decision-making authority.
4. Hire and promote leaders with character.  A person with character brings more truth and truth-tellers to the business, which makes it very attractive to others seeking the same. This is a place where people love coming to work.
https://www.inc.com/marcel-schwantes/warren-buffett-says-this-is-what-will-stop-your-employees-from-quitting.html
5 Ways to Help Create Psychological Safety
How can teams continually improve psychological safety? If all this sounds like a tall order, remember that psychological safety represents an organization's climate and culture. And when you consider the enormity of changing a culture, it can feel overwhelming so it is helpful to break down into small steps.
https://www.linkedin.com/posts/davidmcleanatgetkeepgrow_leadership-leadershipdevelopment-psychologicalsafety-activity-6854116650720071682-0G1R
||| Upcoming Events ||| 
Harnessing Emotions in the Workplace with Author Liz Fosslien
Wed, Mar 16, 2022, 11:00 AM – 11:45 AM
Liz Fosslien is an expert on how to make work better, Head of Communications and Content at Humu, and co-author and illustrator of the upcoming book Big Feelings and the Wall Street Journal best-seller No Hard Feelings. Her illustrations have been commonly featured as PP Image of the Week. She regularly speaks about emotions at work at organizations including Google, LinkedIn, NPR, and Spotify.
Join her live this March to learn from how Liz finds her voice and builds a brand in the "emotions at work" space, and how we can all harness the power of emotion in the workplace!
This is an interactive conversation, so bring your questions!
https://www.linkedin.com/video/event/urn:li:ugcPost:6902717450740469760/
"Stay away from those people who try to disparage your ambitions. Small minds will always do that, but great minds will give you a feeling that you can become great too." — Mark Twain