Planners' Picks
A collection of resources from CSN planning committee members worth mentioning
We're shooting for a warmer month ahead. What path will you take into this new season? We also cover kindness and tension in this installment of PP.
||| Image of the Week: |||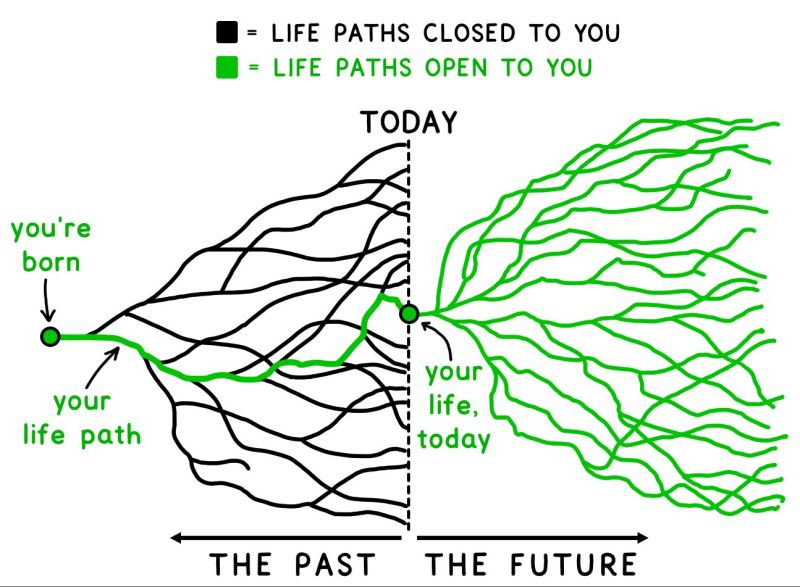 It's not too late to change the path you're following. Who knows what the future brings.
||| Resources on Self-Leadership Development |||
Big Plans Require Small Steps to Get Started
We don't have to overhaul our lives to see a brighter future — we just have to take the first small step. "With each Microstep we take, we have an opportunity to begin again and create lasting change," writes Arianna Huffington.
https://thriveglobal.com/stories/big-plans-require-small-steps/
"Today is your opportunity to build the tomorrow you want."  – Ken Poirot
What Progress Sometimes Looks Like
Check out this short post and image from author Liz Fosslien on progress and how it can sometimes feel like you are just going in circles. She has some great advice on how to see the actual successes in those times.
https://www.linkedin.com/posts/liz-fosslien_licreatoraccelerator-activity-6909553016559865856-FWq0/
3 Reasons You Should Think About Your Career As A Series Of Seasons
If you're like most people, your professional journey has been filled with many different phases.
Early in your career, you were probably eager to gain new skills and experience. Later, you may have felt the need to pull back a bit to assess and regroup. Or perhaps you reached a point where you did a complete transformation, either changing industries or striking out on your own.
Whatever your professional goal, there's a career "season" that corresponds to it. And like nature's seasons, you'll likely cycle your way through all of them, often more than once.
Here are three reasons why you should think about your career as a series of seasons.
https://www.forbes.com/sites/amyblaschka/2022/02/26/3-reasons-why-you-should-think-about-your-career-as-a-series-of-seasons/?sh=51d82c5c5878
||| Resources on Gratitude and Appreciation |||
Don't Underestimate the Power of Kindness at Work
Organizations benefit from actively fostering kindness. In workplaces where acts of kindness become the norm, the spillover effects can multiply fast. When people receive an act of kindness, they pay it back, research shows — and not just to the same person, but often to someone entirely new. This leads to a culture of generosity in an organization. The authors outline more of the research-backed benefits of kindness, share their own research on how giving compliments boosts happiness, and offer practical tips for managers who want to promote kindness on their team.
https://hbr.org/2021/05/dont-underestimate-the-power-of-kindness-at-work
A simple gratitude practice will change your company culture
Charlene Li has a practice around gratitude that I find to be so helpful. I'm sure you've heard "gratitude" advice before, and sometimes it might seem patronizing. But this practice is a variation on the usual "make a gratitude list" advice that has worked wonders for her and she recommends you try it too.
https://www.linkedin.com/pulse/simple-gratitude-practice-change-your-company-culture-charlene-li/
"Change will not come if we wait for some other person, or if we wait for some other time. We are the ones we've been waiting for. We are the change that we seek." —Barack Obama
||| Resources on Work Culture & Team Development |||
Seen & Unseen Disabilities in the Workplace
Disabilities in the workplace, both seen and unseen, can often leave us wondering how to lead our people in the most effective and supportive way. Especially when they're visibly going through a rough patch. Being able to speak openly about personal issues fosters a community-led workplace that will not only encourage each other, but will be better equipped for future concerns that may arise. Read more into this in Heather Younger's article.
https://www.linkedin.com/pulse/seen-unseen-disabilities-workplace-heather-r-younger/?trackingId=RWgZO4nlSLWBuiQEccaMuA%3D%3D
Managing Anger, Frustration, and Resentment on Your Team
Anger and resentment across your team can make an already stressful leadership job feel worse. But how you respond to your employees' frustrations is critical to ensuring negative emotions don't limit your effectiveness. The author offers four recommendations to try: 1) Balance your emotions first before reacting to your team's frustration. 2) Lean into their anger with an intent to learn. 3) Redesign team goals together. 4) Build deeper trust by owning your part.
https://hbr.org/2022/02/managing-anger-frustration-and-resentment-on-your-team
||| Resources on Hybrid and Remote Work |||
Remote Work Should Be (Mostly) Asynchronous
The pandemic accelerated many trends, from streaming, e-commerce, and food delivery platforms to the widespread adoption of remote work. But instead of taking advantage of this opportunity to improve how we work, most organizations simply took their offices online, along with the bad habits that permeated them. A move to a better way of working remotely is desperately needed. If your digital transformation is going to be successful, you need to give your employees the right tools and systems to work in a digital, distributed, virtual environment. However, digital tools are only as effective as how effectively you use them, and alignment between managers and employees on remote work best practices will be critical to the success of any digital transformation initiative.
https://hbr.org/2021/12/remote-work-should-be-mostly-asynchronous
3 Tensions Leaders Need to Manage in the Hybrid Workplace
When it comes to hybrid work cultures, even leaders who are committed to having an inclusive organization struggle to put the right policies and procedures in place. Rather than trying to get it "right," leaders need to manage three tensions: allowing employees to work when and where they want vs. expecting constant availability; employees feeling isolated vs. invaded when working remotely; and which practices are possible in a hybrid environment vs. which are rewarded. The authors share advice for how to navigate each of these tensions in a way that prioritizes inclusion.
https://hbr.org/2022/02/3-tensions-leaders-need-to-manage-in-the-hybrid-workplace
"Becoming comfortable with the uncomfortable is the only way to growth." – Dr. LeVar Charleston
||| Upcoming Events |||
The BLUEPRINT Leadership Summit April 4-8, 2022 |12PM ET Daily
A meeting of top leadership minds and luminaries from across the business space. Sign up to benefit from hundreds of years of collective leadership acumen at this week-long special event with speakers Brené Brown, Liz Wiseman, Steve Collis, and Susan Cain along with a power panel on Friday.
Hosted by Globally-Renowned Top 50 Leadership Innovator & Award-Winning Fortune 500 CEO, Doug Conant
Multiple Sessions from World-Class Leaders
Insights Inspired by the WSJ Bestseller, The Blueprint
FREE—This Summit Is Open to All
5-Day Event—1 Session Per Day | 12PM – 1:15PM ET
Register ahead! https://start.conantleadership.com/blueprint-leadership-summit/