Planners' Picks
A collection of resources from CSN planning committee members worth mentioning
May brings flowers after our April (and May) showers, but it also brings ways to reset your mindset, improve your communication, and feel like your authentic self.
:: Image of the Week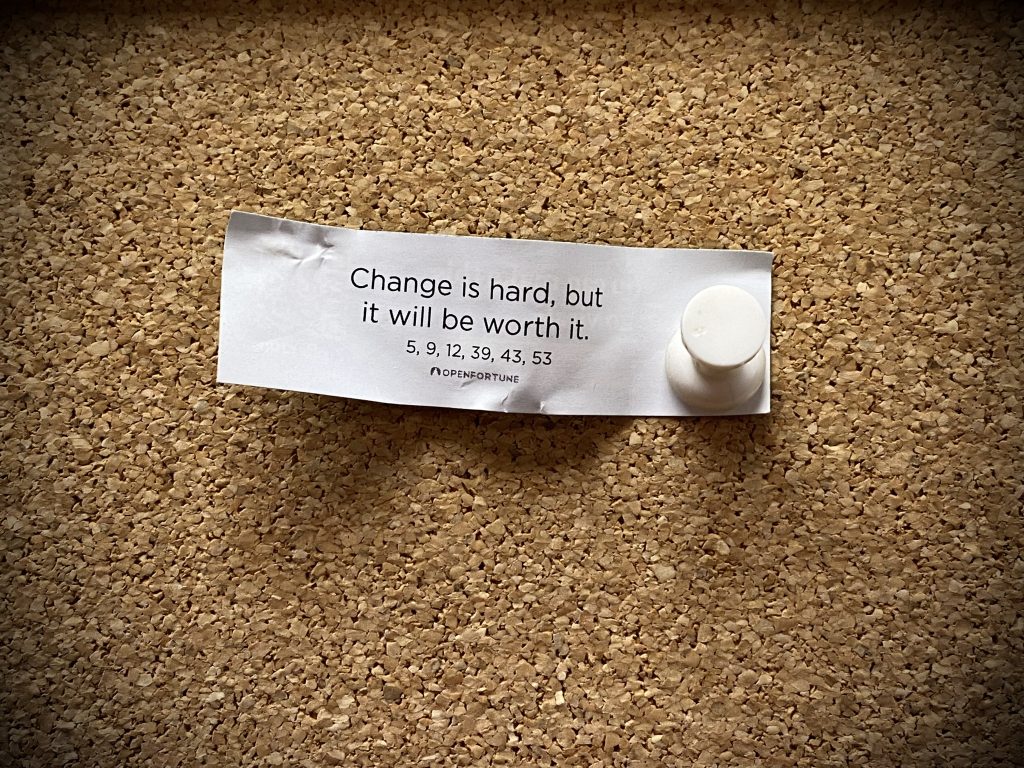 Digital Publishing & Printing Services recently moved their production center across town. The enormous amount of preparation and planning for this difficult change paid off in a better facility and improved processes to meet their customers' needs. As the team settled into the new location, one of the managers installed a large bulletin board in his office and posted one small thing on it: a fortune cookie script reading "Change is hard, but it will be worth it." How fitting for this situation, and for all of the change management initiatives leadership teams continue to navigate throughout our university. If you focus on the outcomes, the actual process becomes less painful. And yes, it was worth it!
:: Resources on Mental Health and Self-Care
3 Ways to Reset Your Mindset to Find Peace Amid Change
If you want more peace of mind and want to navigate change with more clarity and confidence, then this post is for you.  We've been through a lot of change over the past two years, and most of those changes we didn't choose.  We've felt overwhelmed, anxious, burned out and frustrated – anything but peaceful.  Rachel Druckenmiller shares three insights about how to build resilience and navigate the next normals.
https://www.linkedin.com/pulse/3-ways-reset-your-mindset-find-peace-rachel-druckenmiller-/
10 Ways to Stop Sweating the Small Stuff and Move Forward
When we can address stress in the moment, we can move on instead of dwelling on the issue. There's power in acknowledging the causes of our #stress before it becomes cumulative or overwhelming — and it's also important to arm ourselves with tools and strategies to help us address stress in the moment.
https://thriveglobal.com/stories/how-to-stop-dwelling-on-stress-move-forward-tips/
"It is only when we take chances, when our lives improve. The initial and the most difficult risk that we need to take is to become honest. —Walter Anderson
We're Better Together
"We can choose to add to our growing anxiety by focusing on the hate, greed or fear we see. Or, we can choose to look for the good and surround ourselves with people who share our values of uplifting others in word or deed, add our own positive ripple in the universe, to help one another and build strong and enduring human relationships that will get us through this thing together." Social connectedness may be the most important basic human need because belonging is what enables us to actualize the others. Join Dr. Melissa Hughes in her latest installment of her blog post.
https://www.melissahughes.rocks/post/were-better-together
:: Resources on Communication
The Lost Art of Conversation
Today, there is information overload, communication via text/email, and a culture that has practically eliminated the art of conversation. If you are of the older generation, I will bet when you attempt to talk to someone today it can be much more difficult than it was in the past. We see a lack of true connection, a conversation that is an exchange of thoughts, ideas, perceptions, and opinions, which may or may not be on the same wavelength. What can you do?
https://www.bizcatalyst360.com/the-lost-art-of-conversation/
Four Ways Communications Can Engage Employees
Here are four principles from McKinsey & Company that leaders can incorporate into communication efforts as we continue to navigate the next "normal" in our workplaces. As your next normal starts to take shape, strive to share more with employees, including your uncertainty about the future and its evolution.
https://www.mckinsey.com/business-functions/people-and-organizational-performance/our-insights/the-organization-blog/four-ways-communications-can-engage-employees-on-the-return-to-workplace-journey
:: Resources on Self-Leadership Development
What does it mean to feel like your authentic self?
Sometimes you try a new hobby, make new friends, or start a new job, and it just doesn't feel true to you. We talk to a social science researcher about his new look at what goes into feeling authentic, and how the latest science can help you feel more in line with your authentic self. Listen to this short WPR.org call-in show for some ideas.
https://www.wpr.org/listen/1945666
:: Resources on Work Culture & Team Development
What First-Time Managers Can Do to Address Burnout
Becoming "the boss" is a significant career transition, and is often accompanied by shifting relationship dynamics at work, including leading direct reports. If managers don't put their mental health first, burnout could easily rub off onto their teams. Here are some ways to take care of yourself as you start to lead.
https://hbr.org/2022/03/what-first-time-managers-can-do-to-address-burnout
"Darkness cannot drive out darkness: only light can do that. Hate cannot drive out hate: only love can do that." ― Martin Luther
The Word Appreciate Defined
The word 'APPRECIATE' is from a Late Latin word APPRETIARE meaning "to set a price to", formed from AD 'to' + PRETIUM 'price'. It was understood to mean 'being conscious of the rise in value' – which I love. The first step to appreciate is to be aware and conscious, the second step is to understand the value of someone or something. Of course, this is far more than a price, it is the meaning and significance.
This definition provided care of Dani Saveker's weekly LEAPS newsletter:
https://glasmethod.com/danis-weekly-leaps?ss_source=sscampaigns&ss_email_id=6268a3abaaee2a7463f37401
:: Upcoming Events
Stress or Success? Thriving in a Chaotic World
Wednesday, May 4, 11 am–12 pm, via Zoom
Brought to us by the UW–‍Madison Employee Assistance Office and LifeMatters: A virtual webinar on stress management, offering a roadmap for employees who hope to incorporate principles of stress management into their daily lives. Practical ideas will be provided for building resilience and reducing stress through:
Mindset and attitudes
Habits and actions
Connections and relationships
The Employee Assistance Office will provide a recording on the EAO website following the live presentation. For questions and more information, visit the EAO website or email eao@mailplus.wisc.edu.
To receive the Zoom link: Register online
Work Happier
Wednesday, 18 May, 1 pm-2 pm CDT, via Zoom
How happy are you at work?
Work is a big part of life, but not something we always associate with happiness. Yet happy people are successful people – and organisations with happy people perform better.
Nic Marks is a happiness expert, statistician and trained therapist on a mission to improve people's quality of life. At this special event, Nic will share how we can be happier at work and help to create happier workplaces for those around us too.
Nic will also explain how promoting sustainable happiness should be the aim of people and nations everywhere, building on the findings from his ground-breaking Happy Planet Index which has had worldwide attention ever since his famous TED talk watched by millions.
https://www.eventbrite.co.uk/e/work-happier-with-nic-marks-tickets-320798867047