Planners' Picks
A collection of resources from CSN planning committee members worth mentioning
Today we continue to identify stress and burnout and address it. We break old patterns and hone our problem-solving skills too. Enjoy!
:: Image of the Week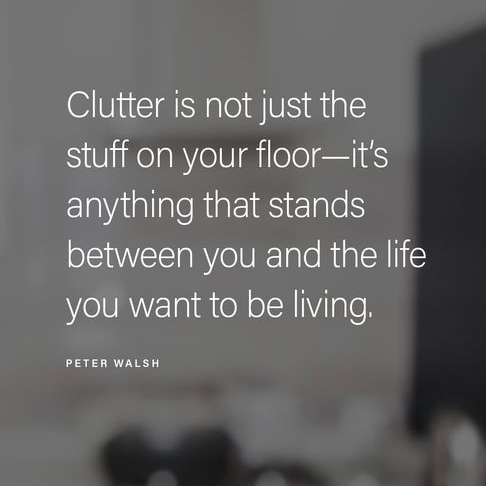 Is it time for some spring cleaning?
:: Resources on Mental Health and Self-Care
3 Ways Your Body Tells You You're Stressed — and What to Do About It
Many of us are dealing with multiple stressors right now, whether related to our work, our families, our health, or our ongoing to-do lists that continue to pile up. These sources of anxiety can manifest in our bodies, but we often ignore those signs and continue to power through. With so much going on, even pausing to listen to our bodies can feel like too much time to spare.
But to get our stress under our control, it's important to identify the physical symptoms we could be missing — and then create a plan to course-correct and better manage the stressors for good. Here are a few tips to help you get started, based on your stress signals.
https://thriveglobal.com/stories/three-ways-your-body-tells-you-youre-stressed-and-what-to-do-about-it
Understanding and Combating Burnout – Online Course from LTD
This UW-Madison Learning and Talent Development online course describes burnout, its causes, symptoms, and how it differs from stress. It also includes an assessment you can take to determine your current level of burnout. Finally, it walks through coping strategies to help overcome burnout and points toward campus-provided resources.
https://www.talent.wisc.edu/Catalog/Default.aspx?CK=72737
:: Resources on Self-Leadership Development
Leaders with Heart Trust and Inspire: Heather Younger's Leadership with Heart Podcast featuring Steven Covey
In this Leaders with Heart episode, Heather sits down with Stephen M. R. Covey, New York Times & #1 Wall Street Journal Bestselling Author, Keynote Speaker, and Speed of Trust Global Practice Leader. His latest book, Trust and Inspire, focuses on How Truly Great Leaders Unleash Greatness in Others. Heather actually endorsed this book because she saw such a close connection between it and Caring Leadership, and it resonated with her, so it will with you, too. Take a listen.
https://heatheryounger.com/215-leaders-with-heart-trust-and-inspire/
How to Form New Behaviors and Break Old Patterns
To form new habits, you must lay the foundation to build new neurological highways, ensuring they are well-established and well-maintained. These new highways help you close the gap between who you are and who you need to become to reach your goals. The more your mind travels these new paths, the easier they are to take, until they unconsciously lead you to success. Once they are firmly embedded in your memory and experiences, your need to use willpower to force change diminishes, and change becomes easy.
https://www.entrepreneur.com/article/364986
How Great Leaders Serve Others: TEDx
Are you familiar with servant leadership principles? While servant leadership is a timeless concept, the phrase "servant leadership" was coined by Robert K. Greenleaf in The Servant as Leader, an essay that he first published in 1970. In that essay, Greenleaf said:
"The servant-leader is servant first… It begins with the natural feeling that one wants to serve, to serve first. Then conscious choice brings one to aspire to lead. That person is sharply different from one who is leader first, perhaps because of the need to assuage an unusual power drive or to acquire material possessions…The leader-first and the servant-first are two extreme types. Between them there are shadings and blends that are part of the infinite variety of human nature."
"The difference manifests itself in the care taken by the servant-first to make sure that other people's highest priority needs are being served. The best test, and difficult to administer, is: Do those served grow as persons? Do they, while being served, become healthier, wiser, freer, more autonomous, more likely themselves to become servants? And, what is the effect on the least privileged in society? Will they benefit or at least not be further deprived?"
A servant-leader focuses primarily on the growth and well-being of people and the communities to which they belong. While traditional leadership generally involves the accumulation and exercise of power by one at the "top of the pyramid," servant leadership is different. The servant-leader shares power, puts the needs of others first and helps people develop and perform as highly as possible.
For a different spin on what servant leadership looks like in action, listen to this entertaining TEDx talk by David Marquet, who led a distinguished career in the United States' Submarine Force, culminating in command of the nuclear-powered fast-attack submarine USS Santa Fe.
https://www.youtube.com/watch?v=DLRH5J_93LQ
:: Resources on Work Culture & Team Development
Lifelong Learning Essential in Today's Workforce
The one certainty about the world of work is that it's constantly changing. What does this constant change mean for workers? No matter your profession, learning needs to be woven into your career path. In fact, lifelong learning can improve your career prospects, particularly now as employers face a skills gap and yearn for job candidates willing to adapt to changing needs and goals.
https://continuingstudies.wisc.edu/blog/lifelong-learning-essential-in-todays-workforce/
5 Ways To Use Soft Skills To Hone Your Professional Problem-Solving Abilities
On its own, problem solving is an undeniably powerful soft skill. The ability to solve issues quickly and effectively remains in demand by employers and employees alike, especially during the pandemic's prolonged uncertainty and ever-changing landscape. It's no wonder that in its latest Pulse of the American Worker survey, Prudential found that problem solving was one of the top three soft skills workers gained last year.
But to truly supercharge your problem-solving abilities, you should combine them with additional soft skills. Here's how to use awareness, listening, curiosity, creativity, and grit to hone your problem solving.
https://www.linkedin.com/pulse/5-ways-use-soft-skills-hone-your-professional-amy-blaschka
Three Strategies to Manage your Team and Work Better as a First-Time Manager
How can you ensure that you are successful as a first-time manager and support your well-being? Moving into a leadership role is exciting, but it can also be stressful with an increased workload and the challenges of managing a hybrid team. There is a steep learning curve, which is made more difficult in organizations without proper training and mentoring support. Not all the working habits that make you a successful team member are what you need as a team leader. Take the time to identify behaviors that are no longer serving you and consider what you can do differently.
https://abetterworkday.com/three-strategies-for-a-first-time-manager/
:: Upcoming Events
Emotional Intelligence in Leadership CSN Discussion
In CSN's recent presentations on Building Employee Trust, speakers Theresa Kim and Steven Catania discussed four growth areas for building trust in teams: Emotional Intelligence, Change Management, Empathy, & Coaching. We will spend some more time on each of these topics, starting with Emotional Intelligence.
Join CSN members Rich Gassen and Nancy Kujak-Ford for a small group discussion on this topic, with definitions, examples, and resources for developing your EI as a leader. Some pre-work (light reading/video) will be sent via email May 20th To registrants. Come prepared to share stories and have candid conversations around your journey in this area of supervision.
When: May 25, 9:30-10:30 am via Zoom
Register: https://go.wisc.edu/ypy6k6
Hurry; limited spots are available for this small group discussion!
Women and Leadership Symposium
Wednesday, June 1 at Union South (in-person)
The Women and Leadership Symposium brings together engaged professionals for a day of networking, professional development, learning from women leaders, and sharing of best practices. In addition to the keynote address, there will be 28+ breakout sessions on topics related to relationship building, well-being, building influence, career management, workplace skills, and engagement, inclusion, and diversity.
The event is open to anyone interested in women's advancement.
Fee: $75 UW Affiliates; $100 non-UW Affiliates
Registration deadline is May 18, 2022