Planners' Picks
A collection of resources from CSN planning committee members worth mentioning
We're celebrating TWO YEARS of Planners' Picks this week! Our planning committee started this newsletter during COVID as a way to continue to reach our audience during the shutdown and it has grown into a staple of leadership information on campus with over 1300 subscribers. Thank you for your support and feedback along the way. You can check out previous installments of this newsletter at https://campussupervisorsnetwork.wisc.edu/category/blog-posts/.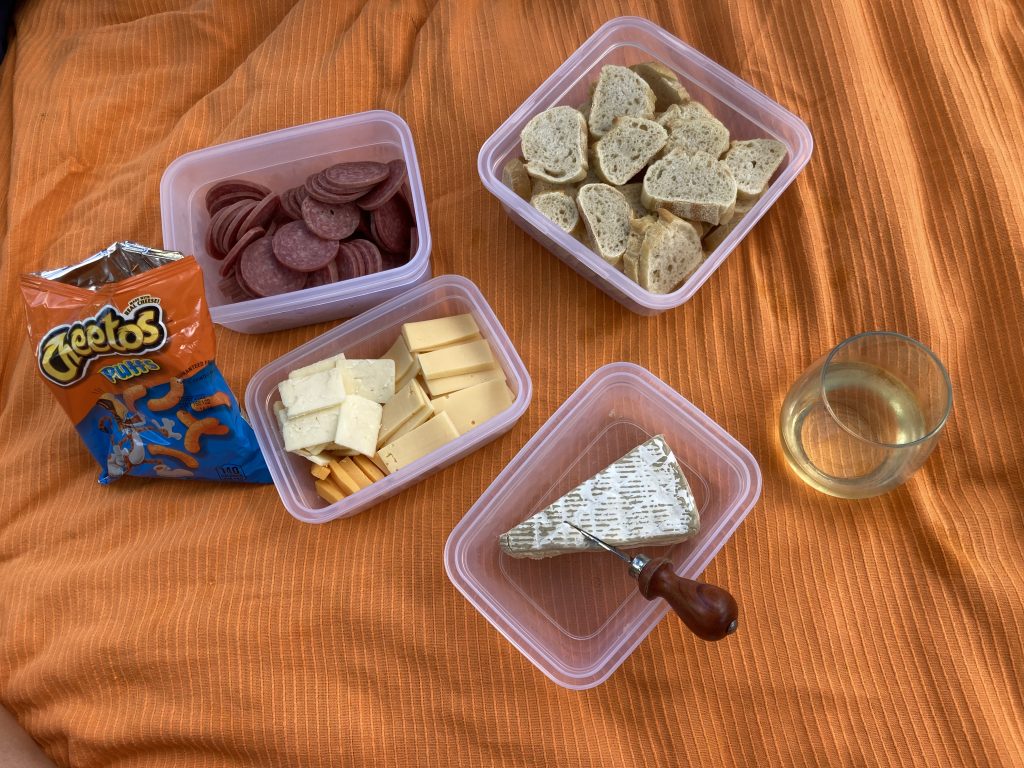 Last week I was practicing some self-care on a walk with fellow CSN planner and dear friend Nancy Kujak-Ford to check in with each other on our leadership journeys and discuss upcoming events. I mentioned how my family had gone back to finding free music venues in the area this summer to relax, recharge, and spend time with our friends while enjoying some of the wonderful entertainment this region has to offer. She was inspired by my conversation and went to the rescheduled concerts on the square that evening. She even sent me a photo of her wonderful spread of snacks she and her guests enjoyed. You may be thinking our summer is waning, but there are still many opportunities for festivals and free live music in the coming days for you to relax and recharge before the big semester thrust… Here's just a few happening this week:
There are plenty more too – Share your favorite experience with CSN and we will list some of them in a future newsletter! – Rich Gassen
:: Image of the Week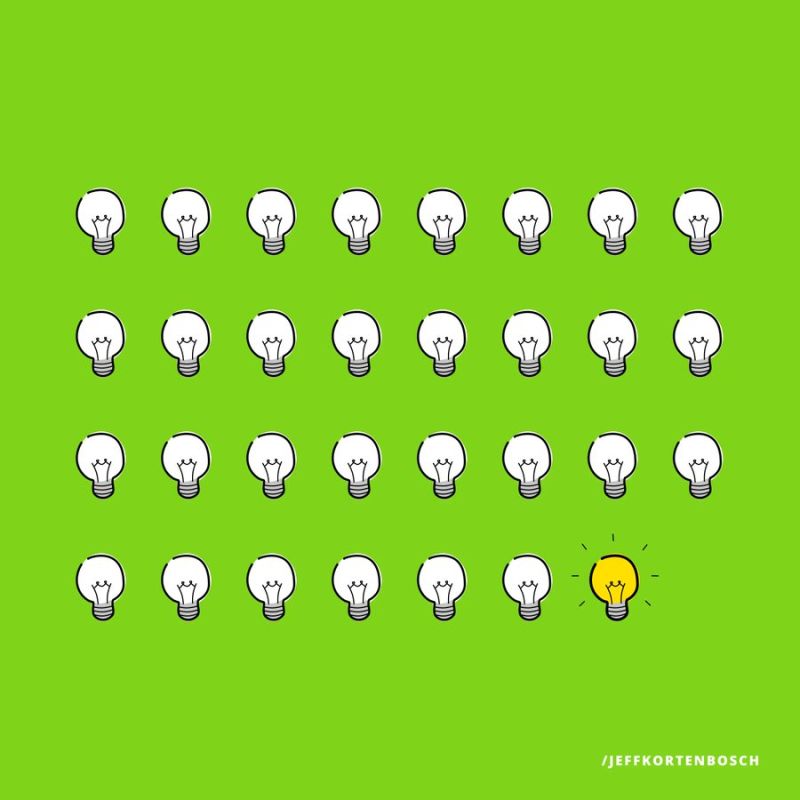 "The best way to have a good idea is to have lots of ideas" – Jeff Kortenbosch
Find more of Jeff's visual idea graphics at https://jeffkortenbosch.carrd.co/
:: Resources on Work Culture & Team Development
10 Powerful Ways to Give Thanks with Your Leadership
The benefits of being grateful — both personally and professionally — are numerous and well-documented. While we should flex our gratitude muscle throughout the year, it's also important to take extra time during the holidays to pause, reflect, recharge, and re-commit to bringing gratitude to life in every area of our life. Giving thanks is about making people feel valued. And research shows the highest performing teams and organizations are comprised of people who feel valued. So, by giving thanks with our leadership, we can both feel more fulfilled as leaders and inspire better business results in the marketplace.
https://conantleadership.com/10-powerful-ways-to-give-thanks-leadership/
Leading Colleges and Universities in a New World eBook (PDF)
The folks at FranklinCovey know that the past few years have brought rapid changes to education throughout the world. Between moving to remote learning, onboarding new leaders in the wake of the Great Resignation, prioritizing diversity, equity, and inclusion (DEI) initiatives in new ways, moving to a digital-first mindset, and capitalizing on innovative opportunities in higher education, institutions aren't the same as they were in 2019. As needs in higher education evolve, leaders also need to adjust their approach.
Their new eBook explores four leadership areas that require a new approach to ensure institutions thrive in the new world of higher education: change management, building trust, transparent feedback, and driving consistent execution.
https://mkto-ab100016.com/NTI0LUFVTy0zMTUAAAGFwBXMQLo2hoSocfkz-bIJRSdWzkdRHcsVIJGtLYV49R4NGKXhCoVaPlW-6svbgED3B732jbE=
:: Resources on Self-Leadership Development
Qualities of a Good Leader
We've shared before the key concept underlying how to become a good leader. To no one's surprise, it is the understanding "that when you become a leader, it is no longer about you. "  And the sooner you can remove yourself from being self-absorbed in the idea of having an elevated level of importance in your organization, the better (and quicker) your chances will be of becoming a good leader.
https://www.linkedin.com/posts/the-cda-group-llc_ceos-leadership-leadershipqualities-activity-6958140270232100864-hCcU/
"It's not what you look at that matters; it's what you see."  – Henry David Thoreau
Be a Great Leader Even If You're Not In Charge
Every great leader understands the importance of having influence and making a difference. They are not just doing their work but also contributing to something bigger than themselves – inspiring those around them with every move that they make. And you can be a leader even if you're not in charge!
Here are ten ways to do it, according to 𝗣𝗮𝘁𝘁𝗶 𝗝𝗼𝗵𝗻𝘀𝗼𝗻:
Speak up
Have ideas to make things better
Stop talking about other people
Show your brand of enthusiasm
Power up others' ideas
Constantly improve how you work
Quit being a professional critic
Solve problems rather than self-promote
Give credit to others
Promote yourself
Ready to know more? Read the rest of the article from SUCCESS Magazine.
https://www.success.com/10-ways-to-be-a-leader-even-when-you-arent-in-charge/
"Everyone has the power for greatness—not for fame but for greatness—because greatness is determined by service. – Dr. Martin, Luther King Jr.
:: Resources on Psychological Safety
Why does psychological safety matter in a hybrid workplace?
Today, hybrid working models are arguably more commonplace than not.
In April 2021, research revealed that more than 60% of businesses were planning to adopt hybrid working models after pandemic restrictions were lifted.
But to reap the real benefits of hybrid work, employees need to feel psychologically safe at work, now more than ever.
Hybrid models of work, in comparison to a few years ago, have thrived, as workplace technology begins to deliver its value beyond our industry's expectations as a result of dispersed workforces due to the pandemic.
What is truly amazing is how technology is now integral to what keeps us connected to our work community when working remotely. Video, messaging interfaces – even (frustrating) project management systems. They keep us connected to other humans in ways and at a scale we haven't seen before.
https://www.unleash.ai/wellbeing/why-does-psychological-safety-matter-in-a-hybrid-workplace
"Good management is largely a matter of love or, if you're uncomfortable with that word, call it caring because proper management involves caring for people, not manipulating them." – James Autry
Six Questions to Create Psychological Safety With Your Team Members
Psychological Safety is not the easiest thing in the world, but it is not rocket science either. It is an easy concept to explain: "Psychological safety is being able to show and employ oneself without fear of negative consequences of self-image, status or career. It can be defined as a shared belief that the team is safe for interpersonal risk taking. In psychologically safe teams, team members feel accepted and respected." (Wikipedia) Look at this infographic for six questions to ask your team members.
https://www.linkedin.com/posts/hacking-hr_if-you-cant-explain-it-simply-you-dont-activity-6952421794708426752-1Q0q
:: Resources on Communication
4 Tips to Help You Have Honest Conversations at Work
Having honest conversations with the people in our lives is important, and that includes with those we work with. At Thrive, we talk a lot about compassionate directness: a core company value meant to empower employees to speak up, give honest feedback, and surface problems and pain points. If being direct doesn't come naturally to you, don't worry — there are steps you can take to make it less daunting.
If you have trouble with facilitating honest and direct conversations, here are a few tips to help you get started.
https://thriveglobal.com/stories/4-tips-to-help-you-have-honest-conversations-at-work/