Planners' Picks
A collection of resources from CSN planning committee members worth mentioning
We're ending 2022 stronger than we began. Think back to the beginning of the year, when COVID was still lingering strong and masks were still required on campus. Some referred to the new year as 2020-too. But here we are, moving on (weather permitting).
Celebrate your successes over the past 12 months. Start thinking about how to elevate your world a little more in the coming months. And enjoy the moment.
:: Image of the Week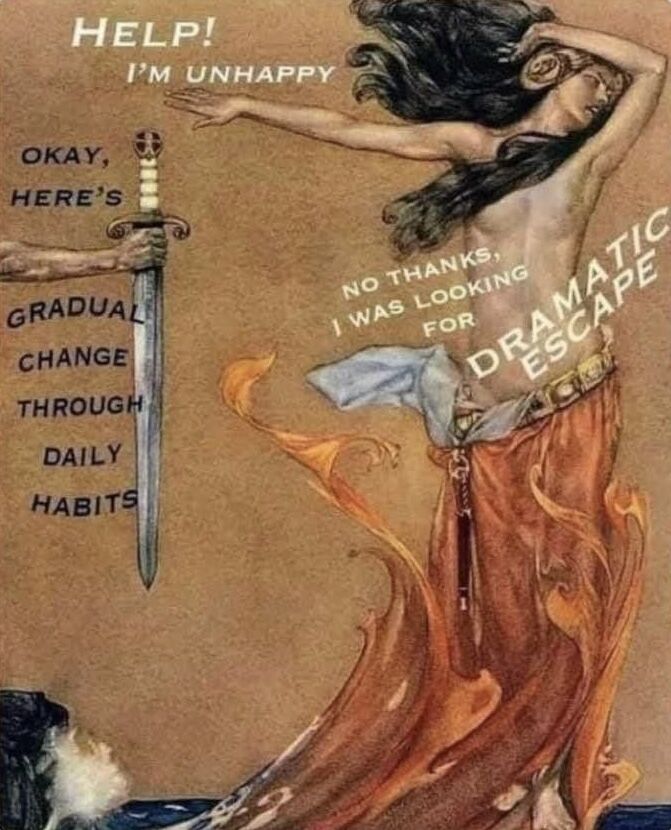 This week's image is floating around the web right now as a parody on developing habits to solve your problems. Choose your lane!
:: Resources on Mental Health and Self-Care
15 Small Signs Of Stress You Might Be Missing
When we're busy at work, whether we're stuck in back-to-back meetings or tasks, or heads down on an upcoming project, it can be difficult to see the beginning signs of stress showing up. But if we ignore those initial warning signs and continue to power through, they can escalate over time and lead to exhaustion and burnout. So during those busier times, it's important that we take a moment to pause and address our stress head-on before we feel even worse.
We asked our Thrive community to share with us the small ways stress shows up in their lives, and what they do when they notice it. Which of these signs have you experienced?
https://community.thriveglobal.com/surprising-signals-stress-burnout-well-being-tips
"We can complain because rose bushes have thorns, or rejoice because thorns have roses." ― Alphonse Karr
7 Simple Habits to Live Longer and Better
A quick Linkedin post from Brad Stulberg on 7 Simple Habits to Live Longer and Better. Focus on these for six months and see how you feel. Maybe you can't do all 7 at once? Choose one or more and try that. Developing habits starts with a first step.
https://www.linkedin.com/posts/brad-stulberg-009b168b_7-simple-habits-to-live-better-and-longer-ugcPost-7008423746180972545-16qJ
:: Resources on Communication
Ryan Reynolds reveals the No. 1 skill that's helped him succeed: 'It really changed my life'
Ryan Reynolds has a reputation for being one of the nicest actors in Hollywood, despite the snarky, sarcastic characters he often plays on screen — and it's played a role in his success. Reynolds credits his accomplishments to one important skill: conflict resolution.
https://www.cnbc.com/2022/10/13/ryan-reynolds-credits-his-success-to-one-skill-it-changed-my-life.html
6 Tips to Become a Better Listener
Check out this infographic by Mike Myatt via Forbes for tips on becoming a better listener.
https://www.linkedin.com/feed/update/urn:li:activity:7006947638306619392
 "Nothing in life is to be feared, it is only to be understood. Now is the time to understand more, so that we may fear less."  ― Marie Curie
Stop Thinking You Have To Agree or Disagree
Have you ever found yourself taking sides in a conversation where you were trying to win the argument? You're gathering all the evidence to support your side, and the other person is getting defensive, and you can feel the emotion rising in you.
What if, instead of trying to win the conversation, we could create a space between agreeing and disagreeing?
https://www.linkedin.com/pulse/stop-thinking-you-have-agree-disagree-greg-mckeown
:: Resources on Self-Leadership Development
23 Ways To Ensure 2023 Is The Year You Amplify Your Career
If you're determined to make 2023 our best year yet, here are 23 ideas you can implement immediately to boost your career.
https://www.forbes.com/sites/amyblaschka/2022/12/09/23-ways-to-ensure-2023-is-the-year-you-amplify-your-career/?sh=3affa19f681f
 "Our brains aren't just stamped by the past. They are constantly being shaped by the future."   – Tali Sharot
Strategies to Build Trust On Your Team
Successfully running a business is all about managing trust. Therefore, building trust is the pinnacle of good leadership. These 7 strategies help you do exactly that.
https://www.linkedin.com/posts/jeroenkraaijenbrink_managementdevelopment-teambuilding-trust-activity-6996140077705805824-FwLP/?utm_source=share&utm_medium=member_ios
Don't Do New Year's Resolutions
It's the time of year when many people vow to lose weight, start working out, write a book, and so on. A new year or any obvious starting point is actually a good time to make changes. Attempting to make those changes by creating a resolution typically fails. One reason resolutions fail is they aren't specific enough. Do Hansei instead.
https://dailyikigai.substack.com/p/dont-do-new-years-resolutions
:: Take Five*
*Note: CSN has added "Take Five" articles occasionally to take you off the beaten path. Articles will be about local or regional areas of interest, but not necessarily focused on leadership development. The intent is for you to take a break from being a leader and relaxing for a moment!
UW-Madison Nuclear Engineering Student Crowned Miss America 2023
She's a Badger. She's a Nuclear Engineer. She's Miss Wisconsin.
And now she's MISS AMERICA.
Join CSN in congratulating UW-Madison Department of Engineering Physics senior Grace Stanke, who was crowned #MissAmerica2023. If this isn't the embodiment of leadership from where you are, I don't know what is. Read her story here:
https://engineering.wisc.edu/news/as-miss-wisconsin-engineering-student-promotes-nuclear-energy-on-a-big-stage