Planners' Picks
A collection of resources from CSN planning committee members worth mentioning
International Women's Day is a day dedicated to celebrating the social, economic, cultural and political achievements of women around the world. It is celebrated annually on March 8th and is an opportunity to recognize and honor the struggles and successes of women everywhere. This day is a reminder of the importance of gender equality and the continued fight for women's rights. International Women's Day is a day to celebrate the strong and powerful women in our lives, to recognize the progress we have made, and to continue to strive for a more equitable future. This week's resources are by women in celebration.
 Nothing is impossible, the word itself says "I'm possible"! —Audrey Hepburn
:: Image of the Week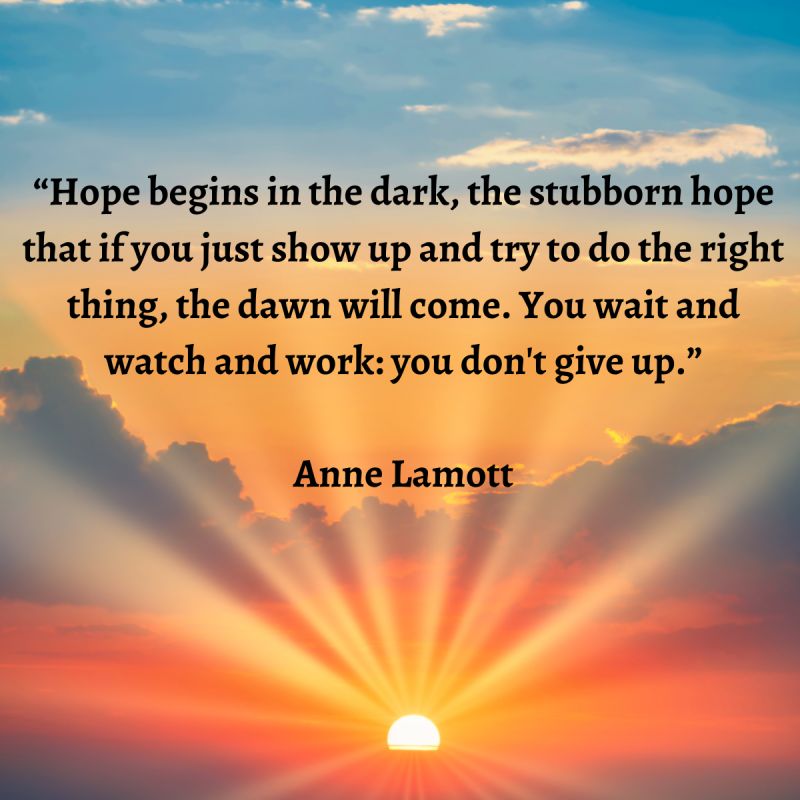 "Hope begins in the dark, the stubborn hope that if you just show up and try to do the right thing, the dawn will come. You wait and watch and work: you don't give up." ― Anne Lamott
:: Resources on Communication
The Science Behind the Smile
The way we smile – or not – is a powerful communication tool that significantly influences how we're perceived by others. Countless studies demonstrate that we appear friendlier, more attractive, more confident, more competent, younger and more likeable when we smile. Smiling teachers are more perceived to be more effective than nonsmiling teachers. Smiling employees are perceived to be more trustworthy. Smiling servers not only receive bigger tips, but guests rate the service, food, and overall dining experience better than when served by a nonsmiling server.
It turns out that the power of smiling isn't just social science; it's also neuroscience.
https://www.melissahughes.rocks/post/the-science-behind-the-smile
:: Resources on Work Culture & Team Development
Liz Wiseman on Building A Team of Impact Players
Liz Wiseman coaches both up-and-coming performers and established leaders on how to help others improve. She is the CEO of the Wiseman Group, a leadership research and development firm with clients such as Apple, Disney, Facebook and Google. She is a frequent guest lecturer at BYU and Stanford, and has been recognized previously by Thinkers50 as the top leadership thinker in the world. She is also the New York Times bestselling author of several books, including Multipliers and her latest, Impact Players.
Liz joined Robert Glazer on the Elevate Podcast to discuss Impact Players, how employees can increase their impact and advancement opportunities, and how leaders can cultivate and elevate Impact Players on their teams.
https://www.linkedin.com/pulse/liz-wiseman-building-team-impact-players-robert-glazer/
The Cure For Burnout Isn't Self-Care
A healthy amount of stress is so important for personal growth, but chronic stress that demands our attention 24/7 can disconnect us from our work, colleagues, and purpose. This is burnout, and Jennifer Moss observes that we are facing an epidemic. She's an award-winning journalist, columnist, and author of The Burnout Epidemic: The Rise of Chronic Stress and How We Can Fix It.
But contrary to popular wisdom, making time for that bubble bath or movie night isn't the solution. Burnout is a "we" problem, and the root causes are at the organizational level. On the Disrupt Yourself podcast, Jennifer shares her surprising research on where burnout comes from, why it's worse than it's ever been, and why we need a system of preventative care.
https://thedisruptionadvisors.com/299-jennifer-moss-the-cure-for-burnout-isnt-self-care
:: Resources on Self-Leadership Development
Great Leadership Starts with Self Leadership
Megan Robinson is the principal at E Leader Experience and works with individuals and teams to develop self-leadership skills that grow companies. She started her career in marketing climbing her way through the corporate ladder at advertising agencies and fortune 500 companies. Like many of us, she caught the entrepreneur bug and started her own marketing company. After yet another "Business Therapy" session, Megan discovered her true passion was in coaching and is a John Maxwell certified coach and DiSC Trainer. Megan makes leadership approachable for everyone, regardless of title, position, or experience.
In this episode, Host Jennie Bellinger and Megan discuss:
Leadership is influence.
How can you build your influence?
Setting boundaries
https://badassdirectsalesmastery.com/2023/02/06/megan-robinson-great-leadership-starts-with-self-leadership/
"Nothing will work unless you do." —Maya Angelou
What's YOUR Story?
Valerie Gordon knows too many people who play a role that limits and ultimately frustrates them. Check out this short post from her on reclaiming your story.
https://www.linkedin.com/posts/valeriejgordon_storytelling-whatsyourstory-authenticleadership-activity-7026185959876481024-tng6/
Shifting Your Mindset for Better Luck
Countless people believe that luck is a random occurrence in life that the universe gives us a windfall or opportunity in our favor. Many have told me after my accident in 2018 how lucky I am to be alive and to survive what was deemed to be an un-survivable crash by the police essentially unscathed. This type of luck is completely unexplainable or indescribable, and it is an entirely different scenario than just every day lucky events. If anything, I'd like to think I had my guardian angel on solemn duty that day.
Shifting your everyday luck is entirely possible and doable. The luck that has come from that situation has been more about the shift in my mindset that was brought to the forefront of my life than just random luck. So, how do you create better luck in your life? It all starts with your mindset. Your mindset creates and drives your life more than you may realize, and I will share with you some of my tips to shift your mindset for more incredible luck and abundance in your life.
https://jenndrummond.com/blog/shifting-your-mindset-for-better-luck/
"If you don't separate yourself from your distractions, Your distractions will separate you from your goals and the life you want." ~ Louisa Alcott
The 6 Words You Need To Embrace To Jump Start Your Career
Have you ever felt like you're working so hard to progress in your career, yet nothing comes of it? You think the world is conspiring against you and blame the economy, the pandemic, or your boss for holding you back.  The bad news: you're likely fixated on the wrong things. And the good news? A simple, six-word antidote can help you jump-start your career: focus on what you can control. Amy Blaschka tells us how.
https://www.linkedin.com/pulse/6-words-you-need-embrace-jump-start-your-career-amy-blaschka/#
:: Resources on Belonging
Why Belonging is Essential in the Workplace
Belonging in the workplace is essential for in-person, hybrid, and remote workers. It is important to create a sense of community and connection amongst all employees regardless of their work environment. When employees feel connected to their colleagues and their organization, they are more motivated and productive. Creating an environment of inclusion and belonging helps foster collaboration and creativity, while also promoting a sense of safety and security. This can be achieved through various activities such as team building, employee recognition, and open communication.
Join Danny Langloss and guest Rebecca Fraser-Thill in a discussion on the importance of belonging in the workplace. Rebecca is a Senior Forbes Leadership Columnist and meaning and purpose expert.
In this episode they define belonging and talk about:
– Why Belonging is essential at work
– What the research says about Belonging at work
– The devastating impacts of exclusion
– Actionable strategies to create Belonging
And so much more….
How important is it for you to feel like you belong at work?
https://www.dannylangloss.com/podcasts/leadership-excellence-podcast/episodes/2147704924
"If you're offered a seat on a rocket ship, don't ask what seat! Just get on." —Sheryl Sandberg
:: Upcoming Events
Gratitude & Nature – Louie Schwartzberg
Join filmmaker Louie Schwartzberg and the Action for Happiness team to learn how gratitude can help you feel happier and more connected to the beauty all around us.
Date: March 22
Time: 2:00-3:00 pm CST
Online Via Zoon
How can gratitude help you live a more connected and meaningful life?
Many of us feel a sense of disconnection in our lives – from ourselves, our planet and each other. But what if there's a simple shift that can heal these connections and bring a deeper sense of happiness and meaning?
At this special event, award-winning filmmaker Louie Schwartzberg will share insights from his incredible new film Gratitude Revealed, based on intimate conversations with thought leaders and everyday people. Louie will explain how gratitude can be our pathway back from the disconnection we feel. By taking time to appreciate the simple gifts in our daily lives, we can feel more at peace with ourselves, more connected to those around us and more in tune with nature.
By recognizing the beauty around us, we can also learn to protect what we love – and this is the shift in consciousness we need to sustain life on this precious planet we all share.
https://www.eventbrite.co.uk/e/gratitude-nature-louie-schwartzberg-tickets-538889973417
Hot Topics with Harkn – Change Leadership and the Emotions of Change
Date: March 22
Time: 11:00 am-12:00 pm CST
Online Via Zoom
Does the idea of change tie your stomach in knots? Or maybe you've watched someone come undone when their normal routine is disrupted – such as with the COVID-19 pandemic!? Change initiatives often fail because of the emotions they evoke, usually because those emotions are glossed over or ignored. Discover the science behind why we respond the way we do and learn simple tools to manage the emotional impact of change – so you can keep yourself and your team moving forward!
In this session of Hot Topics with Harkn, Grace Judson – Leadership Development Specialist will be leading the discussion on change leadership and the emotions of change, sharing simple tools for effective leadership in a world of constant disruption.
https://www.eventbrite.co.uk/e/hot-topics-with-harkn-change-leadership-and-the-emotions-of-change-tickets-566457508657