Planners' Picks
A collection of resources from CSN planning committee members worth mentioning
Welcome back from Spring Break…oh, wait—you didn't get a break?
We're covering coaching styles, vulnerability, squashing our internal critic, and avoiding distractions in our installment of PP this week.
:: Image of the Week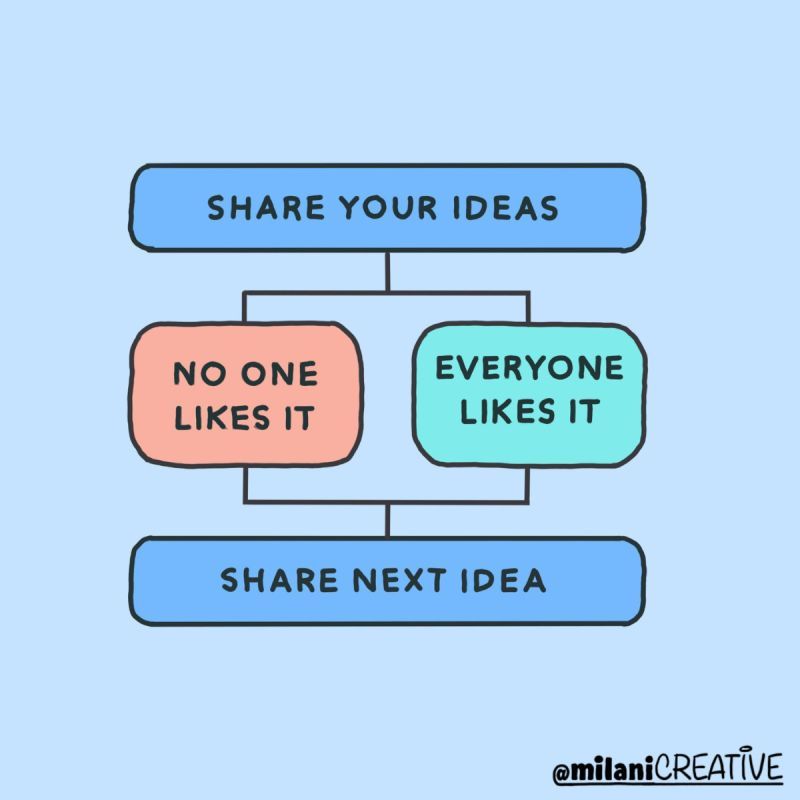 There are many forms of courage and creativity, and one of the most important is sharing our original ideas. Certainly, this is easier to do in a psychologically safe environment, but even there it takes courage to express one's true opinion and creative or innovative ideas. This wonderful infographic reminds us that sharing our creativity and originality is something that – whatever response we receive – we owe to ourselves and others to continue to do. (Source: @milaniCreative)
:: Resources on Work Culture & Team Development
How to Manage a Difficult Boss
According to a study by the Harvard Business Review, the majority of people surveyed reported having a bad boss at some point in their careers. Working with a bad boss can be a challenging and stressful experience that can make going to work each day feel like an uphill battle.
Whether your boss is micromanaging, abusive, or simply ineffective, the situation can leave you feeling stressed, demotivated, and unappreciated. However, there are ways to navigate this difficult situation and maintain your professionalism while working with a bad boss.
https://www.linkedin.com/pulse/how-manage-difficult-boss-sonia-mcdonald/
The Amazing Benefits and Impact of Vulnerability at Work
One of the most powerful drivers of human purpose and happiness is meaningful relationships and connections to other humans.
But, how do we build meaningful relationships with others if we have to hide who we really are, "fake it till we make it" or sweep under the "carpet" the things we don't know about what we are expected to do at work?
There are many ingredients for people to build meaningful connections with others, but surely the main one is vulnerability. Vulnerability is about taking the risks to emotionally expose and open up ourselves to others. Vulnerability is having the courage to authentically express who we really are in front of and to others.
https://www.linkedin.com/pulse/amazing-benefits-impact-vulnerability-work-hacking-hr/
Coaching Methods: All the Choices
Coaching is a big deal right now. A developmental method that, in the past, was reserved for leaders, future leaders, and problem children has, in a sense, gone mainstream. In a nutshell, more org leaders are using coaching for more reasons, more coaching flavors are surfacing, and more coaching configurations are being developed.
Let's explore some of the larger changes we're seeing. There are many types of coaching, from self to team to peers, and you can find the one that works for you in the article. CSN also offers sessions on Coaching Circles, and cohort approach to self-coaching.
https://redthreadresearch.com/future-of-coaching-report/
:: Resources on Mental Health and Self-Care
The Power Of Stress On The Body
Have you heard of the Wim Hof breathing method? It involves rapid breathing, basically forced hyperventilation followed by a deep breath. A study in the Proceedings of the National Academy of Sciences of USA found that people who practiced the Wim Hof breathing technique were able to activate their sympathetic nervous system and immune response helping limit the effects of an injected virus. While this technique is not for everyone and should be done under the guidance of a trained practitioner, it's interesting to consider the potential benefits stress has on your body.
Kelly McGonigal talks about your relationship with stress in this beautiful TEDTalk.
https://substack.com/redirect/6b01f09b-648e-42be-af1c-091616f5fae4?j=eyJ1IjoiM2MzaHoifQ.B7Eph_bg7USsaG-Tq3mBBlSkDP2wxIL1tcyIKLFVbFo
"Everybody needs beauty as well as bread, places to play in and pray in, where nature may heal and give strength to body and soul" – John Muir
Emotional Intelligence: 3 Steps to Self-management
We must learn to adapt, grow and evolve or we will be doomed to perpetual ignorance. As Ralph Waldo Emerson once said, "A foolish consistency is the hobgoblin of little minds," so here are a few ideas to help change problematic thoughts into ones that are balanced, trustworthy and smart from contributor John Chappelear.
https://www.bizjournals.com/bizjournals/how-to/growth-strategies/2017/01/emotional-intelligence-3-steps-to-self-management.html
9 Daily Habits To Optimize Your Brain Health
Drip your dopamine— don't flood it. Today's generations are the unhappiest in recent decades. It's because we flood our dopamine — the reward center of the brain. Dopamine should drip steadily throughout your day. Not overload.
See this Linkedin post for 9 daily habits to optimize your brain health, according to experts:
https://www.linkedin.com/posts/jadebonacolta_9-daily-habits-to-optimize-your-brain-health-ugcPost-7041040951783358466-uDda?utm_source=share&utm_medium=member_desktop
:: Resources on Self-Leadership Development
Self-awareness and Self-regulation: Core Skills in Effective Leaders
Self-awareness is our ability to accurately perceive the level of skill, knowledge, value, and responsibility we use when it comes to our emotions. It gives us the confidence to know who we are and what we have to offer, both personally and professionally.
Awareness is the root of self-esteem. It allows us to understand our strengths and our weaknesses and is a critical step along the path to self-improvement.
We must understand why we think the way we do and why we act the way we act to fully appreciate ourselves and see the value and importance of positive change.
https://www.bizjournals.com/bizjournals/how-to/growth-strategies/2017/02/self-awareness-and-self-regulation-core-skills-in.html
If you hear a voice within you say "you cannot paint," then by all means paint and that voice will be silenced. —Vincent Van Gogh
Firing your Narrator with Valerie Gordon
Nicole Davison brings Valerie Gordon onto her Unpacking Perspectives podcast, and they talk about the power of internal stories on our external results, why conflict can be a GOOD thing, and how FAILURE stories are often the best ones we can tell.
Over the past 20 years, Valerie has produced award-winning stories with companies such as ESPN, HBO Real Sports, and even the Olympics. She currently helps companies, clients, and students with the power of story and to help build their brands. Nicole and Valerie talk about Valerie's career and the work that she does to help people develop their own story.
https://podcasts.apple.com/us/podcast/firing-your-narrator-with-valerie-gordon/id1580429029?i=1000601058995
How Leaders Can Get the Feedback They Need to Grow
How many times each week do the people you work with tell you things that make you anxious, upset, or even defensive? How often do they tell you things that make you feel wonderful?
If it's all feel-good praise and no hard-to-hear criticism, beware! You're not getting the real story. You need to work harder to get them to criticize you. When things are uncertain, it can feel comforting to avoid difficult feedback. But creating stability for your team—and success for your organization—depends on your ability to learn what needs to change.
When things are uncertain, it can feel comforting to avoid difficult feedback. But creating stability for your team — and success for your organization — depends on your ability to learn what needs to change. Burying your head in the sand is never the safe thing to do. A culture of ruinous empathy or false harmony is not the path to success. Instead, invite criticism from your team. This is awkward at best and can be a difficult emotional journey, so the authors present six tips for how to successfully solicit Radical Candor from your employees.
https://hbr.org/2023/03/how-leaders-can-get-the-feedback-they-need-to-grow
:: Resources on Communication
How To Be Vulnerable At Work Without Spilling Everything
How open should you be with your coworkers?
These days many workplaces are encouraging their employees to be vulnerable and authentic, but opening up at work can feel precarious. If we open up the wrong way, it can sometimes backfire but vulnerability can also bring us closer to other people and make teams stronger. The key, according to author, podcast host and vulnerability researcher Brené Brown, is establishing boundaries.
https://ideas.ted.com/how-to-be-vulnerable-at-work-without-spilling-everything-from-brene-brown/
:: Resources on Productivity
Beating the Algorithm of Distraction
We live in a world of distraction.
Emails. Text messages. Slack notifications. Social media. The list goes on.
In her new book, Attention Span, Dr. Gloria Mark, professor of informatics at the University of California, Irvine, shares that our current attention spans are roughly 47 seconds and declining (1). That's down from 75 seconds in 2012 and two and a half minutes in 2004 (2) (3).
But there are things Dr. Mark says we can do to fight distraction and maintain our attention. Read the post from Greg McKeown and then listen to his podcast with Gloria for more details on removing distractions from your world to be more productive.
Read: https://mailchi.mp/gregmckeown/1mw022223
Listen: https://gregmckeown.com/podcast/episode/protecting-your-peak-attention-windows-with-dr-gloria-mark/?mc_cid=735331c5ce&mc_eid=64ed34cb6e
 "I am not a product of my circumstances. I am a product of my decisions." ~ Steven Covey
:: Upcoming Events
Grace Under Pressure: Leading Through Change and Crisis with John Baldoni
Thursday, March 23, 2023
11:00 am CST Online
As a leader, how can you "keep it real" when times are tough? Join us for this webinar on March 23 at Noon (ET) with John Baldoni, author of the new book, Grace Under Pressure: Leading Through Change and Crisis.
John is a globally recognized leadership educator, master-certified corporate executive coach,  keynote speaker, and the author of 16 books that have been translated into 10 languages. John teaches leaders how to leverage purpose and grace to reach their full potential.
You'll leave this webinar with a better understanding of:
What it means to demonstrate grace under pressure.
Why it is critical to show grace to ourselves when leading.
The critical link between empathy and compassion, and more!
https://weavinginfluence.zoom.us/webinar/register/WN_MSz7fPEjRcWmHgkMlvGEMw
The Art of Active Listening to Build Trust & Inspire Greatness
Tuesday, March 28, 2023
11:00 am – 12:00 pm on Zoom
This is the third and final webinar for Heather Younger's upcoming book #TheArtofActiveListening, and she's hosting it with Mr. Covey himself!
Inspiring and uplifting others allows leaders to create new levels of trust within their organizations. If you are looking for ways to build trust as a leader, please join us for this webinar with Heather R Younger and Stephen M. R. Covey. Heather is the Founder and CEO of Employee Fanatix, a bestselling author, and keynote speaker. Stephen is a bestselling author, keynote speaker, and Speed of Trust Global Practice Leader.
During this webinar, Heather and Stephen will share powerful tools to inspire lasting, positive change within your organization based on Heather's new book, The Art of Active Listening: How People at Work Feel Heard, Valued, and Understood. You'll learn:
> How to create deeper levels of trust with those you lead and inspire them to greatness.
> The biggest stumbling blocks to listening well at work.
> The role active listening plays in building trust with those you lead, and more.
No matter where you are in your leadership journey, it is never too late to inspire. It all starts with active listening!
Sign up here >> http://bit.ly/3Wgrxx9