Planners' Picks
A collection of resources from CSN planning committee members worth mentioning
Please join us in celebrating EIGHT YEARS of the Campus Supervisors Network! On August 4, 2015, CSN had its first group meeting to discuss topics that supervisors wanted more information on, and our planning committee started creating events from there. In the past eight years, we have hosted or been part of over 125 sessions! We've partnered with several other groups on campus including LTD, EAO, and The Office of Student Financial Aid to bring value to our audience from multiple fronts.
The success of CSN is a direct reflection and a result of your interactions with our group. Attending events, sharing newsletter articles, and using the tools and resources to improve the environment you work in all make it worth the efforts we put into planning for this community of practice. We are eternally grateful for your participation!
The official gift of an 8th anniversary is bronze, and our campus sentinel is the bronze statue of Abe Lincoln on Bascom Hill. Can you think of other prominent bronze statues around the university? (Hint: there are several!)
:: Image of the Week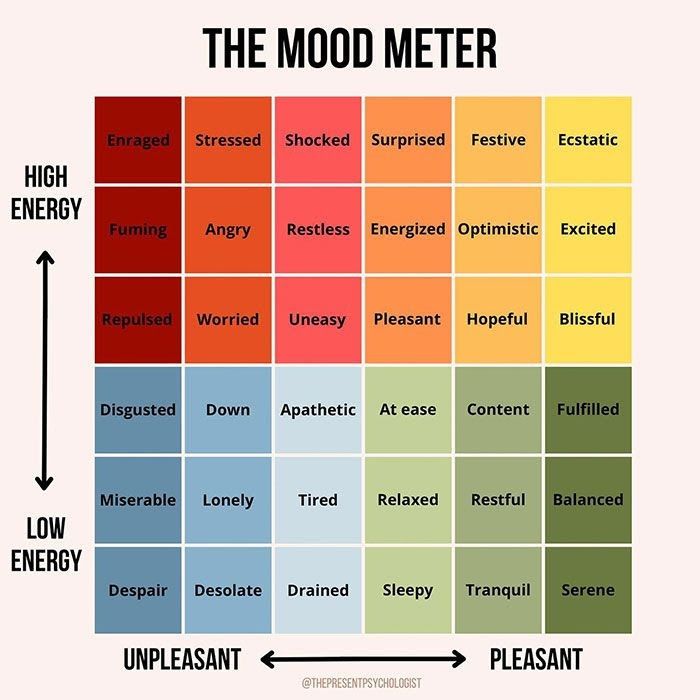 This week's image is a Mood Meter. What I love about this graphic is it shows you don't need high energy to be balanced and fulfilled. It enforces the principle of downtime activities like sitting in nature or reading as a recharger. Where do you lie on the Mood Meter today? What steps could you take to move to the right of the chart, regardless of your energy level?
:: Summer of Gratitude Resources
Leading With Gratitude!
Research shows there is a staggering lack of gratitude in the work world. One recent study found "people are less likely to express gratitude at work than anyplace else". Retention of quality employees is still a huge problem in our organizations. Why do most employees leave? According to research by the U.S. Department of Labor (based on third-party exit interviews), the number one reason people leave is they "don't feel appreciated" by their manager for their contributions. One study found that frequent, genuine gratitude at work reduces employee turnover by up to 50 percent. There are additional benefits to consistently leading with gratitude by Wes Friesen.
https://www.linkedin.com/pulse/leading-gratitude-wes-friesen
"Great things happen to those who don't stop believing, trying, learning, and being grateful." ― Roy T. Bennett, The Light in the Heart
15 Quotes for a Workplace Culture of Gratitude
Motivational posters may be a little outdated, but sharing positivity in the workplace never gets old. Whether it's simply sharing a quote to conclude a meeting or a classy sign in a conference room, there are many famous — and not-so-famous — quotes that can impact how employees feel about the culture of an organization. We've pulled together 15 quotes for a workplace culture of gratitude that may inspire or encourage you and your teams.
The most important application is for leaders to model an attitude of gratitude, taking the time and effort to thank and acknowledge what deserves praise. Flippant usage of "thanks" isn't the goal … it's providing a positive space to allow people to acknowledge and support each other.
https://www.gthankyou.com/15-quotes-for-a-workplace-culture-of-gratitude/
:: Resources on Mental Health and Self-Care
Being Well Podcast: Simplifying Self-Help: 7 Lessons for a Lifetime of Well-Being
There is a lot of complicated advice out there (including on this podcast) for how to improve our well-being. In this episode of the Being Well Podcast, Forrest Hanson and Dr. Rick Hanson simplify the lessons they've learned from over 100 experts and 300 episodes.
They explore the importance of individual context, focusing on what we can change even in difficult circumstances, the power of acceptance, influencing our attention, taking care of the body, social connection, and how we can identify, accept, and manage our unique needs.
https://www.rickhanson.net/being-well-podcast-simplifying-self-help-7-lessons-for-a-lifetime-of-well-being/
:: Resources on Work Culture & Team Development
Webinar Replay on Coaching: The Language of Leadership
Watch this replay of a recent webinar from the Purpose & Performance Group on the concept of coaching in the workplace. Learn about the cornerstones of a coaching culture, the four domains of competence and how coaching can improve the quality of the team, and why active listening helps you develop a better understanding of your group.
Slides from this presentation can be found here: https://uwmadison.box.com/s/l8r7ira9l9r8tyso2xklpvgouxwzy8tl
"Be more afraid of being NOTHING than being SOMETHING"-Danelle Delgado
Skills to Build Stronger Work Relationships
In the world of hybrid work, uncertainty, and constant change, people need healthy work relationships to feel supported and show up as their best selves, This LinkedIn Learning course teaches essential skills to build and maintain more resilient relationships. Dr. Emily Anhalt teaches essential tools and skills, including taking ownership of your part, strategies to build empathy, ways to create a more positive and safe working environment, ways to move from reactive to proactive, how to have healthy conflict, getting on the same team, expressing yourself more effectively, and breaking an emotional sweat every day.
https://www.linkedin.com/learning/skills-to-build-stronger-work-relationships/talking-about-your-feelings-at-work?u=56745513
9 Signs of Respect in the Workplace
Do you want a healthy, positive, high-performing, and productive workplace? Then double down on creating an organizational culture that relies on and is sustained with respect. In a respectful workplace employees feel valued, supported, and empowered. See this post and infographic from Hacking HR.
https://www.linkedin.com/posts/hacking-hr_do-you-want-a-healthy-positive-high-performing-activity-7054942049711575040-lfbD/
:: Resources on Self-Leadership Development
Seven Questions To Ask Your New Boss
The most important relationship to get right when starting a new job is the one with your boss. How do you build trust right from the beginning? And how do you get the feedback you need to succeed? In this HBR article, author Tomas Chamorro-Premuzic provides seven thoughtful questions to help develop a new relationship and adapt to a new organization. You will accelerate your career success if you can manage your boss better, which requires you to understand them better, which requires a deliberate strategy.
https://hbr.org/2021/10/7-questions-to-ask-your-new-boss
The Upside of Working Motherhood
You've heard the story: Motherhood and work are at odds, and women who pursue both have to make endless trade-offs and compromises. And yet, lots of women go for it, with great results for themselves, their families, and their careers. In fact, research suggests that parenting can enrich our careers, and vice versa.
Professors Danna Greenberg and Jamie Ladge talk about the benefits of being a working mom. They share advice around setting expectations, finding child care, asking for help, and advocating for ourselves as kids get older.
https://hbr.org/podcast/2019/04/the-upside-of-working-motherhood
:: Resources on Change Management
Communicating Change Management as a Leader
Oh No! Not Change! It's a thing: senior leaders announce a strategic change, and the office tilts slightly as everyone rolls their eyes at the same time. (Okay, if you're all on Zoom, the video grid wobbles.)
It's all too common for employees to "welcome" announcements of change with a solid dose of skepticism, not to say cynicism. Most organizations have experienced too many iterations of change initiatives that have struggled to get going, and then either slowly slid into oblivion or ended up being much less than originally planned. I cringe to think of the time, money, and employee energy, trust, and goodwill that's squandered.
Why does this happen? And what can be done about it?
https://www.gracejudson.com/oh-no-not-change/
"Not in his goals but in his transitions man is great." –  Ralph Waldo Emerson
:: Upcoming Events
2nd and 3rd Shift Employee Ice Cream Social 8/16
Supervisors of late-night workers:
The University of Wisconsin–Madison will recognize second and third-shift employees at an Employee Appreciation Ice Cream Social event on Wednesday, Aug. 16 from 10 p.m. to midnight at the Bakke Recreation and Wellbeing Center.
This late-night event will be an ice cream social to recognize the hard work and contributions of UW–Madison's second and third-shift employees. Guests will be served world-famous Babcock ice cream. Employees may arrive at any time during the event. In addition to ice cream, there will be gluten-free, gelatin-free, dairy-free, and sugar-free options available.
Employees can attend during work hours without loss of pay. Employees who are not scheduled to work during this time are welcome to attend but will not be paid for their time at the event. Employees who plan to attend should tell their supervisor. Supervisors and directors are expected to plan ahead and provide flexibility so that employees who wish to attend the event can do so.
For more information, contact Lindsey Honeyager at lindsey.honeyager@wisc.edu.
Free Course Helps Employees Develop Presentation Skills 8/15
The ability to engage an audience can be an important skill for leaders and others. To help UW‒Madison employees make persuasive and effective presentations, Learning and Talent Development offers a course on Presentation Skills at no cost. Each participant will give a five-minute presentation in class in an atmosphere of encouragement. The next scheduled sessions are a virtual session on August 15, 1‒4 p.m., and an in-person session on October 24, 9 a.m.‒noon, at 21 North Park Street. Advance registration is required.
New LTD Course for Managers and Supervisors
Coaching Employees for Retention and Career Development provides managers and supervisors with the skills to retain and develop employees through coaching.
Upcoming class dates are:
8/23/2023 (1-4 p.m.) in-person
10/2/2023 (12:30-3:30 p.m.) in-person
11/8/2023 (9:00 a.m.–noon) in-person
12/12/2023 (8:30-11:30 a.m.) virtual
Register: https://hr.wisc.edu/professional-development/programs/coaching-for-retention/
Also, see the Manager/Supervisor Compensation Resources, to support employees through compensation-related best practices.
What Matters at Work Course Preview 8/29
From former UW facilitator Harry Webne-Behrman:
I am thrilled to announce the launch of a new course site for What Matters at Work! Partnering with my awesome friend and former UW-Madison colleague, Julie Kovalaske, we are now offering both self-guided and live online courses  based upon material in my books, What Matters at Work and What Matters in This Moment.  The classes help all of us cultivate and nourish our capacities to lead change efforts that are truly collaborative, sustainable, and meaningful to our organizations and communities.
Julie and I are excited to roll out these initial classes, "Creating Capacity to Lead Meaningful Change" (a self-guided course) and "Leading Groups Through Uncertain Times" (live online in October). Both are now available for registration.
In celebration of this project launch, we will also be offering a free, one-hour webinar on August 29th, "A Taste of What Matters," where participants will be able to experience a few of the activities we offer in our courses and take-away some valuable immediate learning.
https://whatmattersatwork.newzenler.com/live-webinar/a-taste-of-what-matters/register
Note: CSN featured the book What Matters at Work a couple of years ago. Resources are available on our website for self-study if you want to read the book.