Planners' Picks
A collection of resources from CSN planning committee members worth mentioning
A special welcome to all who signed up for our newsletter this past week at the employee resource fair or elsewhere. Our readership is now at 1600 members! We continue on our journey through October and the changing season with some discussions on boundaries, burnout, and balance.
:: Image of the Week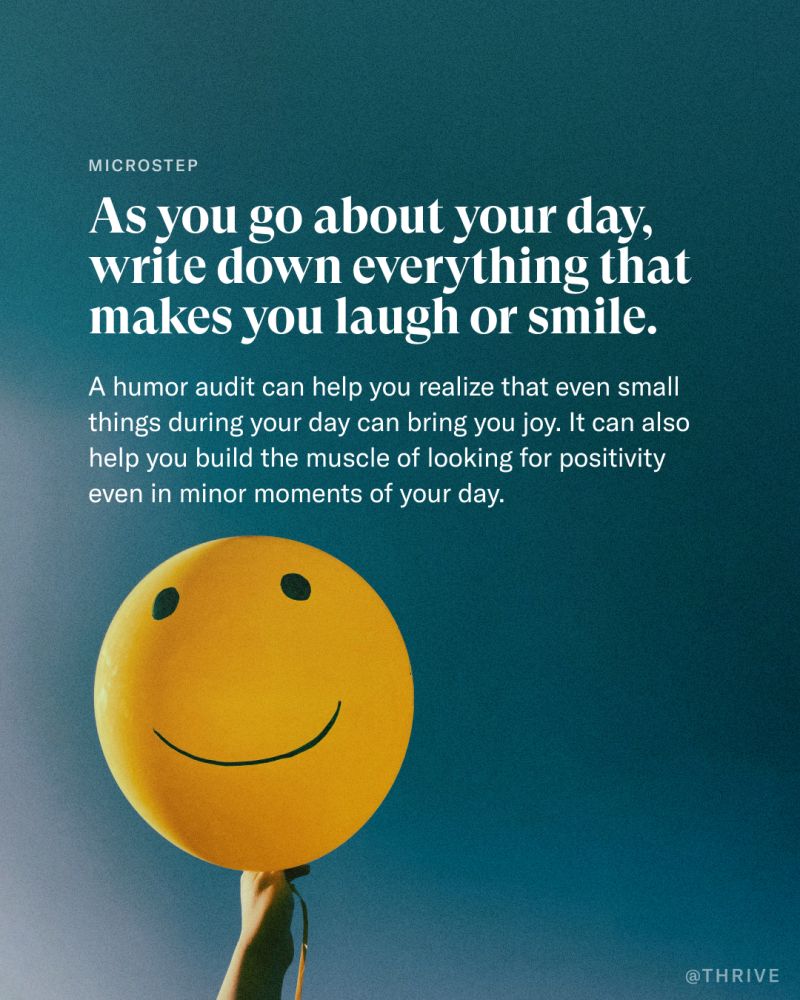 In a Gallup study, over 1 million people were asked a very simple question: Did you smile or laugh a lot yesterday? For those who were 16, 18, and 20, the answer was usually, "yes." Then, around age 23, the answer shifts to, "no," and we don't start laughing again until we retire. That's what's known as the humor cliff.
So what can you do to combat this? You can start by conducting a humor audit. This week, write down everything that makes you laugh or smile. You may start to notice that there's joy all around you.
"The foolish man seeks happiness in the distance; the wise grows it under his feet."  —James Oppenheim
:: Resources on Mental Health and Self-Care
The Telltale Signs of Burnout in Employees
One of the key signs of burnout is working less efficiently and falling behind. We often then try to remedy this by working more than before. This creates an unhealthy cycle where the deeper your sense of burnout, the more you work, and the more you work, the greater the burnout. If this sounds familiar, there are strategies that can help you break the cycle. Check out Susan David's post about signs of burnout in employees.
https://www.susandavid.com/newsletter/battling-burnout/
8 Types Of Boundaries You Should Be Setting At Work
We all have boundaries, but many of us struggle to express them, particularly in tense situations where we want to avoid conflict as much as possible. However, it's true that, like a muscle, the more you practice setting boundaries, the stronger you feel doing so.
https://www.stylist.co.uk/relationships/types-of-boundaries/683749
:: Resources on Self-Leadership Development
Are You Flawsome?
Nobody's perfect, right? We all have flaws. Being 'flawsome' is about recognizing that our flaws aren't detriments; they're part of what makes us awesome. It's about embracing our quirks, blemishes, and idiosyncrasies; they're not hindrances, they're what set us apart. Our individuality isn't a mistake; it's the essence of us.
This comical-but-true post from Emma Lloyd covers your flawsomeness in more detail.
https://www.linkedin.com/posts/emmaclloyd_learning-flawsome-imperfection-activity-7113791555194232832-OBTT/
"Mistakes are the portals of discovery." —James Joyce
3 Ways to Unmute Yourself @ Work
Have you ever let self-doubt, insecurity, or other limiting beliefs hold you back from taking confident or courageous action in your career?
If you have, you're not alone. Keynote speaker Rachel Druckenmiller asked over 1,000 working professionals to share how they silence, doubt or hold themselves back in their careers. The most common theme across all of their responses is that self-silencing is rooted in fear.
Fear of conflict, failure, judgment, disapproval, rejection, and not being good enough. Do you know what makes us courageous and empowers us to unmute ourselves, to show up in the world with greater boldness and more fulfillment? Read on to find out.
https://www.linkedin.com/pulse/3-ways-unmute-yourself-work-elevate-your-confidence-druckenmiller-
:: Resources on Work Culture & Team Development
How Do You Balance Trust And Performance In Teammates?
Simon lays it all out that trust is a more desirable trait in teams than performance, hands down. Performance is always rewarded, but trust is not a metric we consider in the workplace when promoting and choosing our employees. This should change, per Simon; check out this portion of a presentation he gave on trust.
https://www.youtube.com/watch?v=PTo9e3ILmms
What Does It Take To Foster Creativity And Innovation Within An Organization?
Don't miss this conversation with Ed Catmull, co-founder of Pixar Animation Studios and author of "Creativity, Inc.", as he discusses the keys to building a creative culture with author and podcast host Greg McKeown.
From the importance of embracing failure to the power of collaboration, Catmull shares insights from his 10 years at the helm of Pixar and offers practical advice for leaders looking to foster innovation within their own organizations.
If you're interested in learning how to unlock your team's creative potential and drive innovation, be sure to check out this episode.
https://gregmckeown.com/podcast/episode/10-years-of-creativity-inc-with-ed-catmull-part-2
"One man can be a crucial ingredient to a team, but one man cannot make a team." —Kareem Abdul-Jabbar
How to Handle Workplace Conflict with Karin Hurt and David Dye
In this episode of ATD's Talent Development Leader podcast, we're talking about workplace conflict, something we have been experiencing for as long as there have been workplaces. Karin Hurt and David Dye, culture and communication experts and CEO and President of Let's Grow Leaders (https://letsgrowleaders.com/), explain what's new about workplace conflict today. They share findings from their current global research project, the World Workplace Conflict and Collaboration Survey, and explain practical solutions that TD leaders can use to create positive outcomes from conflict.
https://www.td.org/videos/how-to-handle-workplace-conflict-with-karin-hurt-and-david-dye
:: CSN's Book of the Week Recommendation
Lead From Any Seat: 10 Ways to Get More Involved in Your Job, Make a Lasting Impact, and Advance Your Career Fast
This week's book feature is Lead From Any Seat by Andrei Anca. This was given to me several years ago by a colleague and I really appreciated the concept of being a leader even though you might not have the official title or position. We are all leading something, whether it's informally leading a team through our actions, or just being in charge of a household.
The official write-up online:
What if everyone was empowered to lead and motivated to make a difference?
A lack of workforce motivation in any improvement activity is a serious threat to positive and sustainable outcomes. Harnessing internal know-how by engaging all employees in problem-solving and process improvement activities is key to creating a culture of continuous improvement.
Lead From Any Seat motivates employees at all levels to step out of their comfort zones and initiate change using a structured approach. The continuous improvement tools described in this book are easy to follow and can be applied to any industry and any job.
This Lean book is an invaluable resource for anyone who is determined to stand out and make a difference. While most Lean books read like textbooks and are bloated with unnecessary details and repetitive explanations, Lead From Any Seat provides easy-to-implement tools, tips, and examples to help master the fundamentals of continuous improvement.
This easy-to-read book is guaranteed to get everyone excited to participate in the transformation of their organization and to become better leaders.
https://www.amazon.com/Lead-Any-Seat-Involved-Lasting/dp/1791565735
:: Resources on Communication
How to Overcome FOSU (Fear of Speaking Up) and Share Your Ideas
You want to share your great ideas to improve the business, but if you're like many employees we work with, sometimes it's hard to know just how or when to share them. Can you imagine how much better things could be if we all came to work with one important question on our minds, "How can we make things better?"  And then shared those creative ideas and did something about them? Check out this article from the authors of Courageous Cultures, Karin Hurt and David Dye.
https://letsgrowleaders.com/2021/07/05/share-your-ideas-at-work/
Improve Your Impromptu Speaking
We all know that leaders need to captivate audiences and effectively convey their ideas. But not every speaking opportunity can be prepared and practiced. That's why it's so important to learn the skill of speaking off-the-cuff, and Matt Abrahams, lecturer at the Stanford Graduate School of Business and host of the podcast Think Fast, Talk Smart, has advice to help. He explains how to stay calm in these situations, craft a compelling message, and ensure you've made a good impression. Abrahams is author of the book Think Faster, Talk Smarter: How to Speak Successfully When You're Put on the Spot as well as the HBR article "How to Shine When You're Put on the Spot."
https://hbr.org/podcast/2023/09/improve-your-impromptu-speaking
:: Upcoming Events
Next Workday Walkthrough Looks at Manager Tasks
As part of the Administrative Transformation Program (ATP), UW‒Madison will be transitioning to Workday, a cloud-based software platform that will streamline and simplify administrative processes. The virtual Workday Walkthrough on Thursday, Oct.12, 3‒4 p.m., will cover the tasks managers will be able to perform in Workday, including viewing information about their direct reports, approving requests for time off, approving timesheets, and more. Workday Walkthroughs are an introduction to Workday; they are not training. Learn more, find the meeting link to join this Workday Walkthrough live, or access the recording later on the ATP website with your UW login.
Date: Thursday, Oct. 12
Time: 3‒4 p.m.
Online via Zoom
Cultivating a Servant Heart with Caitlin Wilson
Caitlin Wilson, author of the newly-released book "Cultivating a Servant Heart," will be leading a 'Servant Leadership Community of Practice' session on "Your Inward Journey" on October 24th from 11:30 am-12:30 pm. Through small and large group discussions with peers, attendees will explore key learning lessons about servant leadership to:
Understand the concept of the inward journey.
Identify where you were (past), are now (present), and where you are going (future).
Create strategies for personal and professional growth.
All are welcome to join this free, virtual event.
Date: Tuesday, Oct. 24
Time: 11:30 a.m.-12:30 p.m.
Online via Zoom
https://www.sophiapartners.org/event/servant-leadership-community-of-practice-8/.
Nominations Open for Student Employment Awards
The Office of Student Financial Aid is seeking nominations for Student Employee of the Year. Scholarships will be awarded to the top student employee in each of five categories. In addition, the Student Employment Supervisor of the Year award celebrates the accomplishments of those who play an important role in the development of student employees. The deadline to nominate outstanding student employees and student employment supervisors is Sunday, Nov. 12.