Planners' Picks
A collection of resources from CSN planning committee members worth mentioning
We check in on innovation in teams, building an environment of trust, and connecting more deeply with the team this week. We also say hello to a mole in our weekly book recommendation. Nothing spooky here folks; just great leadership development advice.
:: Image of the Week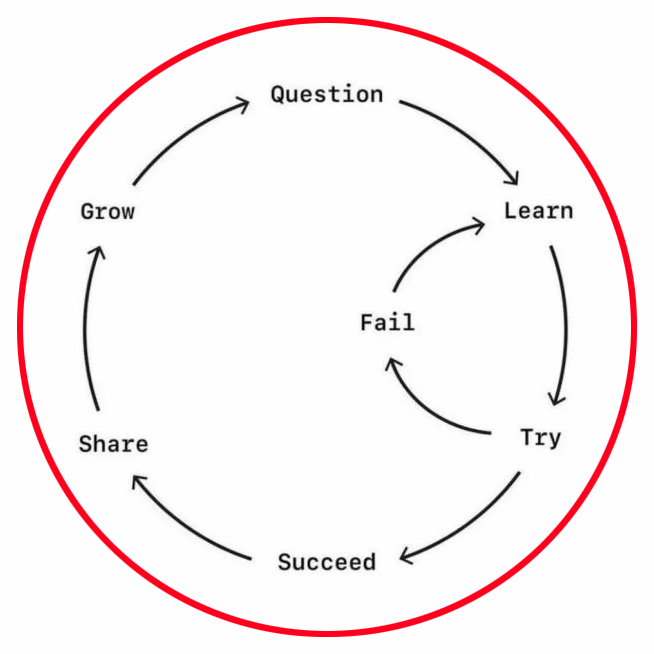 This is what innovative thinking looks like. We aren't able to be successful without trying and failing sometimes. We also don't grow as a team unless we share our successes with others. Promoting this type of environment involves trust and vulnerability first — make sure you're establishing that type of psychological safety in your team as a foundation for experimentation and growth.
 "Don't fear failure. Not failure, but low aim, is the crime. In great attempts it is glorious even to fail."  – Bruce Lee
:: Resources on Work Culture & Team Development
The One Thing Employees Need Most
What do employees need most to feel satisfied and successful at work? It's not what you think. Sure, opportunity for advancement is important. So too is work/life balance.
But there's something more appealing that workers want… that they need… to survive and thrive in demanding workplaces. Read this article by The Storytelling Strategist Valerie Gordon to find out what that is.
https://thestorytellingstrategist.com/what-employees-need-most/
Trust is a Gift
Trust is a gift; first and foremost. It cannot be earned.
Ken Blanchard writes in the below article, "It's all about trust. Someone must make the first move to extend trust. Leaders go first.
"Trust doesn't happen by accident. Leaders aren't automatically trusted just because of their position or title. To build trust in any relationship, one party must make the decision to extend trust in the hope that it will be reciprocated. The truth is that leaders have the responsibility to first extend trust to their people, which in turn allows the leader to demonstrate their own trustworthiness."
How can you overcome your tendency to mistrust?
https://www.chieflearningofficer.com/2023/09/29/hire-smart-people-train-them-properly-then-get-out-of-their-way
:: Resources on Self-Leadership Development
Thinking Strategically: A Guide to Making Better Decisions
We all want to make better decisions – but life is so busy that we often feel so busy living life we don't have time to think about it.
Join author Greg McKeown and Rich Horwath, CEO and founder of The Strategic Thinking Institute. In this episode, Rich shares the tools that will allow you to figure out what you do well and what you can stop doing to be more effective.
https://gregmckeown.com/podcast/episode/strategic-quotients-with-rich-horwath-part-1/?mc_cid=d98b032058&mc_eid=64ed34cb6e
"You have two lives, and the second one begins when we realize we only have one." — Confucius
The 4 Fundamentals of Adaptive Leadership
Now more than ever, companies need to be nimble to survive and thrive in an increasingly unpredictable world. Learn about the four fundamentals of adaptive leadership in this article by Vistage Group.
"Adaptive leadership is not about who holds the biggest titles," says Jay Johnson, whose firm specializes in providing behavioral science-back marketing and training services. "It's about energizing, inspiring and empowering people to learn, collaborate, and innovate." This leadership model offers a practical "leading without authority" approach to solving problems and improving decision-making. Adopting an adaptive leadership style allows you to energize your team to learn and figure out challenges together.
Here are four tips executives can use to become more agile leaders:
https://www.vistage.com/research-center/business-leadership/20230925-fundamentals-adaptive-leadership/
:: Resources on Communication
Discover How to Connect Deeply with Others
Are you worried that in today's fast-paced world, we may be losing our ability to connect with one another in a deep and meaningful way?
Don't miss this conversation on empathy and connection between Greg McKeown and Nate Walkingshaw, former Chief Experience Officer of Pluralsight, in the latest episode of The Greg McKeown Podcast.
Learn how his early experience as an EMT gave him a foundational understanding of the importance of empathy and connection, and discover how you can better understand others by seeing things through their eyes.
https://gregmckeown.com/podcast/episode/entering-the-world-of-another-with-nate-walkingshaw-part-1/?mc_cid=12f1f15baf&mc_eid=64ed34cb6e
"Everyone smiles in the same language." – George Carlin
The Feelings Wheel
Most people use 5 to 8 emotions to describe how they feel their whole life. Don't be one of those.
Expand your knowledge by expanding your language. Learn the language of emotions. And teach it to your kids and teams. Open their world up.
What resources do you use to learn about emotions? Please share them in the comments section.
How to Apologize to A Team Member
Have you ever found yourself in a situation where you had to apologize to a team member? It's a common challenge in the world of leadership, and it can be a delicate and crucial moment for maintaining healthy relationships within your team.
In today's blog post, we'll explore the art of apologizing to a team member from the perspective of an active listening expert, Heather Younger.
https://employeefanatix.com/how-to-apologize-to-a-team-member-from-an-active-listening-expert
:: CSN's Book of the Week Recommendation
The Boy, the Mole, the Fox and the Horse
Charlie Mackesy offers inspiration and hope in uncertain times in this beautiful book, following the tale of a curious boy, a greedy mole, a wary fox and a wise horse who find themselves together in sometimes difficult terrain, sharing their greatest fears and biggest discoveries about vulnerability, kindness, hope, friendship and love. The shared adventures and important conversations between the four friends are full of life lessons that have connected with readers of all ages.
Enter the world of Charlie's four unlikely friends, and discover their story and their most important life lessons. Here, you will find them together in this book of Charlie's most-loved drawings, adventuring into the Wild and exploring the thoughts and feelings that unite us all. Some notable quotes:
"Imagine how we would be if we were less afraid."
"What do you think is the biggest waste of time?" asked the boy.
"Comparing yourself to others," said the mole. 
"What do you want to be when you grow up?" asked the mole.
"Kind," said the boy.
"One of our greatest freedoms is how we react to things." – The Mole
"What is the bravest thing you've ever said?" asked the boy.
"Help," said the horse.
"When have you been at your strongest?" asked the boy.
"When I have dared to show my weakness. Asking for help isn't giving up," said the horse. "It's refusing to give up."
"Nothing beats kindness," said the horse. "It sits quietly beyond all things."
"Sometimes I think you believe in me more than I do," said the boy.
"You'll catch up," said the horse.
Find your copy at a local library or online. It's the type of coffee table book you could pick up and read again and again.
https://www.amazon.com/Boy-Mole-Fox-Horse/dp/0062976583
"Look for the helpers. You will always find people who are helping." – Mr. Rogers
:: Resources on Well-Being
Mindfulness Mondays and Wellness Wednesdays on the Louie Channel
Louie Schwartzberg, the producer of Gratitude Revealed, has a new short video series starting! Mindfulness Mondays and Wellness Wednesdays help to center us and take a one-minute break from the hectic nature of the world.
Mindfulness Mondays is a collection of stunning short videos here to remind you that taking a minute for mindfulness can have a profound impact on your well-being and overall perspective. Whether you're new to mindfulness or a seasoned practitioner, our collection has something for everyone. Join us every Monday, as we unveil a fresh perspective to help you navigate the week ahead with renewed clarity and purpose. Embrace the power of mindfulness, one mindful minute at a time.
Wellness Wednesdays is a collection of short films released each week that elevate self-care and mental health with breathtaking cinematography that celebrates the beauty of our world, fostering gratitude and togetherness.
https://watch.louiechannel.tv/mindfulness-mondays
https://watch.louiechannel.tv/wellness-wednesdays
Never Walk Alone
From the workplace to our personal lives—increasingly blended together—every day is a chance for renewal. And every story shared is another opportunity to open our minds, lead with our hearts, and seek to understand.
Albert Einstein famously wrote on his chalkboard a favorite quote that he had taken to heart: "Not everything that counts can be counted, and not everything that can be counted counts."
As we look at these words through the lens of health, wellness, and awareness, it's important to recognize that just because we may not personally experience something, it is happening to others around us. It's real—and it counts. And the people and their stories are present in every workplace and environment.
https://www.kornferry.com/insights/special-edition/never-walk-alone
:: Resources on Recognition
2023 HR Awards
Recognizing the hard work and exceptional performance of your HR staff is essential to creating a community of respect and excellence. Employees are more likely to continue innovating efficient systems, positively impact the community, and experience greater job satisfaction when acknowledged for their contributions. We are excited to seek nominations for this year's HR@UW Conference Awards.
More information on nominations here: https://hr.wisc.edu/hr-professionals/2023-hr-awards/
:: Upcoming Events
Motivating Teams in a Hybrid Work Environment
The online "In Scope" series from the Office of Strategic Consulting is designed for managers of small- to medium-sized projects at UW–Madison.
In this series, project management experts address managing projects in the university environment, introduce project management methods and resources, and facilitate conversations around common problems and solutions.
November 7 | 10:00–11:00 a.m.
Register for the In Scope series