Planners' Picks 
A collection of resources from CSN planning committee members worth mentioning
We're migrating into a leadership role, flying high on communication, and ducking out of untrustworthy habits today in PP. We'll also innovate creatively.
:: Image of the Week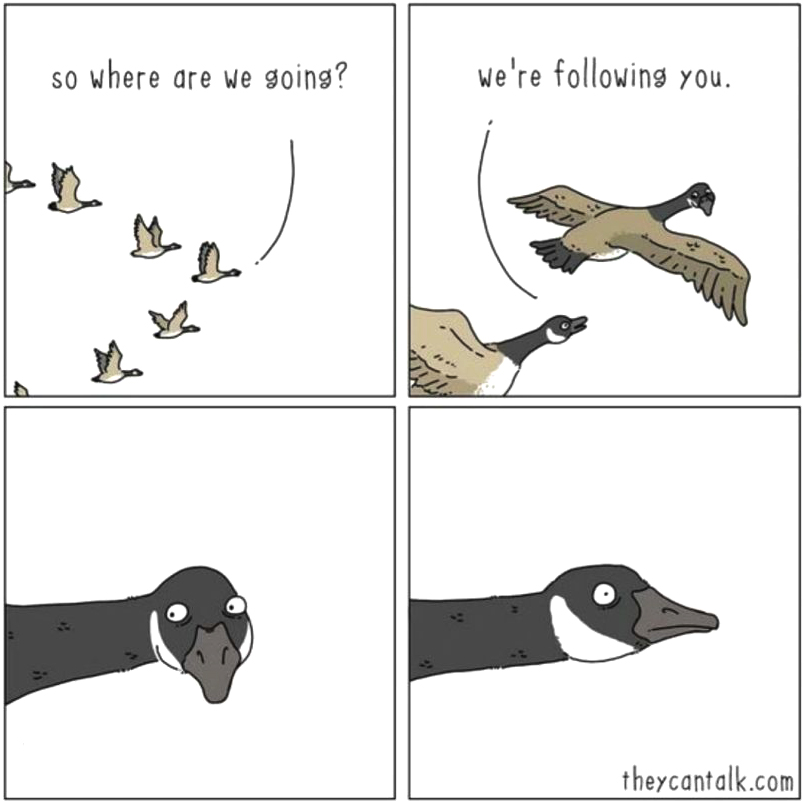 How are you leading your flock? Ironically, this cartoon is misleading, since the strongest geese are near the back keeping an eye on the group ahead of them and the others take turns leading or drafting off those ahead of them (see below for more on this). But the point of the humor is that it's sometimes difficult to stick your neck out and be the one who leads a group, regardless of your position or title.
We all lead by example, whether we are trying to or not! When others look to you for guidance, make sure your messaging and actions are what you want them to see. Be a good role model so your team doesn't head south on you.
Here's an article by Amy Giddon summarizing from the book "Lessons from the Geese" by Dr. Robert McNeish on how geese actually work together like a great team should: https://www.linkedin.com/pulse/being-more-human-like-geese-amy-giddon/
Bonus: Listen to this Barenaked Ladies song while re-reading the content above! https://www.youtube.com/watch?v=Dy3T-lWIhNQ
:: Resources on Communication
LinkedIn Learning: Communicating with Clarity as a Manager
As a manager, you want to ensure your employees are focusing on the work that matters most. Clear communication empowers you to inspire your team and create greater performance and engagement. In this practical course, management consultant and best-selling author Heather Younger shows you how to shift from vague to clear communication, work with others' communication preferences, be transparent, use clear and constructive feedback, overcome remote/hybrid communication challenges, and much more. Heather's books have been featured in CSN Book Clubs in the past, and she is an industry leader in active listening.
https://www.linkedin.com/learning/communicating-with-clarity-as-a-manager/clarity-is-kindness?anchor=SOCIAL_PANEL&u=56745513
:: Resources on Self-Leadership Development
Looking at Trust (a little differently)
Entire books have been written about trust – what it is, how to build it and nurture it, and what to do when it's broken. But all of that can be overwhelming when one is simply doing one's best to create a good, strong, high-performing team. In this article, tech consultant Grace Judson takes a look at just a few basic aspects of trust – basic, yes, but perhaps not obvious – "obvious" means things like "be honest and transparent."
https://www.gracejudson.com/looking-at-trust-a-little-differently/
"Work while you have the light. You are responsible for the talent that has been entrusted to you."  —Henry-Frédéric Amiel
Here Are The Powerful Truths of Our Potential
"In every person, there lies the potential to shine as a Gold-Dust Queen, but it's in the embrace of that potential that the real transformation happens"  –  Veronica Safoa Owusu
>>Some will find themselves in environments that nurture their resilience, some won't.
>>Some are gifted with an innate ability to bounce back from life's toughest moments.
>>Some are blessed with a support system that fosters their unique talents and potential, setting them on a path to actualizing their dreams and some aren't.
Read more on Veronica's thoughts on the powerful truths we possess regarding our potential:
https://www.linkedin.com/posts/veronica-safoa-owusu_in-every-person-there-lies-the-potential-activity-7127289619049525248-6co1?utm_source=share&utm_medium=member_desktop
:: CSN's Book of the Week Recommendation
The Heart of Innovation
The Heart of Innovation is for anyone in a position to create positive change in their organization.
Four innovation experts from the startup world, large enterprises, nonprofits, and academia come together to reveal the secret of uncovering authentic demand to build successful innovations.
Books on innovation mostly focus on how to nurture innovative cultures and brainstorm ideas. The Heart of Innovation is the first popular book to concretely delve into what innovations really are and how to create them. Many attempts at innovation fail because customers turn out to be indifferent. The key to success is to uncover unmet authentic demand; what customers cannot be indifferent to. Through fresh case studies, ranging from how SoulCycle revolutionized the fitness industry, to how IBM built an $8 billion business on the Web, to a single mother ending abuse in a slum in Africa, The Heart of Innovation explores how authentic demand is often hidden or taken for granted.
Rich Gassen had the opportunity to read an early copy of this book, and really appreciated the deep dive into different types of innovation in the workplace. Through many great stories, the authors can explain three types of "accidental" innovation: Informative, Transformative, and Formative, using real-life examples and situations where these innovations were employed. The second half of the book goes into how you can apply "deliberate" innovation to your environment to uncover authentic demand and make improvements that will last.
:: Resources on Mental Health and Self-Care
Wonder & Awe: Journey into the Soul – Danielle LaPorte
Danielle LaPorte is a best-selling author who has inspired millions of people around the world, naming her as one of Oprah Winfrey's Super Soul 100 Leaders for "uniquely connecting the world together with a spiritual energy that matters." Her newest book, How to Be Loving, is a nuanced perspective on the life-changing power of self-compassion, shadow work, and being more receptive to Higher Guidance. This is a guide on how to use the genius of your heart to create conditions for healing.
The Desire Map: A Guide To Creating Goals With Soul has been translated into 8 languages, evolved into a yearly day planner system, a top 10 iTunes app, and an international workshop program with licensed facilitators in 15 countries.
LaPorte's website, DanielleLaPorte.com, discusses spirituality, entrepreneurship, and personal growth. Forbes named her blog one of the top 100 websites for women in 2012, calling LaPorte "a contrarian self-help guru."
In this episode, Louie Schwartzberg and Danielle look at the multi-faceted layers of Love, and how it can best serve as a practice for healing and connection around the world. (You may recall that Louie was the producer of our Summer of Gratitude video event in May.)
https://watch.louiechannel.tv/videos/daniellelaporte
How Our Hormones Correlate
This visual on LinkedIn is a sample of how our hormones correlate with our emotions. Like life, our hormone pathways and emotions aren't linear and are different for everyone.
Remember to care for yourself and create the space you need. You are the most important part of you.
https://www.linkedin.com/posts/charissefontes_selfcare-culture-personaldevelopment-activity-7119015802267176961-jG25
:: Resources on Creativity
Eight Lessons From My Research on Creativity
This from Robert J. Sternberg of Cornell University's department of Psychology:
"When I was at the beginning of my Ph.D. studies, my advisor at Stanford, Professor Gordon Bower, invited each of his first-year graduate students to his house for dinner. After dinner, he asked each of us what we wanted to study in graduate school.
We all thought we knew what he wanted to hear—"semantic memory"—which was what he was studying. There were five guys there, all of us first-year students (and all male). The first one got up and he said, as you would predict, "semantic memory."  The second and third guys said the same. I knew at least two of them were lying and just sucking up. It was like a Solomon Asch experiment, where people hear others lie and then say the same thing so as to be part of the crowd.
Then my turn came. I assure you, I'm no suck-up. I knew what I wanted to study, and it wasn't semantic memory. But when Gordon asked me what I wanted to study, I said…. "semantic memory"! Like the others, I chickened out. Or to put it another way, I was a coward. What I really wanted to study was human intelligence and creativity. I was just afraid to admit it.
That night, I was humiliated. I thought that if that was the way I was going to run my scholarly career—as a coward—I needed to find something else to do. I told myself I would never sell myself out again. I never have, although I've certainly had many opportunities.
In a way, this episode became the beginning of a career as a psychologist studying creativity. Here are eight lessons from my research."
Read more at https://greatergood.berkeley.edu/article/item/eight_lessons_from_my_research_on_creativity
"A creative man is motivated by the desire to achieve, not by the desire to beat others." —Ayn Rand
What Causes Creativity?
Are you allowed to be creative at work? Does your employer empower you to get creative in how you accomplish difficult challenges and do your daily job?
Is finding new solutions to old problems and building future innovation encouraged in your workplace? If not, then it's likely that you only focus on the day-to-day and do not work at improving the organization or taking your products and services to the next level.
https://www.linkedin.com/posts/monte-pedersen-9554a1126_ceos-leadership-creativity-activity-7125083378424434688-5yrb?utm_source=share&utm_medium=member_desktop
"Do not allow people to kill the ideas that you genuinely care about." – Stan Lee
:: Resources on Work Culture & Team Development
Project Manager Community of Practice
The Project Manager Community of Practice welcomes those at UW-Madison who are interested in sharing information, improving their skills, or have a passion for the project management practice. They meet virtually on the 1st Thursday of each month from 3:30-4:30 p.m. Any member can propose topics for monthly meetings, and they aim to reach project managers from all different departments across campus.
Check out their website where you can request to join our Microsoft Teams page: https://projectmanagercop.wisc.edu/
The Danger of a Single Story
This TED talk by Chimamanda Ngozi Adichie is a stark reminder that we do not know a person's whole story just by looking at them, which is important for leaders to consider in teams, in communicating externally, and more. Watch the video to find out how our lives, and our cultures, are composed of many overlapping stories. Adichie tells the story of how she found her authentic cultural voice — and warns that if we hear only a single story about another person, we risk a critical misunderstanding.
https://www.ted.com/talks/chimamanda_ngozi_adichie_the_danger_of_a_single_story?language=en
"Minds I like parachutes—they only function when open." —Thomas Dewar
:: Upcoming Events
Webinar: Attract and Develop the Next Generation of Values-driven Leaders
Date & Time: Nov 15, 2023, 12:00 PM CST online
Across the nation, public service agencies, nonprofits, education institutions, and mission-driven companies are looking for effective ways to recruit and retain employees amid historic labor shortages. But what are values-driven individuals really looking for in their employer?
Recent KW2 research engaging over 600 Midwesterners under the age of 35 reveals that nearly two-thirds of individuals want employers that positively change the world. But they also have different expectations from previous generations. Join KW2 experts and CultureCon LLC to learn more about these research findings and how to break through the recruitment noise to reach your next generation of leaders.
Panelists include:
Colin H. Mincy, Former Chief People Officer for Global Human Rights Watch and current CultureCon Contributor;
Allison Trapp, Leading Behavior Change Strategist and Researcher with nearly two decades of experience; and
Molly Dillman, Former Wisconsin Gubernatorial Appointee and UW Chief of Staff.
During this hour-long webinar, you'll learn:
What KW2 research shows values-driven individuals are looking for in their prospective and current employers
How organizations can leverage these insights to position themselves better to attract high-quality candidates
How the recruitment and hiring processes influence prospective employee decision-making
Strategies on how to retain values-driven employees
Register here:  https://us02web.zoom.us/webinar/register/WN_zX7E1a53SSaeB0MqNGzVMg#/registration
Mind-Body Wellness Webinar
Date: Tuesday, November 28, 2023
Time: 12-1 p.m.
Location: Online
Join the team from Employee Assistance to learn more about wellness. Many of us are judged by how quickly we can get things done. Because of this, it is difficult to develop the mindset of slowing down, getting centered, and getting focused. Participants will learn about the difference between control and letting go and will practice mindfulness, conscious breathing, gentle stretching, and guided relaxation. Register below to receive the Zoom link.