Planners' Picks
A collection of resources from CSN planning committee members worth mentioning
We tap once more into gratitude and appreciation, focus on our habits, check in with the team on collaboration and purpose, and make sure our meetings don't suck in this installment of PP. But first, a note of thanks from one of our readers as we inch closer to Thanksgiving:
"I'm not sure who runs this newsletter, but I wanted to say thank you for doing it. Of all the campus emails I get, these are consistently the most useful and thought-provoking. There is quite often a link to something directly relevant to an issue I'm having – or something I have been thinking about and working on. And they are varied and substantive. You are mind readers. How do you do it? Kudos."  Appreciatively, Molly
Aw, Thanks Molly! You nailed this gratitude thing; keep up the good work!
||| Image of the Week: |||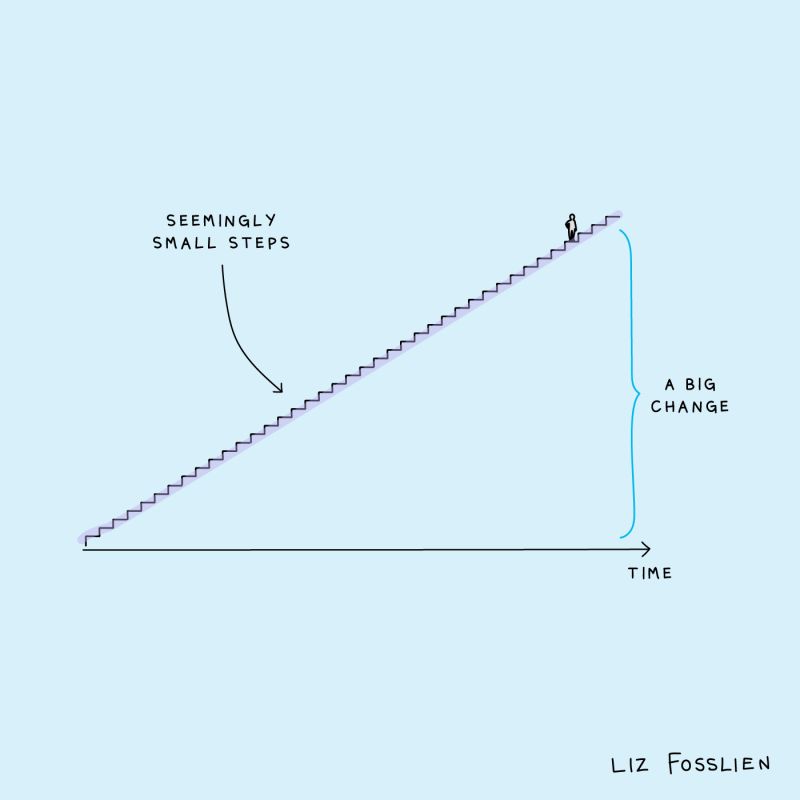 Trying to develop a new habit? Start here.
Just like our image of the week above shows, many incremental steps toward something can make a big change over time. Building habits is much like that — Listen to James Clear and Brené Brown on the Dare to Lead podcast to get some great tastes of Clear's book Atomic Habits, and you'll be ready to be the kind of person who develops better habits through repetition in no time! What a great discussion, chock full of tips for building a better you. Hear about James Clear's concepts on 1% better, and more.
https://www.linkedin.com/posts/brenebrown_this-dare-to-lead-two-part-podcast-with-activity-6866471572736139264-1zpS
||| Resources on Work Culture & Team Development |||
The 5 Best Ways to Boost Workplace Collaboration
Your value multiplies when you can effectively connect with others and become a bridge to continued progress. Which one is your favorite?
https://www.linkedin.com/posts/amyblaschka_the-five-best-ways-to-boost-workplace-collaboration-activity-6866375733800001536–XHG
To Retain Employees, Give Them a Sense of Purpose and Community
Leaders determined to stem the tide of talent defections during the Great Resignation could be surprised to learn they're barking up the wrong tree by simply throwing money or perks at the problem. The author spoke with six human resource executives from companies reporting that their organizations are not experiencing higher-than-normal attrition.
https://hbr.org/2021/10/to-retain-employees-give-them-a-sense-of-purpose-and-community
"If you hire people just because they can do a job, they'll work for your money. But if you hire people who believe what you believe, they'll work for you with blood and sweat and tears." – Simon Sinek
Want Great Leadership? Here Is Why And How To Avoid Perfectionism
Overly high expectations of yourself and others can jeopardize your efforts. No matter how important your cause is, perfectionist inclinations and workaholic tendencies may limit your success in your organization and the world. your unrealistically high standards for yourself and others can sabotage you and what you are trying to achieve. No matter how worthy your cause, all or nothing thinking and workaholic tendencies, often characteristic of perfectionists, may limit what you achieve in your organization and the world. Set the goal of making progress rather than achieving perfection and you will increase your success in carrying out your purpose.
https://www.forbes.com/sites/kathymillerperkins/2021/11/11/want-great-leadership–here-is-why-and-how-to-avoid-perfectionism/?sh=4ff72fda1df5
||| Resources on Gratitude and Appreciation |||
Why Gratitude Makes Leaders More Effective
Leadership is as much about expressing gratitude as anything else. Leaders should cultivate gratitude because it breeds engagement, more positive interactions, and builds resilience in those who practice it. What's more, gratitude helps you acknowledge your accomplishments. Thankfulness encourages you to focus on your successes.
https://www.entrepreneur.com/article/339430
"Looking for good as you go about your day, gratefulness is a habit that brings more goodness your way. Even for the uncertainty of life, give your appreciation. You can never be too grateful – as you move from station to station."  – Meg Nocero, Esq.
What Is the Best Way to Deliver a Thank-You?
Even though we may believe that it's important to say thank you, sometimes expressing gratitude is easier said than done. We might find ourselves getting hung up on the details of what to say or the best way to deliver the message. Or we may feel embarrassed about not having expressed gratitude previously. We might even end up feeling guilty or indebted if the person we're thanking has repeatedly shown us kindness we haven't yet been able to repay. As a result, many times our gratitude goes unsaid. Make the call. Send the card. You'll thank yourself later on.
https://greatergood.berkeley.edu/article/item/what_is_the_best_way_to_deliver_a_thank_you
The Hidden Link Between Gratitude and Reaching Your Goals
Expressing gratitude makes us (and the people we're grateful for) feel good, but did you know it can also help us achieve our goals?  When we take on a mindset of gratitude, we can all reach our goals. And the more small gratitude-building habits we bring into our lives, the better off we are. "Rather than see all emotions as the enemy of reaching our goals," David DeSteno, Ph.D. insists, "emotions could in fact help us reach our goals."
https://thriveglobal.com/stories/the-hidden-link-between-gratitude-and-reaching-your-goals
"Life is not fair; it never was, and it isn't now. Do not fall into the trap…The entitlement trap, of feeling like you're a victim. You are not. Give thanks. Appreciate what you do have…the more we give thanks, the more we receive to be thankful for. Gratitude is the gift that always gives back. It's a scientific fact that gratitude reciprocates." – Matthew McConaughey
||| Resources on Hybrid and Remote Work |||
What Psychological Safety Looks Like in a Hybrid Workplace
Figuring out hybrid work, what works and doesn't when organizations and people within them may have differing needs is downright challenging. One key component to navigating what we're in together, according to Amy Edmondson and Mark Mortensen, is psychological safety.
Psychological safety historically focused on "enabling candor and dissent with respect to work content" and is shifting in an environment where "the boundary between work and life becomes increasingly blurry". How do we approach this as leaders?
https://hbr.org/2021/04/what-psychological-safety-looks-like-in-a-hybrid-workplace
"Alone we can do so little, together we can do so much." — Helen Keller
How to Lead a Hybrid Team
Proximity bias—the assumption that people you can see working are working harder than those you can't see—is just one of the challenges faced by small business owners who manage a hybrid workforce. Another is a bias towards what's "easy" for you. The same is true for meetings. It's easy to grab three on-location people and hold an unscheduled meeting about a problem or opportunity. It's harder to wrangle the remote members of your team onto an impromptu Zoom call. But if you go the "easy" route, over time your onsite employees will naturally possess more information and enjoy more opportunities than your remote employees.
As most experienced leaders know, what's easy for you is not always what's best for your team. So how can you better lead a hybrid team? Start with the basics.
https://gusto.com/blog/people-management/leading-hybrid-teams
Deliver Virtual Meetings That Don't Suck
Are your virtual interactions effective or are you glad when they're over? In this complimentary report, you will receive practical and immediate how to's for Communicating with Influence Virtually. Take advantage of this downloadable resource from Stacey Hanke on delivering better virtual meetings.
https://staceyhankeinc.com/delivering-virtual-meetings-that-dont-suck/
||| Upcoming Events |||
Help Build Your Team's Resilience
In Heather Younger's book The Art of Caring Leadership, she talks about building team resilience as one of the nine tenets of caring leaders. What does this look like in practice?
Inside and outside the workplace, obstacles and challenges are all around. We've also been working through the past 20 months of a pandemic. Caring Leaders focus on building resilience within those they lead the help them respond to inevitable adversity and bounce back to become stronger. This involves helping them reframe their current circumstances, learn from what is happening around them, and see the challenges as opportunities to grow and progress in their role in your unit.
This book was featured in CSN's Summer Book Club series earlier this year. Now we will dive deeper into some of the topics, chapter by chapter. Join Rich Gassen from CSN for a small group discussion. Together, we will share stories from our work environments to show how building team resilience can result in better performance, higher job satisfaction, more employee retention, and other benefits.
A PDF of the chapter, as well as other resources from the book club, are available at https://uwmadison.box.com/s/oqelv2l7rr0ahcs6qt2vjmrsndufjirx. Read this chapter prior to our session.
Wednesday, December 8 — 2:00 – 3:00 pm on Zoom
Register Here: https://go.wisc.edu/7of9an
**
Do You Eat Food? Then You Should Attend The CSN Holiday Gathering!
It's time to show our gratitude for your hard work and dedication as a supervisor during this challenging year! Please join us at the CSN Holiday Gathering – a chance to catch up and socialize with some of your peers, including members of the CSN planning committee.
Wednesday, December 1 – 3:00-6:00 pm
The Sett Pub Upper Balcony Area @ Union South
Non-alcoholic drinks and LOTS of appetizers provided; other drinks available for purchase
Register Here: https://go.wisc.edu/ju7c9c