Planners' Picks
A collection of resources from CSN planning committee members worth mentioning
Now that we've found our extra coats and hats, let's warm up to the idea of motivating our team, creating psychological safety, and addressing burnout.
||| Image of the Week: |||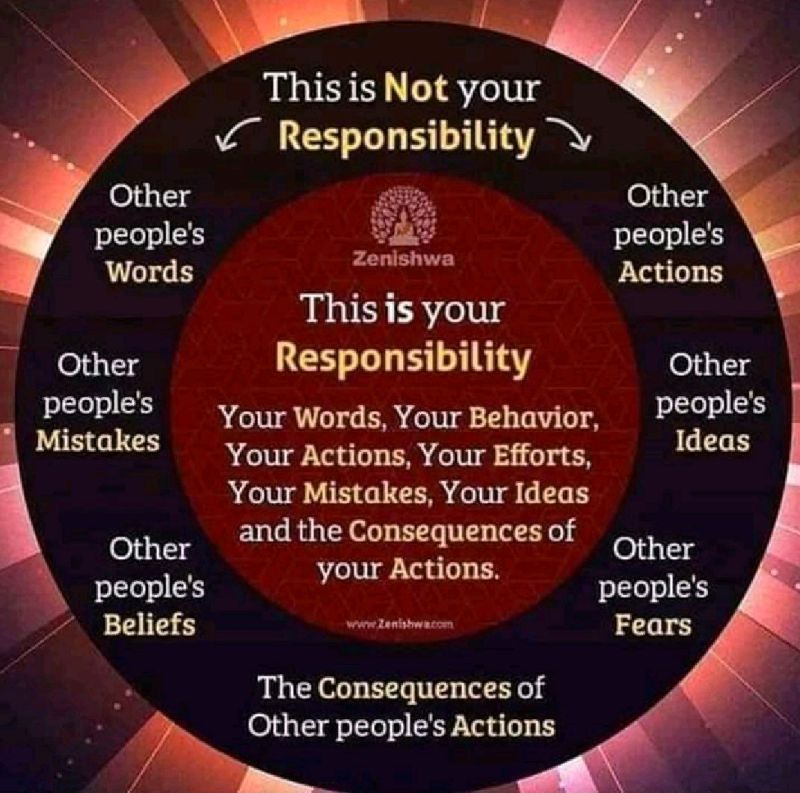 What is your responsibility? What's in your control?
||| Let's Start 2022 Out Strong |||
15 Powerful Words That Are Helping Us Start 2022 Off Right
Starting the new year with a specific intention can help us set the tone for the months ahead and maintain perspective when faced with challenges. One way to do that is by choosing a word or phrase to guide us. Thrive's founder and CEO, Arianna Huffington, writes about how her word for 2022 is "Resilence+." She explains, "Resilience+ is about refueling and replenishing so we can meet whatever challenges 2022 holds with less stress, more joy and endlessly renewable stores of resilience."
The Thrive community shares with us their word or phrase that's helping them set the tone for this year. Which of these will be your word of the year?
https://thriveglobal.com/stories/words-and-phrases-new-year-2022-mantras-well-being
4 Health Benefits of Gratitude You Never Knew
Research has shown that reminding yourself constantly of all you have to be thankful for can yield remarkable rewards both physically and mentally. So don't stop feeling thankful once the turkey dinner's done. Make gratitude a lifelong habit and reap these 4 scientifically-backed health benefits of gratitude that you never knew.
https://thriveglobal.com/stories/health-benefits-of-gratitude/
"We make a living by what we get, but we make a life by what we give." – Winston Churchill
||| Resources on Hybrid and Remote Work |||
How to Keep Your Team Motivated, Remotely
When researchers measured the total motivation of employees, they saw that those forced to work from home were the least motivated. But there is an effective way managers can increase their team's productivity and performance, even under the circumstances of this crisis: through experimentation. The researchers found that experimentation results in a 45-point increase in employee motivation. The key is for leaders to make sure their weekly routines are not focused only on the tactical work. Half of their weeks should also be focused on adaptive performance, where there is no plan to follow, but instead, an emphasis on experimentation and problem solving.
https://hbr.org/2020/04/how-to-keep-your-team-motivated-remotely
"Start where you are. Use what you have. Do what you can." –  Arthur Ashe
Remote Work, Cultivating Culture, and Change with Robert Glazer on the Love in Action Podcast
Robert Glazer is the founder and CEO of global partnership marketing agency Acceleration Partners. A serial entrepreneur, award-winning executive, and accomplished operator, Bob has a passion for helping individuals and organizations build their capacity and elevate their performance. Bob is a Wall Street Journal and USA Today international bestselling author of four books, his most recent being How To Thrive In The Virtual Workplace: Simple and Effective Tips For Successful, Productive and Empowered Remote Work. He is this week's guest on Marcel Schwantes' episode of Love In Action.
What a great conversation between two great influencers and leaders. If you want to learn how to lead those in a hybrid or remote workplace, Robert Glazer is the man to connect with.
Marcel asks Bob what the secrets to his success are. "I try… to be consistent between what we believe, what we say, and what we do," he responds. "I spent a lot of my time focusing on developing our people; it's what I enjoy. There's probably other aspects of being a CEO that I'm not as good at… I think what really frustrates people about leadership is people not being authentic," he adds.
https://podcasts.apple.com/us/podcast/remote-work-cultivating-culture-and-change-with/id1456073489?i=1000534062851
||| Resources on Communication |||
5 Ways to Create Psychologically Safe Meetings for Introverts
1) Distribute meeting agendas, topics, and materials in advance. Introverts are incubators. They need time to absorb and reflect on questions, problems, and information.
2) Create air space for introverts to ask and answer questions. Introverts tend not to process verbally while extroverts relish thinking out loud. Contain the extraverts, especially those who lack self-awareness.
3) Don't force a public response. Introverts like to crystallize their thinking before making it public. While extroverts see their comments as raggedy raw material, introverts see theirs as refined finished goods. Yes, ask them what they think, but don't force a point of view. That often comes later.
4) Avoid impromptu meetings and improv sessions as a pattern. There are times when a spontaneous and agenda-less meeting makes sense, just don't make it a habit. When you need an impromptu meeting, be careful not to marginalize your introverts by lavishing praise and recognition on those who shine in that setting.
5) Hold shorter meetings. Introverts tend to become emotionally fatigued before they become intellectually fatigued. In marathon meetings, extroverts often gain energy while introverts lose steam.
Download the LeaderFactorNotes here. Provided by Dr. Timothy R Clark.
5 Tips For Managing Conflict at Work
It's no secret that many people dislike conflict and tend to avoid it. This is especially true for dealing with conflict at work. However, by applying specific strategies to conflict management, we can strengthen our working relationships and find better outcomes that meet the needs of both parties.
https://www.thnk.org/blog/5-tips-for-managing-conflict-at-work
||| Resources on Work Culture & Team Development |||
4 Ways to Support an Employee Going Through a Personal Hardship
When someone on your team is going through a hard time, you may not know how to best support them while also making sure things run smoothly on the job. Here are four tips from experts that can help.
https://thriveglobal.com/stories/personal-hardship-managers-how-to-cope-advice-tips-compassion-patience/
How leaders at any level can better address employee burnout
It's been almost two years since the pandemic changed the way we work, and at this point, many of us are physically and emotionally exhausted.
The response from some employers has included giving employees extra business-wide vacation days, introducing "no meeting Fridays," and offering stipends to build more comfortable working spaces at home. While these perks can offer relief in the short term, employees want to see burnout addressed by longer-term solutions—without sacrificing their career growth. A new survey(pdf) of US workers conducted by Glint found that only 1 in 5 believes they can meet their career goals where they currently work. A similar portion reports having support from their manager and organization to even pursue these goals.
https://qz.com/work/2104286/how-managers-can-help-address-employee-burnout/
"Life is 10% what happens to you and 90% how you react to it."  – Charles R. Swindoll
What Do Strengths Look Like Under Stress?
Today the question is about whether strengths look or act differently when they're under stress.
No matter how great your life is — no matter how much you love your job, you'll still have bad days. And you need to know how your talents show up when you're under stress, when you're sick, and when you're burned out. It's good to know what do to with them on the days that you want to hide under the covers and do nothing.
Like many, you probably have client meetings, deadlines, and commitments that lead you to get out of bed anyway — even on a really bad day. You tough it out. We've all had days like this — where it all seems to be going wrong before the alarm even goes off.
Well, those days can definitely bring out the shadow sides of your strengths. Those days can expose ugly sides of your talents — the side that doesn't normally show up, even though you haven't invested fully in that talent. The ugly side doesn't show up day to day, yet the dark side is way more likely to rear its ugly head when you're having a terrible week at work.
Read this article or listen to the podcast on how to reframe from bad to better on these tough days.
https://leadthroughstrengths.com/too-much-of-a-strength/
||| Upcoming Events ||| 
Wellbeing Skills with Richard Davidson
Sign up for an inspiring event with neuroscientist Professor Richard Davidson (former Center for Healthy Minds Director at UW-Madison) to learn science-based skills to boost your wellbeing.
Can wellbeing skills be learned? At this special event, neuroscientist Richard J Davidson will share the latest insights from the neuroscience of wellbeing. He'll explain how wellbeing is not a static thing, but rather a set of skills that can be learned and cultivated over time, just like learning to play a musical instrument or riding a bike.
Prof. Davidson will show us how we can learn to cultivate a positive outlook, rebound from negative emotion, live more mindfully and grow qualities such as empathy, compassion and gratitude. And he'll share practical actions which we can put into practice now to build positive habits for lifelong wellbeing whatever our situation.
Date: January 12, 2022
Time: 1:00 – 2:00 pm online
https://www.eventbrite.co.uk/e/wellbeing-skills-with-prof-richard-davidson-tickets-224605419857