Planners' Picks
A collection of resources from CSN planning committee members worth mentioning
Showing up for others is important, but do you show up for yourself? Let's elevate our team, use our strengths to lead, and say "you're welcome" more effectively and compassionately.
:: Image of the Week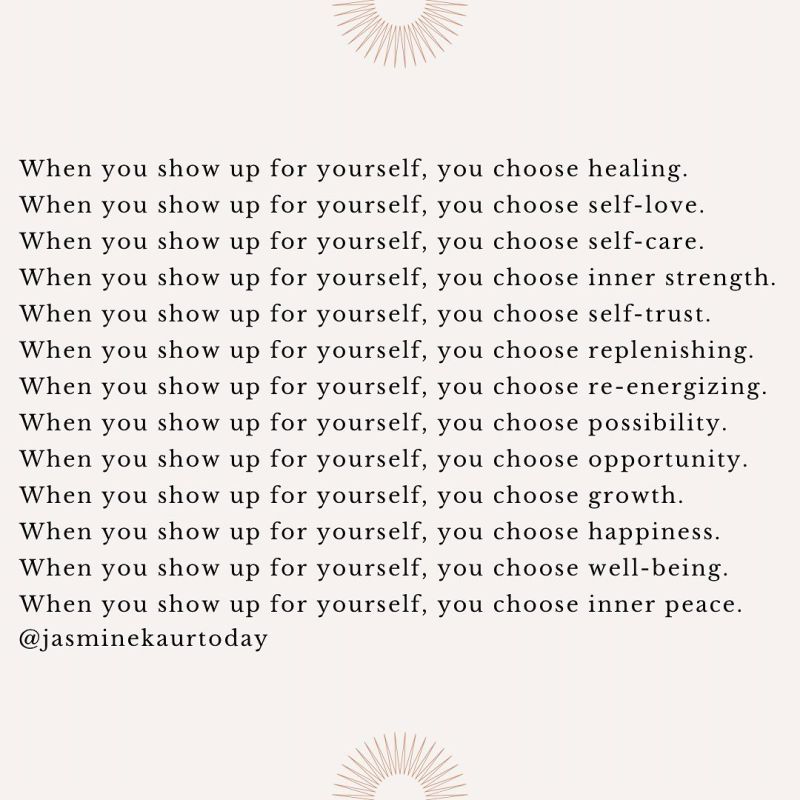 How will you show up for yourself today?
"What we achieve inwardly will change outer reality." —Plutarch
:: Resources on Mental Health and Self-Care
How to Incorporate Self-care Into Your Everyday Life
We often think of self-care rituals as luxuries or indulgences. But in reality, taking care of ourselves is fundamental to our well-being. And when we carve out small moments for the things that bring us joy, we're able to live happier, less stressful lives.
We asked our Thrive community to share with us the small self-care rituals that bring them joy, no matter how busy or stressful their day is. Which of these will you try?
https://community.thriveglobal.com/how-to-incorporate-self-care-rituals-into-your-routine-tips
Shift From 'Thinking' Gratitude To 'Feeling' it
If you haven't noticed, gratitude is "in." These days it's fashionable to be grateful, especially as an antidote to stress. That means lots of well-meaning people are trying to cultivate gratitude; and sometimes with mixed results.
But for those list makers in the group, you can't just check gratitude off your list each day. You cannot think gratitude and check the box. You have to feel it. So how do you go from thinking gratitude to feeling it?
https://www.linkedin.com/pulse/shift-from-thinking-gratitude-feeling-chester-elton/
You Are Somebody, You Matter, and You Are Enough
How long has it been since someone has told you that you matter and you are enough? Many times, we see amazing things within others and never share that with them, assuming they are confident and sure of themselves, but often people have more self-doubt than they might outwardly share and need gentle reminders that they are good enough.
Enter Rachel Druckenmiller, creator of Unmuted. She is a leadership keynote speaker, podcast host (and frequent guest), and so much more. Last week Rachel also took a huge step forward by releasing a song called "Somebody" on all of the streaming platforms.
Take a listen, and share her wonderful message with those around you. Visit https://unmutedlife.com for more info on her speaking and podcast, too!
https://song.link/somebody-rachel
:: Resources on Work Culture & Team Development
The Sequel to the Book 'Elevate' by Robert Glazer
Several CSN members were involved in a book club during the pandemic featuring Elevate by Robert Glazer. (You can visit our Past Events page to see a summary and the resources associated with this book; scroll down to March 2021).
Bob has come out with a sequel, specifically for work environments:
"Elevate Your Team (EYT) brings the capacity building framework I shared in Elevate to an organizational context—it's a new playbook for leaders to help their teams grow, personally and professionally."
Here's an excerpt: the entire Introduction of EYT. If you like what you read, Bob hopes you'll pre-order the book so you can get your copy on launch day.
Inspire Staff by Showing Them How Amazing They Are
One of the best gifts you can give as a leader is not only believe in your team's abilities, but also have the foresight to see what they are capable of. Be the person that helps open the door to their full potential.
https://www.linkedin.com/posts/leadership-first_entrepeneurship-executivesandmanagement-leadershipfirst-activity-7011676109758947329-p6Gk
 "A single act of kindness throws out roots in all directions, and the roots spring up and make new trees." – Father Faber
Balancing Accountability and Kindness in Leadership
Are you struggling to thrive in a toxic work environment? Want to learn how to stand up for yourself and your team against bad leadership?
THE BAD BOSS.  We've all had one, right? This is a work experience many of us unfortunately share.
In this episode of #WhatHappensAtWork, former colleagues recount how they handled a challenging company-wide acquisition and a difficult new manager. Their new manager quickly created an environment where employees felt disconnected, disengaged, and unmotivated. As a guest on this show, I weigh in on how to deal with bad leadership and what you can do to make a more customized approach to engagement through listening.
There is no cookie-cutter approach to employee engagement. It is challenging to create a safe, supportive, and engaging work environment when you have a 'bad boss,' but it's not impossible.
https://www.bamboohr.com/resources/podcasts/what-happens-at-work/?wchannelid=nsimnuvvxr&wmediaid=bn2m8ufcnr
:: Resources on Self-Leadership Development
How to Use Your Strengths to Lead Through Change and Uncertainty
How can you use your strengths to lead through uncertainty? What are strategies or tactics to get through change — as an individual and within your organization? Join us for this LinkedIn live with Dean Jones and Jim Collison. Pre-recorded on December 16 as a Linkedin Live broadcast.
https://www.linkedin.com/video/event/urn:li:ugcPost:6999461583877808128/
The Most Productive (and Unproductive) Time of Day
Have you ever noticed that some days, you are a productivity ninja, while others are filled with distractions and diversions? Not all days or hours of the day are created equal when it comes to productivity and cognitive performance. It turns out that timing is not an art… it's a science! Melissa Hughes explains in her post and short video.
https://www.melissahughes.rocks/post/the-most-productive-and-unproductive-time-of-day
:: Resources on Communication
The Future of Communication e-book
Jade Miller put together a short e-book on communication trends in 2023. She writes on Linkedin:
Vulnerability. Trust. Respect. Sharing.
This is how I envisage the future of communication, leading to greater connection, which leads to positive solutions for the challenges we face collectively as humans.
Of course we see this already, but I'm sure we could all agree the world could use some more of these things, particularly in times of disagreement. When tension and conflict appear, this is EXACTLY what needs to be built and activated.
Here are some examples of how this will play out, and how can benefit your business or organization.
> Online groups and communities continue to grow as a major tool in business communication and structure. This means people could find a sense of belonging with your brand, and support with one another.
> The continued movement away from networking, cold calling, and sales pitching towards relationships, conversations and recommendations.
> Business and life blending more and more as people leave the 'soulless' jobs in search of meaningful work, autonomy and community.
> More people looking after each other – less judgement and competitive behavior, more supportive behaviors like helping one another with client recommendations, pitching in when workloads are hard, allowing people space when they need time off, making arrangements with people who are neurodiverse.
> Personal, open, relatable stories as a beacon for 'finding your tribe' .
Download her book here:
https://jademiller.com.au/2023
14 Ways to Say 'You're Welcome'
Doing something for others—whether big or small—feels good. And when someone thanks you for it, the typical response is "you're welcome." It's a way of acknowledging that "thank you," and it's a common phrase whether you're in the workplace, at home, or at a café.
But in a professional setting, your work is often tied to doing things that benefit others. (For example, you may provide some much-needed context to someone so they can begin a project, or you may simply grab someone a water while you're at the office snack area.) So the phrase "you're welcome" could start to feel stale. And while it's a reflexive response, it doesn't always convey the tone or meaning you want.
That's why it's helpful to know some alternatives. Luckily, there are many words and phrases that could work in those situations. Here are some examples of other ways to say "you're welcome," and how to use them in conversation.
https://www.grammarly.com/blog/youre-welcome/
"Whatever the mind of man can conceive and believe, it can achieve." —Napoleon Hill
Growth Vs. Fixed Mindsets
We all have goals, and we want to achieve them. Our mindset is vital for accomplishing our personal and professional goals. When we don't, many of us struggle to understand the reasons why the situation did not result in our favor. We often fail to realize that our mindset may be why we see limited to no success towards our goals. Mountain Climber Jenn Drummond tells us in this article.
https://jenndrummond.com/blog/growth-vs-fixed-mindsets/
:: Upcoming Events
Student Employment Diversity Forum
Friday March 3rd, 2023
1:30-4:30 pm
Gordon Commons & Event Center
Please encourage your student employees to attend and share the following information with them!
Whether you are a current UW-Madison Student Employee or not, we all play a part in creating an inclusive Badger community for all. Join your peers in this thought-provoking forum which will provide an opportunity to exchange ideas while engaging in a variety of topics on diversity, identity and inclusion. The forum consists of a keynote address and two workshop sessions. Students can attend all or any portion provided as part of the Diversity Forum. All sessions will take place in person at the Gordon Dining and Event Center and will be an hour in length.
https://studentjobs.wisc.edu/se-diversity-forum/