Planners' Picks
A collection of resources from CSN planning committee members worth mentioning
Where are you in your metamorphosis?  How do you battle decision fatigue?  How are you at receiving compliments?   Empower your team and excel in your role using links from this week's PP.
:: Image of the Week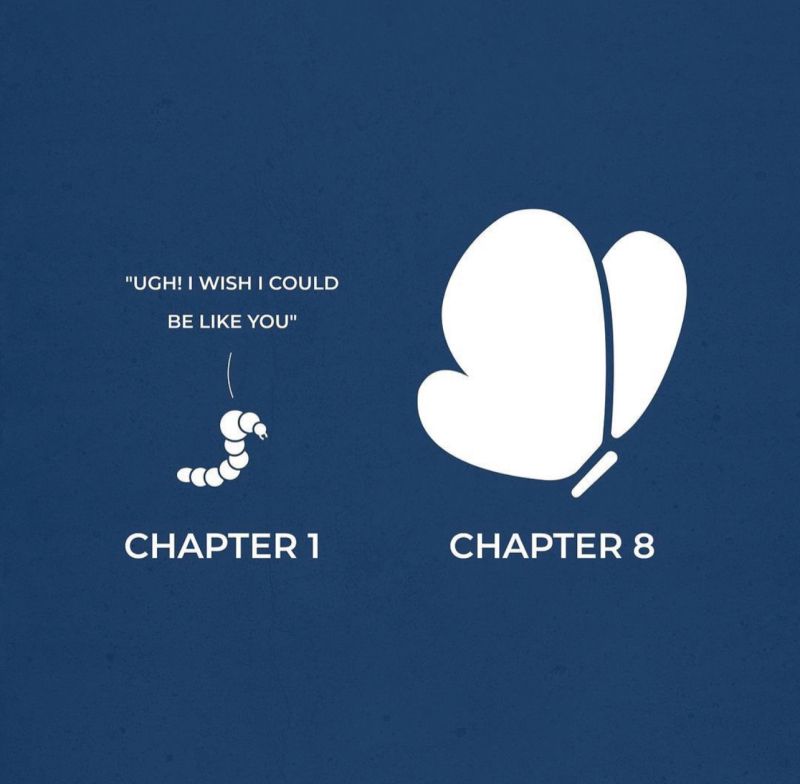 Don't compare your journey to someone else's; we are all at different stages in our development. You should compare yourself to yourself yesterday to see your progress.
:: Resources on Remote and Hybrid Work
Linkedin Learning: The Long-Distance Leader
CSN is currently covering the book The Long-Distance Leader in a book club. Here is a short audiobook summary of the concepts within the book. This audiobook summary was created by getAbstract, one of the world's largest providers of business book summaries—with more than 20,000 text and audio summaries in 7 languages.
https://www.linkedin.com/learning/the-long-distance-leader-getabstract-summary/tools-for-long-distance-leaders?autoplay=true&resume=false&u=56745513
Remote Work Helps People with Disabilities Land Jobs
Federal data shows that the number of people with disabilities finding employment is increasing. Disability advocates credit the rise in remote work.
Remote work has shown to be an accessible option for people with disabilities and has helped them find and maintain employment, according to Josh Basile, a Maryland-based lawyer.
"There is no hiding the fact that thanks to the pandemic, remote work played a key role in the rising statistics of workers with disabilities," Basile said. "Remote work is a great reasonable accommodation for both workers with and without disabilities."
More at https://www.shrm.org/resourcesandtools/hr-topics/behavioral-competencies/global-and-cultural-effectiveness/pages/remote-work-helps-people-with-disabilities-land-jobs.aspx
:: Resources on Work Culture & Team Development
How to Battle Decision Fatigue
You need to fight for the right priorities, fight for the goals and fight for your values. When you keep the overall strategy in mind, the decisions are much easier. Megan Robinson explains the way to battle decision fatigue to be most successful in your project plans and strategies throughout the long day.
https://www.eleaderexperience.com/post/how-to-battle-decision-fatigue
"Failure is simply the opportunity to begin again … more intelligently." ~ Henry Ford
How To Be A High Performer Without Getting 'Stuck' As A Hero
We incorrectly think that if we are the "hero," it will be the fastest path to career progression. Interestingly, the opposite can happen. Many people work to become internal linchpins. The thinking is, "The company could never eliminate me because I'm the only one who can perform this role." Though the personal, and sometimes selfish, motivation is to be a critical member of the team, it can also result in getting stuck in a role and prevent you from progressing.
By trying to be the hero and not progressing as you intended, you'll eventually realize that there's a better way to advance: building relationships with coworkers by asking for and giving help. Learning to reach out for help and actively pull in your coworkers to problem-solve will help cement better relationships, a stronger career path, and an improved work environment.
https://www.fastcompany.com/90861473/how-to-be-a-high-performer-without-getting-stuck-as-a-hero
The Magic of Assuming Positive Intent
Today's highly polarized environment teamed with unprecedented levels of stress and burnout have left many of us tender, reactive, and prone to make our own decisions about the motivations of those around us. In some cases, there seems to be societal momentum that carries us toward negative assumptions and responses. And these internal processes affect the person making those assumptions and those around them.
What if we performed a mental reset and made assuming positive rather than negative intent our default instead?
https://www.linkedin.com/pulse/magic-assuming-positive-intent-julie-winkle-giulioni/?trackingId=Jt3%2Fp2vmQ%2BOf69fsZzM%2FQQ%3D%3D
:: Resources on Self-Leadership Development
Get REAL To Boost Your Leadership Skills
Most leaders are problem solvers.
They're used to putting out fires and quickly finding solutions to keep things moving. But in their quest to get things done, those same well-intended folks often miss important opportunities to strengthen their leadership skills by letting others step up.
The next time you feel the need to rush in to fix things, pause and use this easy-to-remember acronym to get R.E.A.L. instead.
https://www.forbes.com/sites/amyblaschka/2022/07/25/the-best-4-letter-acronym-to-boost-your-leadership-skills/?sh=445d87633521
"The road to amazing is paved with many small, ordinary, but intentional steps."  – Jason Kotecki
Managing Up: How to Give Constructive Feedback to Managers
At some point in our professional lives, we've all encountered situations where we have felt intimidated to give feedback to our managers. Whether it's the fear of being judged or the thought of crossing boundaries, these instances can often leave us feeling powerless and undervalued.
But what if I told you that giving honest and constructive feedback could actually empower you and strengthen your professional relationship with your manager? By approaching the conversation with a friendly and solution-oriented mindset, you can create a safe space for open communication and growth. Remember, your feedback could be the key to unlocking your team's full potential, so don't let intimidation hold you back from making a positive impact.
Click the link to watch the video on YouTube!
"Limitations live only in our minds. But if we use our imaginations, our possibilities become limitless." —Jamie Paolinetti
Great Leadership is Authentic, Compassionate & Aligns
Anxiety At Work: To Reduce Stress, Handle Uncertainty, for Mental Wellness
Your hosts, Adrian Gostick and Chester Elton have spent over two decades helping clients around the world engage their employees on strategy, vision and values. They provide real solutions for leaders looking to manage change, drive innovation and build high-performance cultures and teams. They are authors of award-winning Wall Street Journal & New York Times bestsellers All In, The Carrot Principle, Leading with Gratitude, & Anxiety at Work. Their books have been translated into 30 languages and have sold more than 1.5 million copies. Check out this episode of their popular podcast to hear about:
How you can develop an authentic executive presence
Why perfectionism is toxic for a successful leader
3 unfortunate things that happen in a culture of fear
Listen on Apple Podcasts: https://podcasts.apple.com/us/podcast/anxiety-at-work-to-reduce-stress-handle-uncertainty/id1549312484?i=1000609611954
:: Resources on Communication
What is the difference between Empathy, Sympathy, and Compassion?
Empathy is the heartbeat of leadership, so it is important to understand exactly what empathy is. See this short post and Sketchnote graphic from Danny Langloss on this topic.
https://www.linkedin.com/feed/update/urn:li:activity:7037802588334940160/
How to Give and Receive Compliments at Work
Whether you're a manager or a team member, giving and receiving compliments plays a major part in forming workplace relationships. Yet research shows that many people feel anxiety over the idea of exchanging compliments, worrying about coming off as a kiss-up or having their compliment misinterpreted. To be better at giving compliments, it's also important to become better at receiving them. These scenarios and suggestions can help anyone practice the art of giving and receiving compliments.
https://hbr.org/2019/10/how-to-give-and-receive-compliments-at-work
:: Resources on Mental Health and Self-Care
"Why Not Now?"
This from Dani Saveker's weekly newsletter:
Why not now? You can think of this question about ANYTHING! I guess the first thing is what comes to mind when you read the question. Then it's a case of why not now? What are you waiting for? What's in your way? And finally, what can you do about this? Do you need to accept something, change or action something? Use Dani's question for any challenge you are facing, but especially to decide when to experience gratitude in your life.
Her weekly newsletters: https://glasmethod.com/danis-weekly-leaps
"You can't calm the storm, so stop trying. What you can do is calm yourself. The storm will pass." – Timber Hawkeye
Feeding Body, Mind, and Spirit Should be a Habit
Where and how we eat is as important as what we eat! Being more intentional with dining habits can improve mood and overall health. Develop healthier eating habits! Read about it in the latest article from Julie Peterson.
https://www.theearthandi.org/post/total-mealtimes-feeding-body-mind-and-spirit
:: Upcoming Events
Office of Strategic Consulting Ignite Spring Miniseries
Ignite: Fueling Organizational Excellence is a professional development series designed to promote and support efforts to improve organizational effectiveness across the university.
This spring's Ignite series once again features a special miniseries, "Navigating Your Process Improvement Journey: Tools to Keep Your Team on Course." These five 30-minute workshops will explore process improvement tools to help you enhance your team's productivity and effectiveness. You should plan to attend all five sessions.
If you register for one session, you will automatically be enrolled in all five sessions.
IGNITE MINISERIES
May 17, 1:00-1:30 p.m.
Defining the Why: Tools for understanding your team and your organizational purpose
May 24, 1:00-1:30 p.m.
Identifying the Destination(s): Tools for assessing needs
May 31, 1:00-1:30 p.m.
Choosing the How: Tools for selecting strategies
June 7, 1:00-1:30 p.m.
Charting the Course: Tools for implementation planning
June 14, 1:00-1:30 p.m.
Matching Tools to Tasks: The who-what-when of strategic process utilization
Learn More and Register: https://strategicconsulting.wisc.edu/ignite-fueling-organizational-excellence/#miniseries
Register Now For Research Professionals Conference
The Research Professionals Conference is scheduled for Tuesday, June 13, at the Health Sciences Learning Center (HSLC) from 8:30 a.m. to 1:30 p.m. This conference is intended for all research staff, including project managers, postdocs, laboratory technicians, and laboratory managers. Breakout sessions will address a range of topics designed to enhance skills and promote professional growth. The keynote speaker, Director of Mental Health Services at UW‒Madison Dr. Sarah Nolan, will present on Collective Care: The Future of Well-Being. Registration is provided at no cost and includes continental breakfast and a boxed lunch. Register by May 30 to secure your participation at the conference.
CSN Presents: Gratitude Revealed
CSN is kicking off its Summer of Gratitude by hosting a screening of this full-length film on the power of gratitude in nature and in our lives.
An epic journey forty years in the making, Gratitude Revealed from acclaimed filmmaker, Louie Schwartzberg, the director of Fantastic Fungi, takes us on a transformational, cinematic experience of how to live a more meaningful life full of gratitude through his intimate conversations with everyday people, thought leaders, and personalities revealing gratitude is a proven pathway back from the disconnection we feel in our lives; disconnection from ourselves, our planet, and each other.
Come and join your peers on May 24th, 2023, at 1:00 pm as we start the Summer of Gratitude with this amazing production. Enjoy some popcorn as you want the film on the big screen in The Marquee Theater at Union South. Please bring your own water bottle!
We'll also have some giveaways at the event—thank you card packs, gratitude journals, and other CSN items. This will be epic!
May 24, 2023
Union South Marquee Theater
Bring a friend!!
RSVP at https://go.wisc.edu/6kfkl0
to give us an idea of interest