Planners' Picks
A collection of resources from CSN planning committee members worth mentioning
We continue on our journey of the Summer of Gratitude, grab a slice of psychological safety pizza, and study our ABCs of people-first culture this week. Enjoy!
:: Image of the Week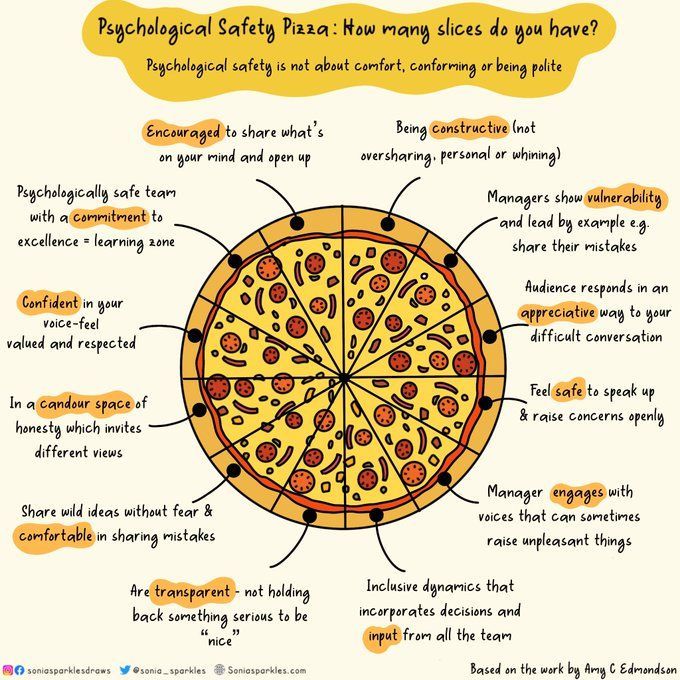 Psychological safety is not about comfort, conforming, or being polite. It is something quite different, as illustrated in this infographic. How many slices of (psychological safety) pizza do you currently have, and how many would you like to?
Source: Amy C. Edmonson. Infographic: @Soniasparkles.com)
:: Resources on Psychological Safety
The Core and the Crust of Leadership
We have two levers to improve our influence: who we are and what we do. We call these your leadership core and crust:
Character is Your Core
If we treat leadership as an applied discipline, character separates good leaders from great ones. If a leader's job is to make decisions and influence people toward worthy goals and worthy ends, how that leader governs themself is critical. Their character will either spread or root out organizational toxicity, and that core part of who they are isn't easily changed or challenged. So, what do you stand for?
Competence is Your Crust
As your leadership crust, your competence surrounds and sits on top of your character. It's your technical skill, expertise, talents, and aptitudes, it's your ability to do things and do them well. Leaders don't make decisions based on character or competence alone. The two bleed into each other: the heart and the head, motive and skill, intent and technique, moral strength, and intellectual horsepower.
Podcast Episode — Leading with Character & Competence: The Core & The Crust. In this episode, Tim and Junior get personal and discuss how just recognizing and rewarding the vulnerable acts of others can make a positive impact on our everyday life.
https://www.leaderfactor.com/podcast/leading-with-character-competence-the-core-the-crust
:: Summer of Gratitude Resources
Are You Grateful?
One of the reasons why people fail to appreciate their personal situation is that they're too busy comparing themselves to others. The fact is, there will always be people with more or less than you have. That should never be the measure of happiness. When you take things for granted, you diminish their importance and may even jeopardize their very existence. Is your satisfaction based on what you have or are you obsessed with what you don't have?
https://www.franksonnenbergonline.com/blog/are-you-grateful/
How Awe Sharpens Our Brains
According to emerging research, we're better thinkers when we're feeling awe.
Michelle "Lani" Shiota completed her Ph.D. in Social/Personality Psychology at the University of California, Berkeley, in 2003, and then received post-doctoral training in the Berkeley Psychophysiology Lab. She joined the social psychology faculty at ASU in 2006, establishing the Shiota Psychophysiology Laboratory for Affective Testing (a.k.a. SPLAT Lab), which studies human emotions, relationships, and awe. Sit back and enjoy this fascinating conversation with Michelle Shiota and Louie Schwartzberg, producer of the movie "Gratitude Revealed."
https://movingart.us18.list-manage.com/track/click?u=fdf827ce9aad8ad918ed54c9f&id=2d6b535bd5&e=be9e09ebca
:: Resources on Mental Health and Self-Care
How Small Acts of Kindness Can Help With Anxiety
A new study finds that performing acts of kindness improves mental health symptoms and increases social connection.
Depression and anxiety are rampant these days, especially among young people. Those who suffer from either can find their work, physical health, and overall sense of well-being compromised.
Luckily, there are some effective treatments for depression and anxiety, including cognitive behavioral therapy (CBT). CBT often involves learning how to identify and challenge negative thought patterns and to add more fun, positive activities back into your life, among other techniques.
https://greatergood.berkeley.edu/article/item/how_small_acts_of_kindness_can_help_with_anxiety
"A person's happiness is best predicted by the breadth and the depth of their connections to the people around them."  – Random woman in the film Gratitude Revealed
A Cure for Distraction
People have used meditation for ages to dissolve the fusion between thought and thinker, impulse and action, freeing the mind from some of its tighter constraints and distorted interpretations. When these sorts of practices first became popular with Westerners in the late sixties (despite being geographically introduced much earlier than that), the operative phrase was "Be here now." The idea was that the undisciplined mind is easily distracted, whipsawing back and forth in time, engaging with "push" memories of the past and "pull" projections of the future.
"It's only by being fully grounded in the present and attuned to the "now" that we can deal with the moment in an emotionally agile way." – Susan David
https://www.susandavid.com/newsletter/a-cure-for-distraction/?share=true
Grateful for the Peacemakers in My Life
Chester Elton says: One of the greatest lessons I learned from my father was to "Not let the Knuckleheads get you down". As I grew older, and hopefully wiser, I realized that he was teaching me to avoid people who see the world through a negative lens. They are wired to build themselves up by tearing others down. He taught me to forgive them, make peace with them and move on. Don't let them occupy any space in your heart and mind. You don't have to join them in their negativity and anger.
https://www.linkedin.com/pulse/grateful-peacemakers-my-life-chester-elton/
:: Resources on Work Culture & Team Development
3 Powerful Ways to Boost Team Engagement
Boosting team engagement may seem daunting, but in reality, this powerful shift in your team's morale comes from the little things. Skills you can practice and improve on over time. Read Heather Younger's powerful ways to boost engagement in your team.
https://heatheryounger.com/3-powerful-ways-to-boost-team-engagement
The ABCs of a People-First Culture
The many amazing things that make a people-first culture. Curiously, yet not paradoxically, a people-first culture is ALSO business-oriented. One doesn't exclude the other but needs the other. Check out this post and infographic from Hacking HR.
https://www.linkedin.com/posts/hacking-hr_peoplefirst-peoplefirstculture-culture-activity-7067828777300475904-x1hm/?utm_source=share&utm_medium=member_ios
Rec Well Offers Free Intramural Sports for Staff
Talk about the ultimate team building exercise — take it to the next level with a kickball team! Faculty and staff are invited to join a summer league sponsored by Rec Well. UW‒Madison employees can play in sports such as basketball, kickball, trivia, and volleyball. Activities will begin as soon as mid-June. These leagues are open to all; a Rec Well membership is not required. Registrations end June 15! You can register an entire team, or sign up as a free agent.
https://recwell.wisc.edu/2023/05/25/a-look-at-summer-2023-staff-intramural-sports/
:: Resources on Self-Leadership Development
Impostor Syndrome is More Common Than You Think
Impostor syndrome, feeling as though you are a fraud even though you are capable and qualified for a position, is more common than previously believed. Reaching out to family and friends outside the situation can help to reduce feelings of impostorism.
https://neurosciencenews.com/impostor-syndrome-14970/
"Sometimes all you need for exceptional results is average effort repeated for an above-average amount of time."  James Clear