Planners' Picks
A collection of resources from CSN planning committee members worth mentioning
We honor the late Tina Turner in our image of the week and her inspiring messages of resilience and positivity through song.  We also tap into more resources to continue the Summer of Gratitude and figure out how to deal with polarizing conflict.
:: Image of the Week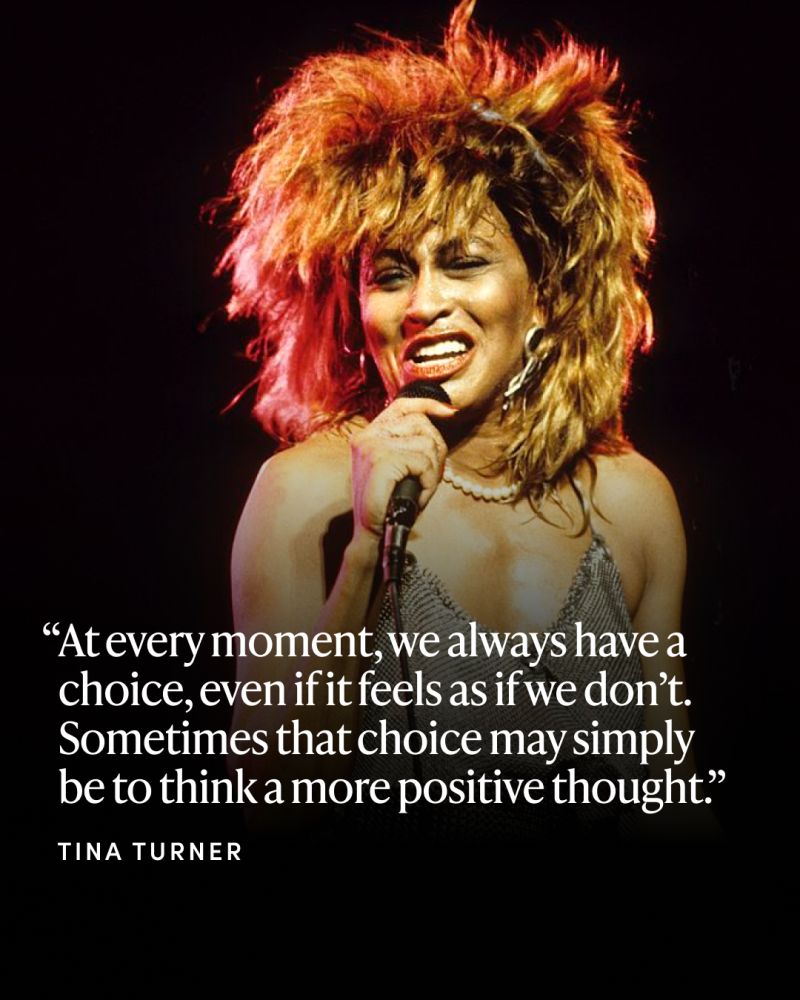 Iconic singer and trailblazer Tina Turner passed away recently at the age of 83. Former President Barack Obama and former first lady Michelle Obama released a joint statement following the news of her passing: "Tina Turner was raw. She was powerful. She was unstoppable. And she was unapologetically herself—speaking and singing her truth through joy and pain; triumph and tragedy," the Obamas wrote. "Today we join fans around the world in honoring the Queen of Rock and Roll, and a star whose light will never fade."
"True and lasting happiness comes from having an unshakeable, hopeful spirit that can shine, no matter what. That's what I've achieved, and it is my greatest wish to help others become truly happy as well." – Tina Turner
:: Summer of Gratitude Resources
How to Make Gratitude a Way of Life
As a physician, Dr. Richard Gunderman has helped to care for many patients and families whose lives have been turned upside down by serious illnesses and injuries. In the throes of such catastrophes, it can be difficult to find cause for anything but lament. Yet Thanksgiving presents us with an opportunity to develop one of the healthiest, most life-affirming, and convivial of all habits—that of counting and rejoicing in our blessings.
https://www.fastcompany.com/90436609/how-to-make-gratitude-a-way-of-life
Gratitude Practice for Nurses
As members of one of the largest and most trusted healthcare professions, nurses like you serve a critical role in supporting the health of our nation. Yet your very role as caregivers and healers often places you in highly stressful situations. More than two-thirds of you report putting the health, safety, and wellness of your patients ahead of your own.
To support you in caring for your own health and well-being, the American Nurses Foundation and the Greater Good Science Center at the University of California, Berkeley, have joined forces to create Gratitude Practice for Nurses.
https://ggsc.berkeley.edu/gratitudefornurses
What Are You Grateful for Today?
"Too often we underestimate the power of a smile, a kind word, a listening ear, an honest compliment, or the smallest act of caring, all of which have the potential to turn a life around."
https://www.linkedin.com/posts/emmaclloyd_gratitude-learninganddevelopment-learning-activity-7055087848990896128-vOE9/
Watch the film Gratitude Revealed on your own!
"All of the great things in life were when I was reaching out." A blind mountain climber in the film Gratitude Revealed
CSN recently held a screening of this film on campus to kick off our Summer of Gratitude initiative. The producers of Gratitude Revealed have added it to their library on Louie Channel TV. You can now watch this amazing film with family, friends, or workmates. If you were at our screening on May 24, you can enjoy it again (You'll need to supply the popcorn this time!)
Instructions: 
Go to https://www.louiechannel.tv/browse (You will need to register to be a user)
Scroll down to the Gratitude Section and select Gratitude Revealed – Watch Party
Or, search for LouieChannelTV on your streaming device like Roku
Let us know what you think of this epic production!
"If you let go, nature will provide." Louie Schwartzberg from Gratitude Revealed
:: Resources on Self-Leadership Development
What to Do When I Make a Mistake
How do you Learn From Your Failures? How do we make failure less threatening to the ego? Research offers a few suggestions, and David McLean explains them along with a nice infographic in this Linkedin post.
https://www.linkedin.com/posts/davidmcleanatgetkeepgrow_leadership-leadershipdevelopment-learningexperience-activity-7057836004056985600-84zY/
"In order to make things better, you don't waste time blaming the world around you. You find a way; you figure it out. And then you work harder than anyone else until you achieve something." – Virginia Grohl, mother of Dave Grohl of the Foo Fighters
The Surprising Connection Between Vulnerability and Success
Embracing vulnerability can unlock your full potential and lead to greater success in life and business. We live in a society that glorifies strength and success, and often, vulnerability is seen as a weakness. But what if I told you that being vulnerable could actually lead to more success? Vulnerability can be a powerful tool in achieving your goals, building relationships, and improving your mental health.
https://freemanbeals.substack.com/p/the-surprising-connection-between
Women's Leadership Symposium Presentation: Hit The Reset Button by Nancy Kujak-Ford and Mary Russell
Last week, CSN planner Nancy Kujak-Ford joined forces with Mary Russell at the Women's Leadership Symposium to present on the topic of being overworked and needing to reset. According to the Women in the Workplace 2022 report (https://www.mckinsey.com/featured-insights/diversity-and-inclusion/women-in-the-workplace), women leaders are leaving their companies at the highest rate in years. Often, women leaders are overworked and are spending time on tasks that aren't recognized. Society teaches women that our value comes from being busy and from what we can produce. As women leaders progress in their careers, they often take on more hidden work and extra responsibilities without letting go of other tasks. This leads to a loss of balance, a slow career progression, and burnout.
So, what do you do when you find yourself barely being able to breathe under the mountain of stress and responsibilities? Hit the reset button!  Attendees learned how they have navigated several changes in their careers and personal lives and continue to work on how to find balance. By reassessing your responsibilities and finding ways to lessen the load, you bring light to the value you bring to your organization.
Learning Outcomes from their session:
Learn about the stress cycle and how to break it
Reassess your responsibilities and find ways to lessen the load
Strategies for hitting the reset button
List of resources and tools to support your journey
Find resources and the presentation slides for this presentation at:
https://uwmadison.box.com/s/omt7dqxx1t1n5pl31qhc6w9sl8q4cqyu
:: Resources on Mental Health and Self-Care
Summer Self-Care Bingo
Maybe you can influence the space where you work, and maybe you can't. You CAN influence how you restore yourself. Self-kindness is crucial. This is a cool, easy, and gently gamified way to nudge ourselves to pour a little energy back into US.
Many thanks to the amazing humans at The Random Acts of Kindness Foundation who are always finding new ways to promote this kind of positivity.
https://www.linkedin.com/posts/skratekin1_our-new-summer-kindness-bingo-printable-is-activity-7067556571358105600-qTnN/
"Until you value yourself, you won't value your time. Until you value your time, you will not do anything with it." ~ M. Scott Peck
Some Amazing DIY Acupressure Points
Acupressure is an ancient Chinese healing technique and is a natural, non-invasive practice that involves applying pressure to specific points on the body, known as 'meridians'. It helps to stimulate the body's self-healing abilities by restoring balance to our life energy, or 'qi'.
Key benefits of acupressure:
1.   Pain Relief
2.   Stress Management
3.   Boosts Immunity
4.   Improves Sleep
5.   Aids Digestion
Watch the short video for the 8 best acupressure points to treat pains and aches. Try them today!
https://www.linkedin.com/posts/sanjivberi_whatinspiresme-mindfulness-personaldevelopment-ugcPost-7067058510093578240-C8VJ
:: Resources on Work Culture & Team Development
The 5 C's of Resilience
One of my favorite models is the 5 C's of Resilience by Alison Block, Ph.D., which is a framework that describes the key elements that can help individuals develop and maintain resilience in the face of adversity. See this post on Linkedin for more information and an infographic on this topic.
https://www.linkedin.com/posts/maria-luisa-engels_resilience-communication-training-activity-7066684303501328385-lAB9
"If you do the work, there is such sweetness on the other side." – Michael Bryant
Skills Experiences Talents (S.E.T.) For Strong Teams
When it comes to career branding, people usually think showcasing their skills and experiences is enough. For the longest time, it's what we have seen others do: fill resumes and LinkedIn profiles with the skills they've acquired along the way.
If that's not enough, then what's missing? Oh, it's just what we already have all along: talent!
StrengthsFinder views natural talent as the way we do things driven by the inherent way we think, feel, and act. When we add that to our list of skills and experiences, we are able to establish a more solid character behind our career brand. Yet how often do we really come across natural talents in LinkedIn profiles, resumes, and CVs?
Rarely.
More on this topic at the Lead Through Strengths website.
https://leadthroughstrengths.com/skills-experiences-talents/
:: Resources on Communication
How To Find Common Ground When It Seems Impossible
Polarization and conflict seem to be everywhere these days, and the workplace is no exception. When you spend a great deal of time with colleagues and managers, chances are that some conflicts are going to arise. Whether it's disagreement on the best course of action to solve a thorny project issue, or a bigger-picture conflict over the direction of the company, finding common ground can be a challenge. If you're at an impasse with a colleague, there are a few ways to approach finding common ground.
https://www.fastcompany.com/90451221/how-to-find-common-ground-when-it-seems-impossible
"Between stimulus and response, there is a space. In that space is our power to choose our response. In our response lies our growth and our freedom." ~ Viktor Frankl