Planners' Picks
A collection of resources from CSN planning committee members worth mentioning
As The Tempos sang many decades ago: "See you in September!"
We made it through the summer months and the long, hot Labor Day weekend. Now it's time to dig into the performance paradox, infuse some humor into our daily routine, and get creative regardless of your role. Oh, and play in a sprinkler.

:: Image of the Week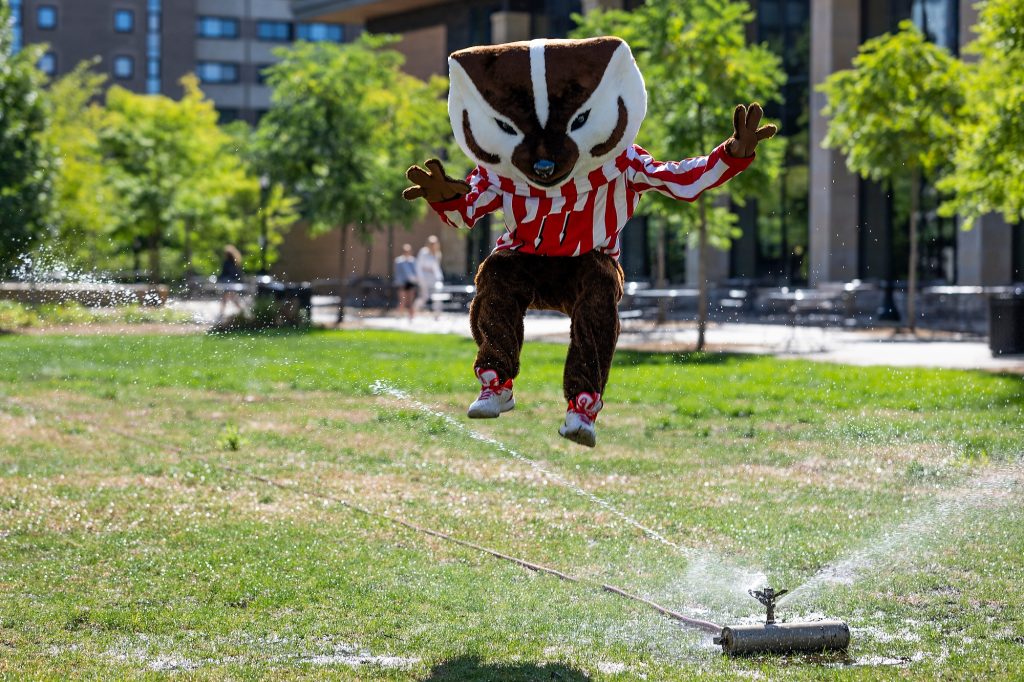 Bucky takes a break from move-in to jump over a water sprinkler.  Photo by Jeff Miller | University Communications
On this hot summer day, our own college mascot reminds us of the importance of play in your daily lives and work. Ironically, most of what Bucky Badger does looks playful but he works hard in his role, and last week when he was assisting incoming students with move-in at the dorms he took a quick break to play in the sprinkler at Gordon Commons.
What do you do to step away from the work and recharge? Some easy options are stretching, walking, meditating, or reading.
:: Resources on Mental Health and Self-Care
What is silent walking? The latest viral workout trend has some intriguing benefits
We've all heard the advice that going for a run will clear your head or that spending time outdoors can give you a fresh perspective on a problem, but a recent viral TikTok trend is marrying the two in an unexpectedly helpful way. It's called silent walking, and it combines the health benefits of nature, exercise and meditation to center and calm its many participants. This idea is not new; in fact, before cell phones and Sony Walkmans, humans did it all the time! We need to be more deliberate about it now, and remove the distractions from our environment. Read on for more details on silent walking.
https://www.today.com/health/mind-body/silent-walking-rcna101793
"Life brings tears, smiles, and memories. The tears dry, the smiles fade, but the memories last forever."  – Malik Faisal
Why Humor Matters for Happiness
Humor can help us with stress, anxiety, and feeling more connected to others. But is humor connected to mindfulness? And how can we find more of it?
https://greatergood.berkeley.edu/podcasts/item/three_funny_things_josh_johnson
:: Resources on Self-Leadership Development
The Secrets of Successful Female Networkers
One oft-cited reason why more female executives don't advance to top management jobs is their lack of access to informal organizational and industry networks. Some people blame unconscious bias: High-ranking men connect more easily with other men. Others cite professional and personal obligations, from office housekeeping to child-rearing, that disproportionately fall to women, leaving them less time to develop professional relationships.
But some female leaders do establish strong networks—and they win greater influence and more senior positions as a result. What are they doing differently? (Hint: CSN events are one of the solutions!)
https://hbr.org/2019/11/the-secrets-of-successful-female-networkers
4 Es of Leadership by Jack Welch
Jack Welch is a legendary leader who has inspired generations of leaders to think beyond their imagination. One business practice that Jack helped develop at GE was a very effective leadership assessment. A component of that assessment easily transferred to other industries is the 4Es of leadership – energy, energize, edge, and execution.
In your organization, just ask these four questions about each manager or leader:
What level of energy does the leader display?

2. How well does the leader energize others on her/his team?

3. Do they have the edge to deal effectively with conflict and make tough decisions?

4. Does the leader execute strategies effectively and achieve their strategic plan?
More on this idea from Ramesh Dewangan at https://www.linkedin.com/pulse/4-es-leadership-jack-welch-ramesh-dewangan
:: [NEW!] CSN's Book of the Week Recommendation
The Performance Paradox – Eduardo Briceño
In the dynamic landscape of today's swiftly evolving world, both individuals and companies recognize the imperative of fostering a culture centered around growth. This entails not only embracing experimentation and feedback but also seamlessly integrating learning into our daily routines. However, we often find ourselves ensnared in the paradoxical conundrum: the more we obsess over our performance, the more it tends to falter.
The question that arises is: How can we create a conducive environment for both exploration and advancement, all while upholding exceptional outcomes?
Eduardo Briceño has honed the art of cultivating a growth mindset that propels performance to new heights. With his extensive background as the CEO of Mindset Works and his collaborations with Fortune 500 enterprises, he unearthed a pivotal insight: the art of mastering growth—on a personal, organizational, and financial level—hinges on skillfully navigating the delicate equilibrium between learning and performing.
In his work, "The Performance Paradox," Briceño adeptly lays out a roadmap to:
• Break free from the cycle of stagnation induced by a sole focus on performance
• Harness the potential concealed within mistakes to improve your processes
• Infuse learning seamlessly into everyday practices, ensuring its enduring presence
• Steer teams towards perpetual enhancement, consistently surpassing set benchmarks
• Enhance both skill proficiency and output concurrently, sustaining this growth over the long haul
CSN Chair Rich Gassen was fortunate to be a reviewer of this book before its release TODAY. He highly recommends Eduardo Briceño's new book, which was recently named a "must-read" by the Next Big Idea Club (curated by Malcolm Gladwell, Adam Grant, Susan Cain, and Daniel Pink).
Discover why mastering growth and success hinges on navigating the crucial balance between LEARNING and PERFORMING. Get ready to help your teams reach your boldest aspirations!
About the Author
Eduardo Briceño is a global keynote speaker, facilitator and author who guides many of the world's leading companies in developing cultures of learning and high performance. His two TEDx talks, "The power of belief" and "How to get better at the things you care about," have been viewed more than eight million times. Briceño's book, The Performance Paradox: Turning the Power of Mindset into Action, will be published by Penguin Random House on September 5, 2023.
:: Resources on Work Culture & Team Development
Building Connection: Strategies to Combat the Rise of Workplace Loneliness
A recent Lyra Health survey conducted early in the pandemic found that 11% of American workers reported thoughts of self-harm or suicide. One of the big contributors to someone's mental health is feeling isolated and lonely—making connection is more important than ever, especially in the workplace. This panel discussion will provide simple and effective solutions on how to support your employees' mental health by strengthening connections at work. This was a live webinar on July 6, but can be replayed.
Discussion Points:
• Stories, strategies, and statistics to offer solutions on what you can do to build a connectable workforce
• What loneliness means in the workplace, the causes, and its impact on businesses
• How to identify lonely workers in need of belonging and how to provide it
https://www.crowdcast.io/e/mental-health-summer-2023
5 Ways to Get Creative in Any Job
If you think of yourself as a creative person, but you don't work in what most people would recognize as a creative job, it can be tough to find ways to use those skills. Even if you're building your career in a more traditional industry like accounting or legal, you can absolutely be creative—if you think a little differently about your job. Here's how to find creative fulfillment, even in the most decidedly left-brained roles.
https://www.kornferry.com/insights/this-week-in-leadership/5-ways-to-get-creative-in-any-job
 "None of us, including me, ever do great things. But we can all do small things, with great love, and together we can do something wonderful."   ~Mother Teresa
Extraordinary Leadership: Building Thriving Cultures and Great Teams
What are the 5 critical factors that create extraordinary leadership? This week on the Leadership Excellence Podcast, Dagmara Asbreuk joined us from Dubai and broke down these 5 critical factors. If you are looking to take your leadership to the next level, enhance your culture, and make your team unstoppable, this episode is for you.
https://www.dannylangloss.com/podcasts/leadership-excellence-podcast/episodes/2148021028
:: Upcoming Events
Coaching Employees for Retention and Career Development
Coaching Employees for Retention and Career Development provides managers and supervisors with the skills to retain and develop employees through coaching. This is a new course offered for free by the UW-Madison Learning and Talent Development team.
Upcoming class dates are:
10/2/2023 (12:30-3:30 p.m.) in-person
11/8/2023 (9:00 a.m.–noon) in-person
12/12/2023 (8:30-11:30 a.m.) virtual
Register: https://hr.wisc.edu/professional-development/programs/coaching-for-retention/
Also, see the Manager/Supervisor Compensation Resources, to support employees through compensation-related best practices.