Planners' Picks
A collection of resources from CSN planning committee members worth mentioning
Let's keep going by investigating generosity burnout, speaking up, and defining awe in this installment of PP.
:: Image of the Week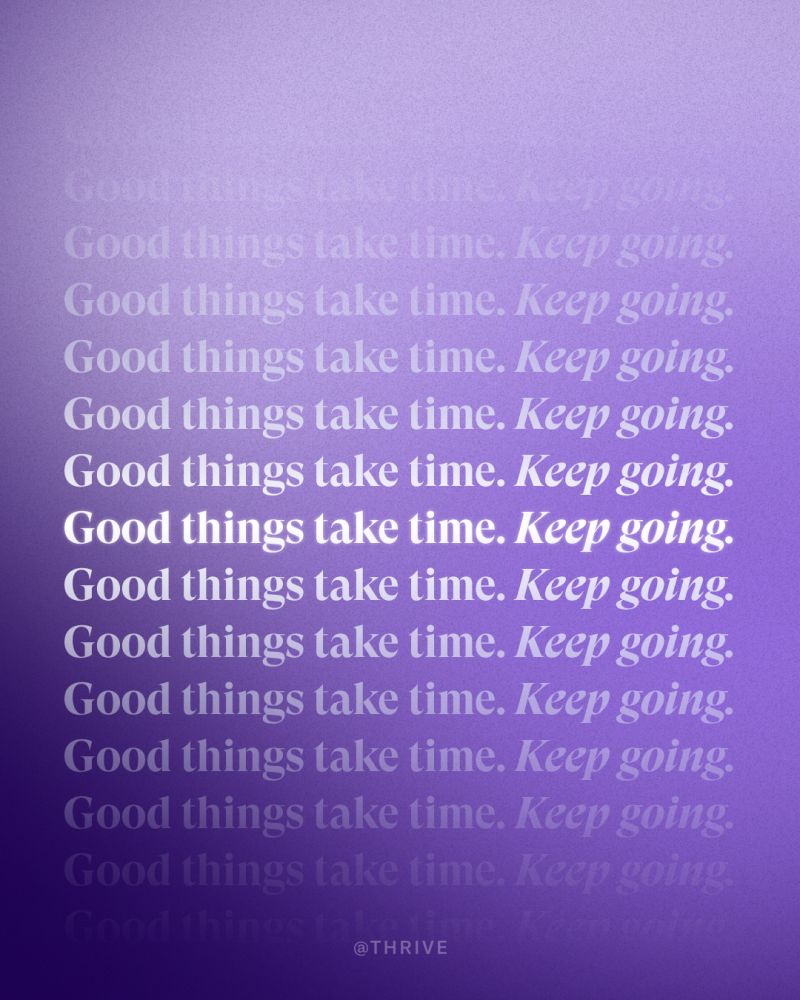 Your direction is more important than your speed.
:: Resources on Work Culture & Team Development
Don't Underestimate the Power of Appreciation
Appreciation is one of the single most sustainable motivators at work. And yet, we rarely go out of our way to express our thanks.
In this episode, Hurry Slowly host Jocelyn K. Glei chats with Adam Grant — a talented teacher, researcher, and author of the bestselling book Give and Take — about the untapped potential of appreciation, the power of generosity, and how to build cultures of helping.
They talk about how small expressions of thanks can have an outsize impact and why asking for help can actually make you look more competent. We also dig into the dark side of helping — something Adam calls "generosity burnout."
https://hurryslowly.co/adam-grant/
"Courtesies of a small and trivial character are the ones which strike deepest in the grateful and appreciating heart." ― Henry Clay
Mindfulness Can Be a Powerful Conflict Resolution Tool
Taking time to consider disagreements non-judgementally can make all the difference when things get heated at work, says Gillian Higgins.
Mindfulness is about paying attention to moments of everyday life with curiosity and openness, on purpose. It involves dropping into our present moment experience and being aware of what we're doing, while we're doing it, with a non-judgemental attitude. Mindfulness grows your self-awareness and helps you refrain from leaping to assumptions about others you might otherwise make.
https://www.peoplemanagement.co.uk/article/1741633/mindfulness-as-a-powerful-conflict-resolution-tool
Building a Culture Where Employees Feel Free to Speak Up
When employees at every level speak up, they circulate local knowledge, expand the universe of useful ideas, and prevent collective tunnel vision. And not infrequently, minority views turn into novel solutions. But you can't speak a speak-up culture into existence — doing so in the absence of true psychological safety is an abdication of leadership and an admission of failure. The author presents four steps leaders can take to create conditions that give all employees a voice — and motivate them to use it: 1) Separate worth from worthiness; 2) separate loyalty from agreement; 3) separate status from opinion; and 4) separate permission from adoption.
https://hbr.org/2023/08/building-a-culture-where-employees-feel-free-to-speak-up
:: Resources on Mental Health and Self-Care
The Stress Cycle – And How to Complete It
Work has long been a source of stress impacting our physical, mental, and emotional health and impacting the well-being of our families and communities too. Yet we have been expected to bear that professional stress burden in silence and somehow deal with it outside the realm of work. Read a story from The Human Workplace founder Renee Smith on how to complete the stress cycle.
Workplace cultures have been slow to acknowledge the reality of our human neuro-physiology, slow to realize that fear-based cultures and bullying leadership are counter-productive, and slow to create humane working conditions that are more effective. Workplace norms have needed to shift for a long time. Now that the stress is obvious, widespread, and critical, shifting these norms has thankfully become a top priority for many leaders and teams.
https://www.makeworkmorehuman.com/blog/the-stress-cycle
:: Resources on Self-Leadership Development
The Transformative Power of Compassion and Heart-Centered Leadership
It never fails to elicit an emotional response from the workshop attendees: "How do you define love in the workplace?" Followed closely by the invitation to consider, "Give an example of when you have experienced that from a leader."
Interestingly, the 'L' word calls forth guffaws and incredulous looks from the more senior corporate types. The furtive glances at others in the room to see if they are just as offended by the use of the word in order to mock and laugh in a conspirational tone. They imply or outright state that Love does not belong at work unless you are a caregiver in a nursery.  There is a discussion to be had there but let's stay within the coloring lines and hold our topics to the workplace.
https://www.makeworkmorehuman.com/blog/the-transformative-power-of-compassion-and-heart-centered-leadership
"We all have strengths and weaknesses. The success of our work depends on knowing the difference." – Steve Maraboli
Training Your Brain To Achieve Your Highest Performance
Is there a difference between the brain of a CEO and a star athlete? This was the question Debbie Vyskocil contemplated after training under neuroscience experts who coach Olympic gold medalists, World Cup champions, and multimillion-dollar athletes a number of years ago. Read her post on training your brain, even with small incremental steps.
https://www.linkedin.com/posts/debbievyskocil_neuroscience-highperformance-brainhealth-activity-7097279583711883265-buST/
:: Resources on Communication
How to Give Constructive Feedback to Managers
At some point in our professional lives, we've all encountered situations where we have felt intimidated to give feedback to our managers. Whether it's the fear of being judged or the thought of crossing boundaries, these instances can often leave us feeling powerless and undervalued.
But what if I told you that giving honest and constructive feedback could actually empower you and strengthen your professional relationship with your manager? Heather Younger explains how to approach the conversation correctly.
https://employeefanatix.com/how-to-give-constructive-feedback-to-managers
How Do We Ensure That Students of Color Feel Respected?
Students of color bear the invisible weight of systemic racism on a daily basis, experiencing racial microaggressions, negative stereotyping, and disproportionate discipline in schools. At the root of these issues, students see their identities, experiences, and rights not being respected. It comes as no surprise that this racial trauma can be detrimental to not only academic success among youth of color, but overall mental and physical well-being.
Though there have been momentous efforts in education reform to address racial inequities (from empathy programs to whole-school initiatives), there is still so much to do. Thankfully, there are tangible, actionable steps that we can take today to create a safe, welcoming classroom or workplace where our students of color feel respected. Read this article from the University of California Berkeley on this topic.
https://greatergood.berkeley.edu/article/item/how_do_we_ensure_that_students_of_color_feel_respected
:: [NEW!] CSN's Book of the Week Recommendation
Defining Awe
Awe is the feeling of being in the presence of something vast that transcends your current understanding of the world.
Awe is also tied to reducing inflammation produced by our immune system, as listed in chapter six of Dacher Keltner's amazing book "Awe: The New Science of Everyday Wonder and How It Can Transform Your Life." Yes, being in nature can reduce inflammation and relieve stress.
For those of us who already experience this through our daily lives of hiking, fishing, and exploring you can speak to the healing power of awe on our bodies and minds. The rest of you should pick up a copy of Awe and get educated.
Here's a full review of the book, by The Guardian:
https://www.theguardian.com/books/2023/jan/05/awe-by-dacher-keltner-review-the-transformative-power-of-wonder
You can also catch Dacher in this awesome (hehe) interview from Action for Happiness on how we can experience more awe in our daily lives: https://youtu.be/ixWg9Ynq_Ts
Finally, get a copy of the book: https://www.amazon.com/Awe-Science-Everyday-Wonder-Transform/dp/1984879685
:: Take Five*
*Note: CSN occasionally adds "Take Five" articles to take you off the beaten path. Articles are about local or regional areas of interest, but not necessarily focused on leadership development. The intent is for you to take a break from being a leader and relax for a moment!
How Well Do You Know UW–Madison?
Test your knowledge in a 175th anniversary quiz. Both Wisconsin and the UW were born in 1848, and so this year, both are celebrating their 175th anniversary. Over that century and three-quarters, the state and its flagship university have worked together to play an outsize role in the world. Many of the objects, products, and practices that you think you know have ties to the UW. Take this quiz from OnWisconsin editors to see where you fare on UW wit.
https://onwisconsin.uwalumni.com/how-well-do-you-know-uw-madison/
:: Upcoming Events
Virtual Course Preview: Crucial Conversations® for Mastering Dialogue & Crucial Conversations® for Accountability
SEPTEMBER 20 | 11 a.m. – 12 p.m. CDT online
Whenever you're not getting the results you want, it's likely an important conversation either hasn't happened or hasn't been handled well. In fact, both individual and organizational success are largely determined by how quickly, directly, and effectively we speak up when it matters most. At the heart of healthy and high-performance organizations are people willing and able to hold Crucial Conversations.
Join master trainer Scott Robley for a preview of the skills and principles taught in the Crucial Conversations courses. You will learn:
Why having Crucial Conversations is so important and the cost of not having them.
What skills are taught and the differences between Mastering Dialogue and Accountability.
How we design the course, including a sample experience from the course.
How we deliver the content in multiple learning formats.
How you can implement a Crucial Conversations course in your organization.
*CSN covered this book several years ago as a summer book club, and highly recommended checking it out.
https://go.cruciallearning.com/vcp-md-acc-registration-20230920
Student Supervisors Community of Practice Kick-Off!
Student supervisors: we hear you! We hear that the professional development opportunities for supervisors of professional staff isn't always applicable to supervising students. We hear that there's an appetite to connect with one another more regularly to troubleshoot, affirm & uplift your work,  and share best practices & resources. We hear you, we see you, and we AGREE!
The Student Employment team in the Office of Student Financial Aid is launching a Student Supervisors Community of Practice and we'd love for you to join us. Our kick-off event is Tuesday, September 19th; 12:30-2:00pm; Union South. Light snacks will be provided.
At this kick-off, we will start to define & design what the Student Supervisors CoP will be in order to best meet the needs of our community. Come ready to roll up your sleeves and help shape the direction of this CoP in a way that meets YOUR needs! We'll be utilizing resources provided by Learning & Talent Development, so if you'd like to do some homework ahead of time check this out.
We hope to see you there! Please RSVP HERE
And lastly, mark your calendars for future CoP dates (3rd Tuesday, every other month, 12:30 – 2 pm Union South TITU).
November 21, 2023
January 16, 2024
March 19, 2024
May 21, 2024